Catholic Pocket Prayer Book
100% Satisfaction Guarantee
---
Product Description
This is a book to take with you everywhere. Hundreds of traditional prayers are here, all in a compact volume that slips easily into a purse or pocket. This book was originally published in 2002, but was reprinted as a reflection of the updated mass text that took effect Advent 2011.
Measures 4-1/2" x 3"
Table of Contents:
Introduction - Father Benedict Groeschel
Basic Prayers
The Blessed Trinity
Litanies
Marian Prayers
Saints and Holy Ones
Angels
Mass
Eucharistic Adoration
Prayers throughout the Day
Prayers throughout the Year
Everyday Prayers
Prayers for the Church and the World
Sacred Scripture
Basics of the Catholic Faith
Notes (Sources for texts)
Index
Acknowledments
See also:
A Pocket Catechism For Kids
New Testament - Pocket Size
Pocket Catholic Catechism
Pocket Catholic Dictionary
What Catholics Believe - A Pocket Catechism
Author:
Jacquelyn Lindsey
You might also like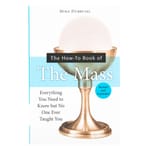 $13.95
Catholic Pocket Prayer Book

| | |
| --- | --- |
| By: | Ellen Williams (Roswell, NM, April 11, 2014) |
| Review: | I am ordering two this time. I always wind up giving them away, not always to Catholics! They are a great Evangelization tool. :) I'm sure I shall be ordering more! Great little book. |
Wonderful Purchase Choice

| | |
| --- | --- |
| By: | Mom (Houston, TX, January 21, 2009) |
| Review: | This is a thourough pocket prayer book. The amount of content is surprising for its compact size. It contains a wonderful selection of prayers (for example but not limited to: daily, blessed trinity, saints, angels, mass), Psalms, and basics of the Catholic faith. It's the perfect size to take along everywhere. This one prayer book has replaced my stack of prayer cards and pamphlets held together with a rubber band! Best Uses: Gift, QUICK GUIDE, Reference, Take-Along Companion, Travel Reading; Describe Yourself: Everyday Reader; Pros: Informative, Well Written |
I LOVE THIS BOOK!!!!!!!

| | |
| --- | --- |
| By: | mslynn49 (Waldo,Fl., September 16, 2010) |
| Review: | It's small enough to carry in your purse or pocket,so I can even pray at work. It has prayers by and to so many different Saints. It has so much information about the sacraments,the ten commandments, and about our beliefs as Catholics.The only thing I would add is a list of Holy Days OF obligation. I cannot express how much comfort this prayer book has given me. I use different prayers for different days. There are so many varieties. It truly would make a welcome gift for friends and family, one that will show them how much you care. Best Uses: Gift, Learning about Saints, Older Readers, Reference, Special Needs, Teaching prayers to child, Travel Reading; Describe Yourself: Bookworm; Pros: Deserves Multiple Readings, Easy To Read, Great teaching aid, Informative, Must carry with you alway, Short and long prayers, Well Written |
Very Pleased

| | |
| --- | --- |
| By: | Dick (New Hampshire, April 11, 2011) |
| Review: | These prayer books are to replace ones that we have that are well used and are falling apart. Thanks |
Plentiful and convenient

| | |
| --- | --- |
| By: | Celina (Kalamazoo, MI, March 4, 2011) |
| Review: | I totally missed that this was POCKET size until it arrived. However, I was still pleased because I could take it with me anywhere in my purse. Describe Yourself: Casual Reader |
More prayers than I expected.

| | |
| --- | --- |
| By: | Judith (Spring,Texas, December 16, 2011) |
| Review: | Perfect for a trip. Good variety of prayers for Adoration. Good for young adult Catholics. Easy to understand. Best Uses: Gift, Travel Reading; Describe Yourself: Everyday Reader; Pros: Easy To Read, Good price value, Good variety of prayers, Nice size. pretty cover |
Nice prayer book and good gift

| | |
| --- | --- |
| By: | GeorgiaGirl (Georgia, March 30, 2012) |
| Review: | I got one of these when I was entering the Church, and it was a great help to me. So, I give them away a lot as gifts. It is a nice, small book but has a lot of important prayers. Best Uses: Gift; Describe Yourself: Bookworm; Pros: Deserves Multiple Readings, Easy To Read, Informative |
Great Little Book

| | |
| --- | --- |
| By: | Michelle (Minnesota, April 16, 2012) |
| Review: | This prayer book is great. It has the new revised prayers. The only prayers missing that I would have liked are the novenas and special seasonal prayers. Describe Yourself: Casual Reader |
Too small

| | |
| --- | --- |
| By: | joyce (Fairmount,In., May 9, 2012) |
| Review: | The book was smaller than I anticipated. Best Uses: Reference; Cons: Not What I Expected; Describe Yourself: Rarely Read; Pros: too small |
Catholic Pocket Prayer Book

| | |
| --- | --- |
| By: | George McBride (Carthage, NY, March 25, 2014) |
| Review: | This is great little book. Fits easily in hip pants pocket or jacket pocket. Has a great number of helpful prayers for numerous different occasions. Book is well constructed. I will buy another for traveling. |