Sterling Silver Cross with Real Flowers - Turquoise - 1 inch
100% Satisfaction Guarantee
---
Product Description
This sterling silver cross pendant measures 1" in height and has miniature multicolored flowers set in it. Because no two flowers are alike, you know you will be getting a one of a kind piece of jewelry. Cross also comes in these colors: Blue Flowers, Multicolored Flowers, Pink, and Royal Blue

These beautiful pieces of jewelry are each individually handcrafted by artisans in Morelia, Mexico. All of the pieces contain real, all-natural, miniature flowers encapsulated in sterling silver. Each flower undergoes a special process of cultivation. When the flower buds bloom, they are cut and put through a very delicate dehydration treatment in order to preserve the flowers' all-natural colors and fresh appearance. They are then set into a transparent mix of resins that is seven times stronger than crystal, and set in the sterling silver pieces of jewelry.
You might also like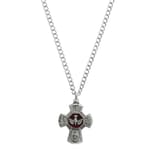 $58.95
Breathtaking

| | |
| --- | --- |
| By: | MTCatholicMom (Montana, May 10, 2011) |
| Review: | This was purchased as a birthday gift for my mother. As soon as she unwrapped it and saw it, she was speechless. When she recovered, all she could say for about five minutes is "it's beautiful! So beautiful!" Pros: Different, Eye-catching, Unique |
A wonderful item!

| | |
| --- | --- |
| By: | Cathy (Daytona Beach, FL, March 20, 2011) |
| Review: | Pendant makes a great gift. Pros: Beautiful, Great value |