Hand Rosary and Stations of the Cross Ring
100% Satisfaction Guarantee
---
Product Description
Stations of the Cross refers to the depiction of the final hours of Jesus and includes the main scenes of Christ's sufferings and death. This rosary ring, often called a finger rosary, is popular because it can be worn on your finger and used throughout the day. It is a single decade rosary, meaning it represents one decade, and can be spun around the finger multiple times as it is prayed. This compact finger rosary ring is set in a two tone silver and gold color or on one side and gold color on the other. Eleven of the 14 stations are portrayed on the back. A single simulated garnet rests in the cross. Measures 2 1/8 inches by 1 5/8 inches with interior diameter of 3/4 inch. This product is made in the United States and is Triple Plated in 14K Gold and Sterling Silver. The garnet stone is European Glass. From the Vatican Library Collection.
You might also like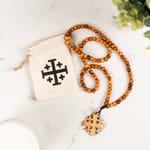 $30.95
Beautiful

| | |
| --- | --- |
| By: | Sandy the reader (Mint Hill, NC, June 1, 2009) |
| Review: | This was a little heavier thanI expected but I love it. I say a novena to Saint Jude everyday when I drive and I have this on my finger. |
"Absolutely Beautiful Piece"

| | |
| --- | --- |
| By: | Paula (Evansville, Indiana, December 16, 2009) |
| Review: | This was a gift for my husband and he was so impressed by it's workmanship and beauty that he is never without it. We just purchased one for our Priest and my brother-n-law for Christmas. I highly recommend this pocket rosary to anyone who wants to deepen their Faith with elegance. |
Just what I was looking for

| | |
| --- | --- |
| By: | lexus gal (Maine, April 5, 2011) |
| Review: | Just what I was looking for for my husband. He has a long drive to work and this makes it easy for him to do the rosary. He lost his and I've been looking. Good value for the money. Best Uses: Use in the car |