The How-To Book of Catholic Devotions
100% Satisfaction Guarantee
---
Product Description
You know a lot about the Catholic Church, or maybe you are just learning, but there are things that confuse you - like what to do when you pray a novena, or how to "offer up" something, exactly what the Angelus is, or any of the dozens of other devotions that set Catholics apart from other Christians. But help is here!
The How-To Book of Catholic Devotions is the only book that not only provides the who, what, where, when, and why of the most time-honored traditions of the Church but also the how.
In this complete guide you receive:
Step-by-step guidelines to the devotional rites and rituals of the Catholic Faith


A history of each devotion and a reflection on its importance in the prayer life of Catholics


Succinct and salient quotes from saints and prominent members of the Church


Cautions, drawn from Scripture and Traditions, for potential temptations and distractions


The blessings and graces associated with the devotions
If you want to learn what devotions comprise a truly Catholic life - and share those practices with others - you can't be without The How-To Book of Catholic Devotions.
Discover how to:
Pray the Sign of the Cross
Pray the Morning Offering
Say Grace Before Meals
Perform Acts of Faith, Hope, and Love
Pray the Angelus
Make First Fridays and First Saturdays
Make a Novena
"Offer Up" Something
Pray the Rosary
Practice Mental Prayer
Examine Your Conscience
Fast and Abstain
Consecrate your life to the Sacred Heart of Jesus and the Immaculate Heart of Mary
Make a Pilgrimage
Wear a Scapular
See also:
The How-To Book of the Bible
The How-To Book of the Mass
The How-To Book of Sacramentals
The How-To Book Set
Author:
Mike Aquilina & Regis J. Flaherty
You might also like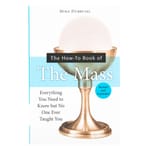 $13.95
Good reference to have on your shelf.

| | |
| --- | --- |
| By: | Skipperondeck (Evansville, IN, July 24, 2010) |
| Review: | Strongly recommend for someone returning to the Church. Best Uses: Reference; Describe Yourself: Casual Reader; Pros: Easy To Read, Informative |