The Last Supper - DaVinci -16x32
100% Satisfaction Guarantee
---
Product Description
Leonardo da Vinci was already a well known artist when he created his masterpiece The Last Supper. He painted it on the back wall of the dining hall at the Dominican convent of Sta Maria delle Grazie in Italy. The reason the painting is laid out the way it is is that Leonardo was trying to "extend the room", to make it look like Jesus and his apostles were sitting at the end of the dining hall. This painting became an instant famous work, for many reasons.

The painting depicts the very moment that Jesus has said to his disciples:
When it was evening, he reclined at table with the Twelve. And while they were eating, he said, "Amen, I say to you, one of you will betray me." Deeply distressed at this, they began to say to him one after another, "Surely it is not I, Lord?" He said in reply, "He who has dipped his hand into the dish with me is the one who will betray me.
--Matthew 26

The disciples are all reacting in horror to the thought that someone at that table would betray their master.
You might also like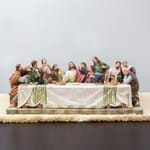 $66.95
Nice addition to any room!

| | |
| --- | --- |
| By: | Kevin (Pennsylvania, April 24, 2009) |
| Review: | An excellent print of the Last Supper, nice in any room. Best Uses: Display, Foyer, Home; Describe Yourself: Looking To Fill Space; Pros: Visually Pleasing |
Amazing!!!!

| | |
| --- | --- |
| By: | leanie (DeSoto Missouri, March 13, 2011) |
| Review: | I have never been happier to hang a picture so beautiful such as this on my wall!! Every one should have this picture in their home! Best Uses: Gifts, Home; Pros: Visually Pleasing |