Powerful Chaplet (One-Decade)
100% Satisfaction Guarantee
---
Product Description
The "Powerful Chaplet" (One-Decade) has round hemitite and black "Hail Mary" beads, a black diamond-shaped "Our Father" bead, and silver crucifix. The chaplet is 7" long.
You might also like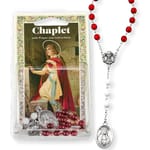 $10.95
$18.95
$11.95
Perfect for your pocket

| | |
| --- | --- |
| By: | Matt (Elizabeth City, NC, November 14, 2008) |
| Review: | Very convenient to cary. If you do not have enough time to pray the full rosary; this is perfect to squeeze in a prayer (or two) during your busy schedule. Also, if you lose it; the cost is low and you may have just blessed the "finder" with this spiritual gift. Best Uses: Pocket or purse; Cons: Medium quality; Pros: Durable, Good Value |
Excellent Product!

| | |
| --- | --- |
| By: | James (Austin Tx, May 16, 2009) |
| Review: | Excellent for praying. Pros: Perfect Size |