Praying Hands 2 Personalized Prayer Card (Priced Per Card)
100% Satisfaction Guarantee
---
Product Description
The Praying Hands #2 prayer card has an image of praying hands with a bright light shining behind the hands. Made in Italy.
This prayer card can be used as a funeral card or memorial card or included in a thank you note after the funeral. Select a prayer or provide your own, these can be personalized to suit your needs. Cards are micro-perforated.
Dimensions & Specifications
Priced individually
Personalization included
Minimum order of 16 cards
Order in multiples of 8
Cards measure 2.5 x 4.25
Add lamination: $0.50 per card
Micro-perforated
---
Product Video
---
You might also like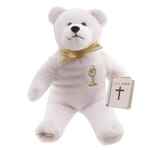 $10.95
WOW...........WOW.....WOW

| | |
| --- | --- |
| By: | JUDE THE UNWORTHY SERVENT (OSGOOD OHIO, March 27, 2012) |
| Review: | THE PRAYING HANDS SET THE TONE OF THE CARD. FOR THE VERSE WE HAD PLACED ON THE OTHER SIDE HAS A PRAYER FOR GOD TO RESTORE THE USA. THAT WE ALL PUT OUR HANDS TOGETHER TO UNIFY THIS PRAYER. Best Uses: TO GET OUR PRAYER OUT TO; Cons: none; Describe Yourself: SEACKER WHO FOUND; Pros: Attractive Design, Good Value, Great Quality, JUST BEAUTIFUL, Unique |
GREAT SERVICE! AND ALWAYS BEST QUALITY!!

| | |
| --- | --- |
| By: | JUDE THE UNWORTHY SERVENT (OSGOOD OH, April 19, 2012) |
| Review: | THESE CARDS ARE BEING PAST OUT FOR PEOPLE TO SAY THE PRAYER. PEOPLE LOVE THE PRAYING HANDS AND THE PRAYER YOU PRINTED ON FOR ME. THE QUICKNESS OVERWHELMS ME. THANK YOU!!!! Pros: Beautiful, Great Quality |