Wheat Cross Pendant -14K Gold
100% Satisfaction Guarantee
---
Product Description
This classic design features an elegant wheat pattern. Wheat is the underlying representation of the Eucharist and a reminder of faith . The Wheat Cross Pendant is 14K yellow gold and is available in two sizes: Small - 28MM and Large - 39MM.

Click here to see our selection of chains: Chains


This item will ship separately from our warehouse, if you have other items in your order they will arrive separately.
You might also like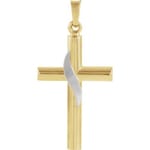 $259.95