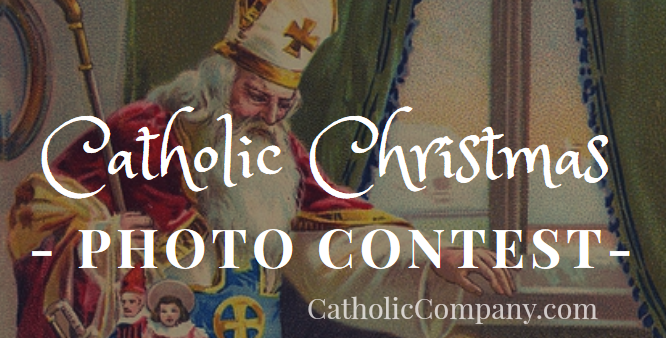 We want to celebrate a Catholic Christmas with you! Announcing our annual Catholic Christmas Photo Contest!
We want to see photos of your Advent and Christmas festivities so that we can reshare them and inspire others to fully celebrate our Christian faith and heritage during this joyful season. We're doing it Because Faith Matters!
This photo contest is broad and can include photos of any of the below, and more, as long as it celebrates Catholic customs or religious traditions surrounding the liturgical seasons of Advent and Christmas.
For example, you could submit a photo of any of the following:
St. Nicholas Day celebrations
St. Lucy's Day celebrations
Religious holiday decorations
Our Lady of Guadalupe feast day celebrations
Christmas pageants and plays
Catholic Advent and Christmas celebrations from cultures around the world

How to Enter:

Take your best photo and email it to us at social@catholiccompany.com. You may submit up to 3 photos per household (you can stagger them throughout the entry period if you want include a different photo for different events in the course of the Advent & Christmas seasons).
Along with your attached photo, in your email please include:
Email subject line: Your full name and the number of your entry (1st, 2nd, 3rd)
Email body: 1) Your name, 2) Your city and state, 3) A description of what is happening in your photo.
We will upload all eligible photos that meet the criteria mentioned to a photo album featured on our Facebook page for our followers and customers to view along with your first name, city, state, and photo description.
Contest Start/End
The contest opens on the Feast of St. Nicholas, December 6th, 2017, and closes on Epiphany, January 6th, 2018.
Winners:
Employees of The Catholic Company will choose our top three favorite photos.

Prizes:

The Grand Prize winner will receive a $100 Gift Card to The Catholic Company. Additionally, two runners up will receive a $50 gift card. The winners will be announced on Facebook on Wednesday, January 9, 2018 and personally contacted via the email address you used to enter your photo.

Rules & Guidelines:
Photos must be from the 2018 Advent/Christmas season.
Photos must fit the overall theme of "A Catholic Christmas."
The higher the resolution of the photo, the better!
Small, low-resolution, or blurry images may be disqualified.
You must own the copyright to the photo.
Original photo files only (no screenshots).
Photo files must be attached to the email itself (no links to photo folders).
Unenhanced photos only (no photo collages, photo effects, or text/graphics on photo).
By submitting your photos, you grant The Catholic Company permission to display or distribute the photo on our website, blog, social networks, printed material, etc. You will receive no compensation for our usage. We reserve the right to delete any submissions we deem inappropriate in any way.
The Gift Cards have no cash value and can be used only for the purchase of merchandise plus shipping fees at www.CatholicCompany.com.
We hope you have a very Merry Christmas!