Persecution against Christians in China is now at a new high. This month news hit that Chinese authorities arrested a Vatican-appointed bishop, and this week the Chinese government issued new regulations aimed "to suppress all unofficial religious activities via dispersing Christian house churches, silencing Tibetan and Xinjiang separatists and undermining the Vatican's influence on Chinese Catholics." Read more from ChinaAid.
There is, of course, a history of tension between the Vatican and the Chinese goverment, between the underground Catholic Church in China and the state-approved "Catholic Patriotic" churches. Yet, the atheistic Communist country continues to explode with enormous numbers of practicing Catholics.
Despite the intense crackdown by the totalitarian goverment, Christianity is growing tremendously. It is estimated that there are 12 million Catholics in China, and soon there will be more practicing Christians in China than there are in the United States. It is predicted that Christianity is growing so rapidly in the country that China is on course to become the 'world's most Christian nation' within 15 years.
VIEW THESE AMAZING PHOTOS
I recently came across some incredible photos of the persecuted Catholic Church in China by legendary Chinese photographer Lu-Nan.
I cannot  look at them without experiencing a flood of emotion.
Lu-Nan's epic photo documentary of China's underground Catholics (On the Road collection, shot from 1992-1998) is a project that risked arrest for himself and his subjects. It was first displayed to the public in 2006.
He beautifully and artistically captures the incredible devotion of Chinese Catholics who are forced to keep their faith hidden. The images are powerful and awe-inspiring. A sampling of the collection is displayed below.
View the album On the Road, the Catholic Church in China by Lu-Nan.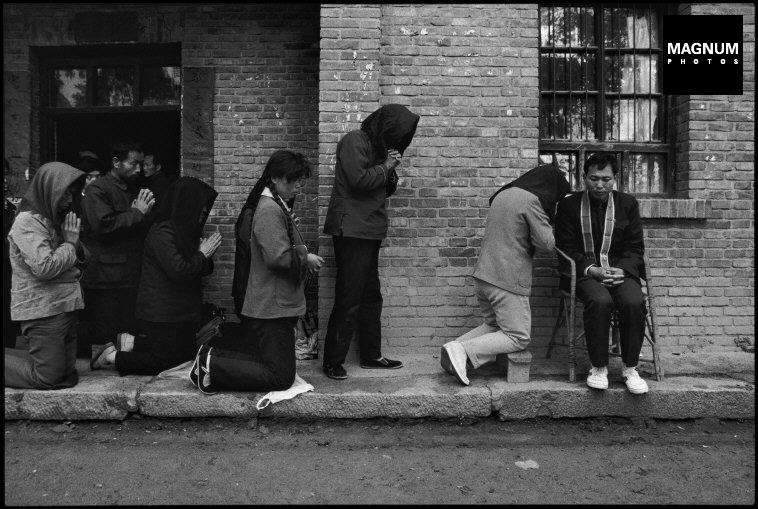 CHINA. Shaanxi Province. 1992. In China, the number of the ordained is far smaller than to the Catholic population. Sometimes a Father must hear nearly a thousand confessions.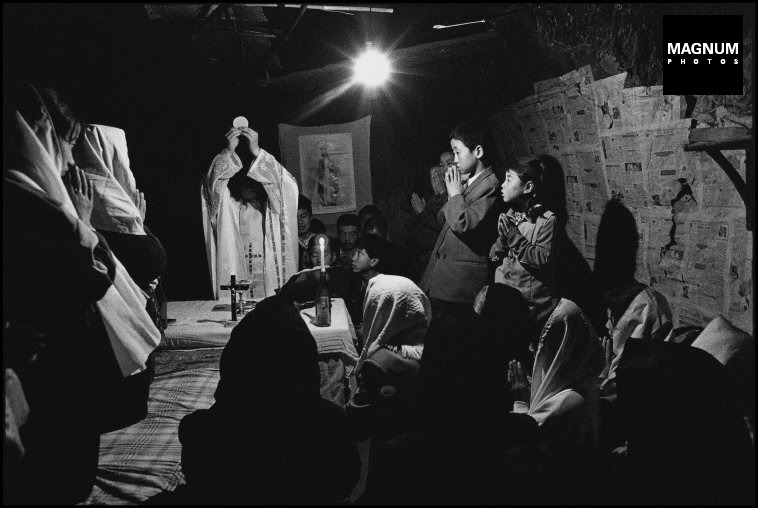 CHINA. Shaanxi Province. 1995. Mass is given in a member's residence in a village with no local church. Mass in a family house is officially prohibited by the Government, but the 'unofficial' churches take the risk.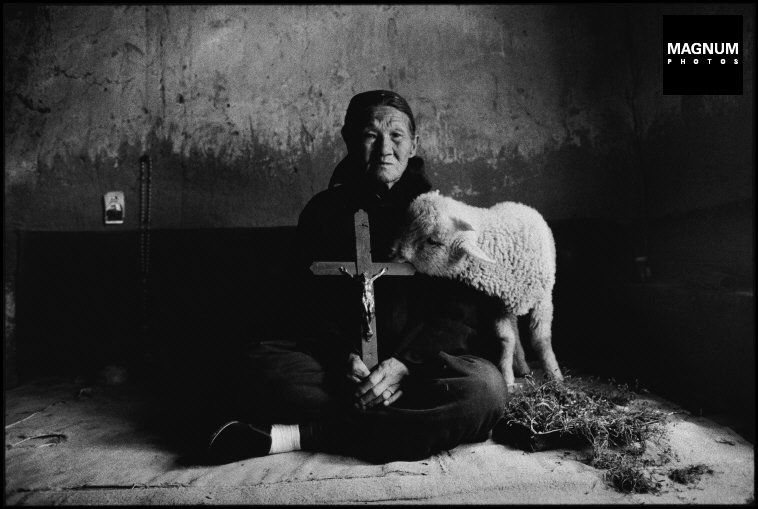 CHINA. Shaanxi Province. 1992. Han Ying Fang, 71 years old, is a fifth-generation Catholic in her family. During the Cultural Revolution, the Red Army raided Catholic homes, confiscating Bibles and other religious references. If the order was not obeyed during a given period, Catholics were severely punished at town meetings. At the time, when Hang Ying Fang's husband was still alive, he took the risk of hiding this crucifixion in the ceiling. It has survived until this day.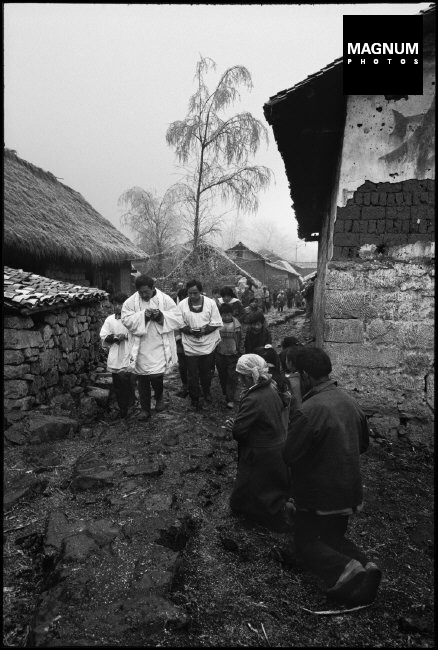 CHINA. Yunnan Province. 1996. A priest consecrated bread signifying the body of Jesus Christ. Behind him are members of the church.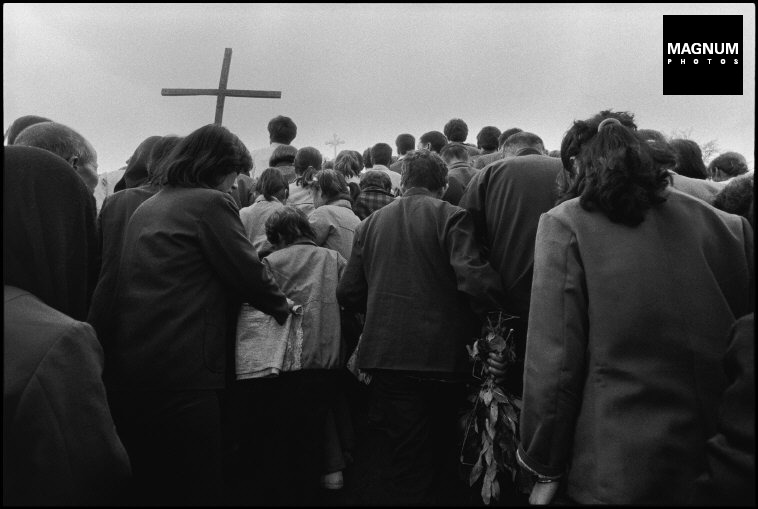 CHINA. Shaanxi Province, Mei-Xian Prefecture, Paow-cun Village.1992.
Every year on the 3rd May and the 14th September, Catholics from all over China make pilgrimage to commemorate the finding of the Holy Cross. According to one Father, this mountain resembles the shape of the Valley Mountain where Jesus Christ was crucified, and it was named a holy place by a Roman Catholic Pope. The number of pilgrims is usually in the thousands, sometimes reaching even ten thousand.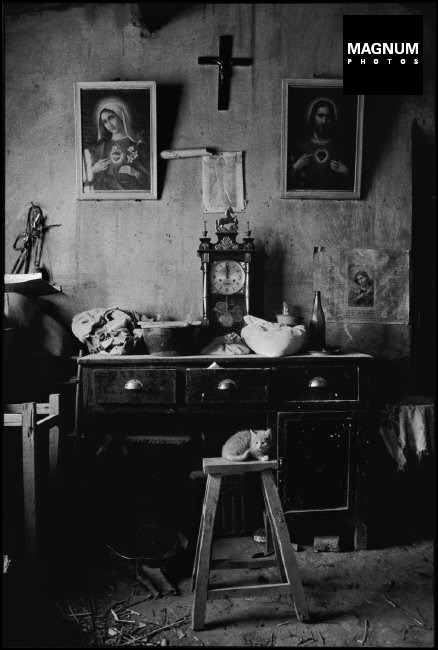 CHINA. Inner Mongolia. 1992. A nun's bedroom.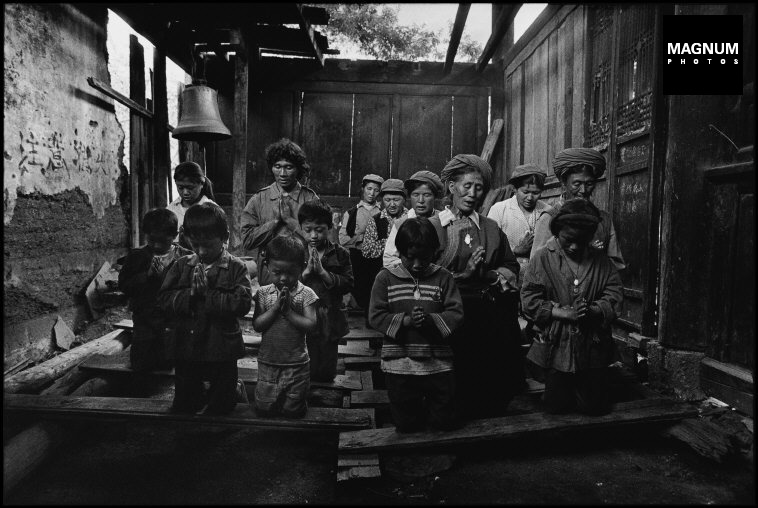 CHINA. Yunnan. 1993. A Tibetan village, which has about 60 Catholics. At the turn of the century, a French-Jesuit priest whose Chinese name was Reu-An Yi built a church here. During the Cultural Revolution the church was destroyed, and this simple chapel used to be where the holy wine was stored.
Viewing these photos can help us put things into perspective and re-prioritize our lives. Is our Catholic faith the most important thing to us, in the way it obviously is for the Chinese Catholics in these photos, who risk everything to practice their faith?
These photos should also make us appreciate living in a historically Christian country where freedom of religion is a foundational principle, and to work diligently to keep it that way.
Lu Nan has remarked that it would be enough for him if his photographs were appreciated by just five people over the next 25 years. Certainly he has reached many more people than that just through this single article.
May these photos of our Chinese brothers and sisters increase the faith of us all! Jesus, Mary, and Joseph, pray for the Catholic Church in China. Amen.
See next The Great Work the Knights of Columbus Are Doing to Help Middle East Christians