We are excited to announce a newservice of The Catholic Company!
Good Catholic is a new platform designed to

provide you with digital content that will help youto embrace your Catholic faith, grow spiritually,and ultimately, spend eternity with Christ.

We know that you, our customers, are

searching for opportunities and materialsthat will help you to live your life as adevout and joyful Catholic.

Do you want to be a better Catholic?

Good Catholic is the answer!

Our first offering—Fatima: 100 Years—is a guided

30-day educational content series that commemoratesthe 100th anniversary of the apparitions of theBlessed Virgin Mary in Fatima, Portugal.

Although many Catholics have heard of

Our Lady of Fatima and her appearance tothree shepherd children in 1917, most peopledo not know the whole story or its crucialimportance in world history, the life of theChurch, and our own eternal salvation.

We're about to change that.
The events at Fatima were a prophetic message

from heaven for our modern world. They began onMay 13th, 1917, and concluded on

October 13th

with the incredible "Miracle of the Sun," whichwas witnessed by over 70,000 people.

We believe it is important for everyone to know

Our Lady's messages at Fatima, what they mean,and how they have dramatically unfolded inhistory over the last 100 years.

In the words of Pope Benedict XVI:

"We would be mistaken to think that Fatima'sprophetic mission is complete."

Pope Francis, who dedicated his pontificate to

Our Lady of Fatima, will mark this centenary witha trip to Fatima on

May 13th

, the date of her first visit.

How can you participate

in this special centennial?
We want you to have the opportunity

to take part in this special occasion in thelife of the Church right from your own home.

Our series will explain the historic events

of Fatima and show how they applyto you and your family today.

This series will include 30 articles and videos,

delivered to you one at a time over the course of 30 days.We will also provide prayer resources, so that you can praythe rosary daily and join in a Fatima novena asyou take this journey with us.
Our goal is for this series to be

transformative for your whole life.

It's time to truly understand

the profound message of Fatima.

Purchase your subscription now,

and take the journey with us.

subscribe here: www.GoodCatholic.com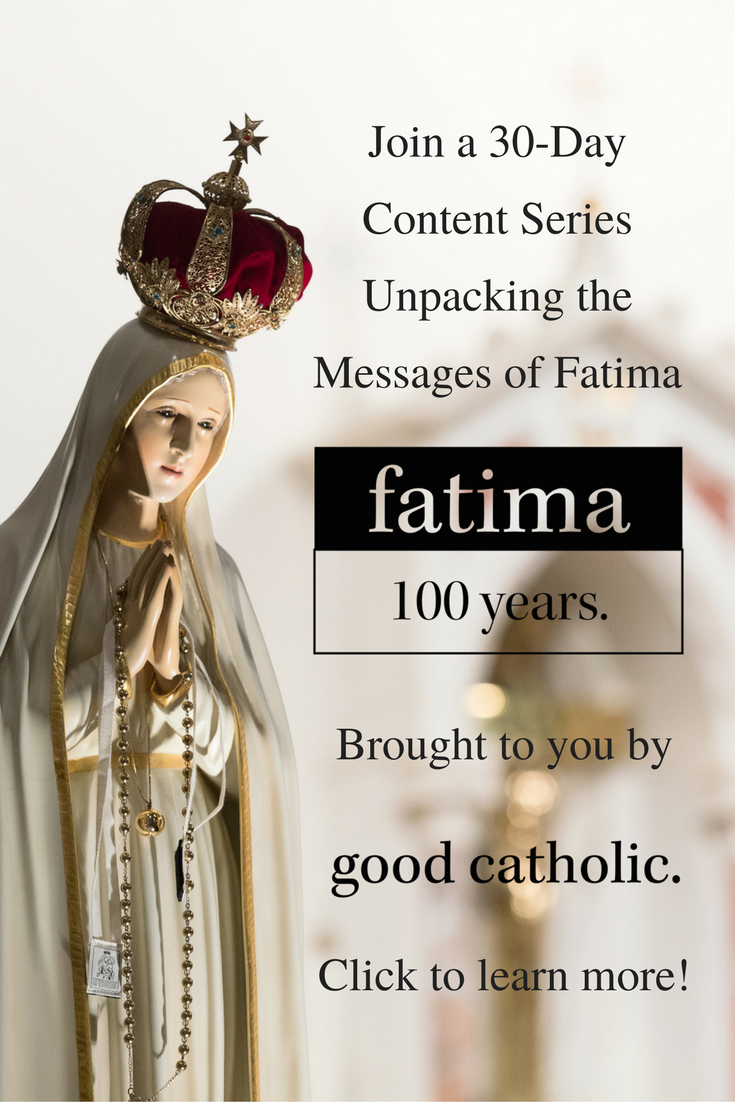 Comments