And we conclude the second jam-packed day of Pope Francis' historic apostolic visit to the United States. And there's still three more days to go!
FIRST STOP: U.S. CONGRESS
The highlight of today was clearly the Holy Father's address to a Joint Session of Congress - the first time the Vicar of Christ has done so.
House Speaker John Boehner, a Catholic, invited Pope Francis to make the address. While this Pope is not the first to be invited to do this, he is the first to accept.
And there is some special significance behind this, as the USCCB pointed out in their news coverage today (photos below taken from their live streaming):
The first U.S. bishop, John Carroll, was a Jesuit (his cousin signed the Declaration of Independence). John Carroll fought well for the rights of Catholics in America during a time when ten out of the original thirteen colonies outlawed Catholicism.
Fast forward to today, and an astounding 1/3 of the members of Congress are Catholic. This is quite remarkable. And Pope Francis, the first Jesuit Pope, is the first to address them collectively. How fitting!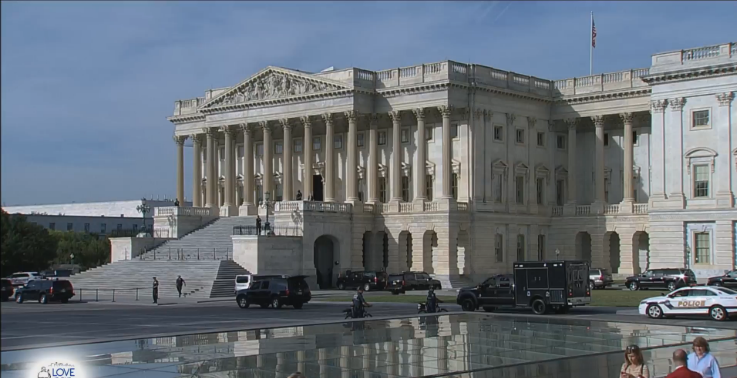 When Pope Francis first arrived he sat down to greet Speaker John Boehner, who thanked him heartily for accepting his invitation.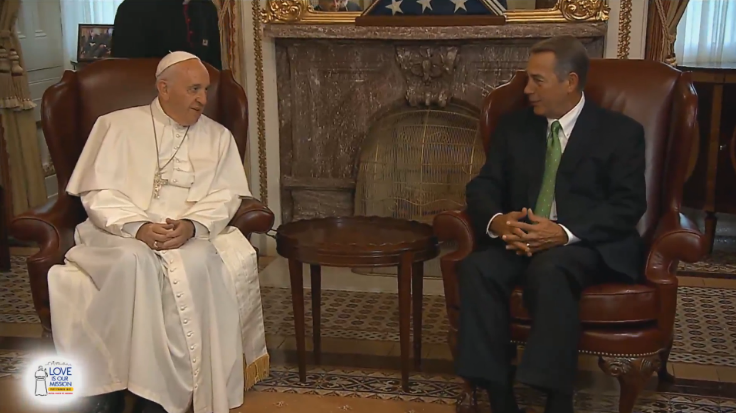 Huge crowds of pilgrims gather outside Capitol Hill to watch Pope Francis' speech and to catch sight of him.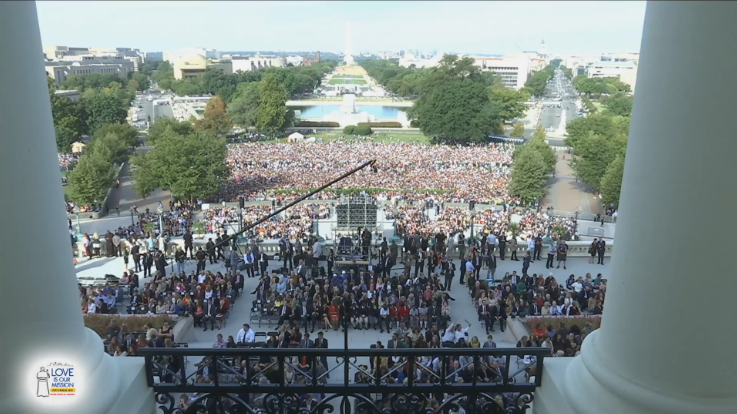 This little black car, a Fiat, is becoming famous. Whenever the crowds catch sight of it they erupt in cheers.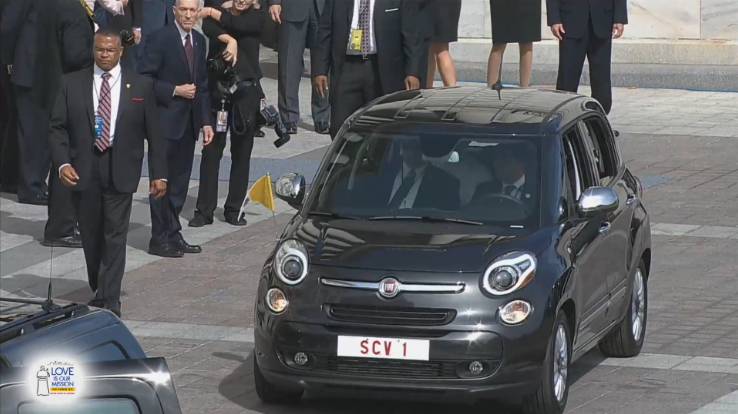 Pope Francis greets John Kerry, also a Catholic, as he arrives to make his speech.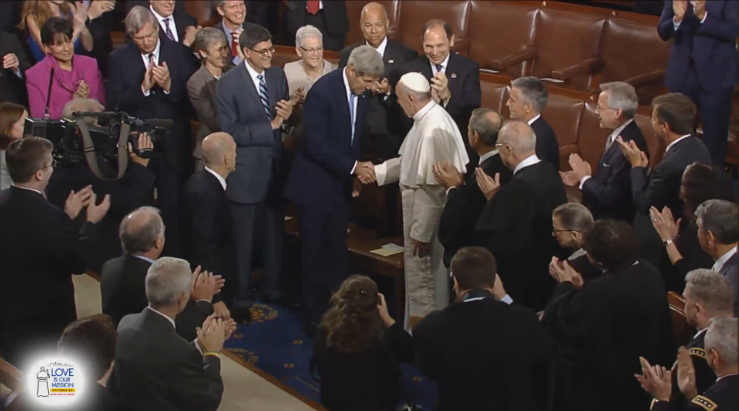 Pope Francis address an attentive U.S. Joint Session of Congress. Will his speech move any hearts?
Read the Full Transcript of First Ever Papal Speech to U.S. Joint Session of Congress.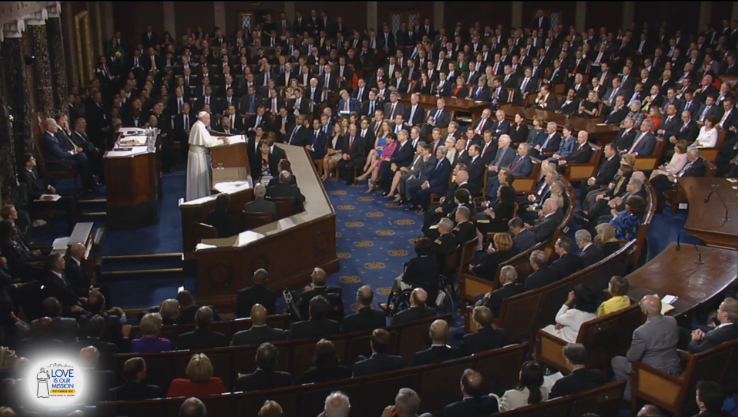 "I am most grateful for your invitation to address this Joint Session of Congress in 'the land of the free and the home of the brave'. I would like to think that the reason for this is that I too am a son of this great continent, from which we have all received so much and toward which we share a common responsibility." - Pope Francis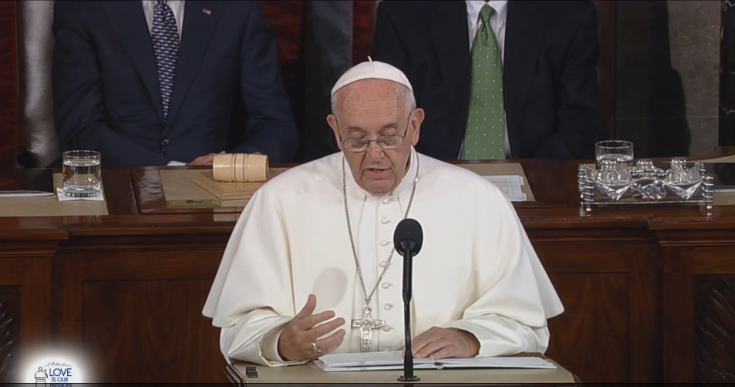 "All political activity must serve and promote the good of the human person and be based on respect for his or her dignity. 'We hold these truths to be self-evident, that all men are created equal, that they are endowed by their Creator with certain unalienable rights, that among these are life, liberty and the pursuit of happiness.'" (Declaration of Independence, 4 July 1776) - Pope Francis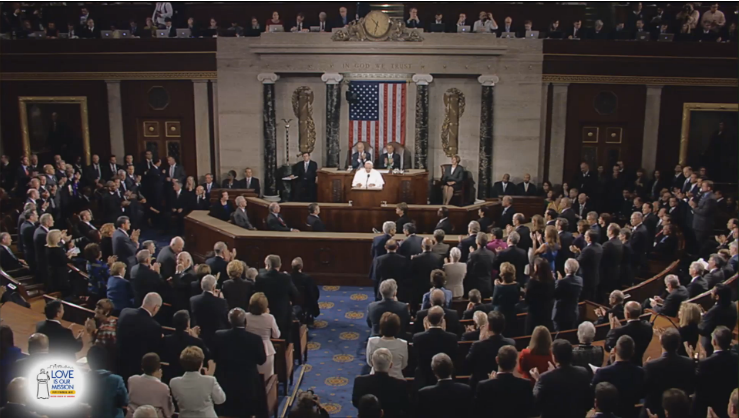 After his speech Pope Francis visited the statue National Statuary Hall to see the bronze statue of Junipero Serra, whom he canonized yesterday. Each U.S. state is permitted to place two statues in the Hall representing figures important to their history; California chose Junipero Serra as one of their two.
Isn't it incredible to think about the missionary labors of St. Junipero Serra centuries ago, and how it has led to this moment?  This is the fruit of the Communion of Saints working with Christ to evangelize and redeem souls.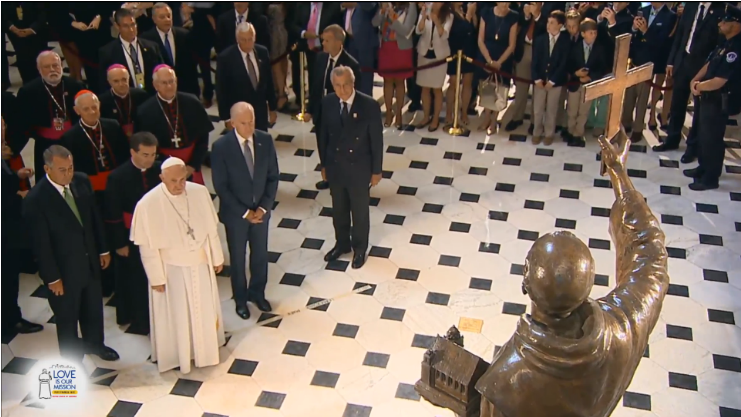 After his speech, Pope Francis steps out onto the balcony to greet the crowds waiting to see him. On his left and right are the two of the most powerful Catholic politicians in America, Vice President Joe Biden and House Speaker John Boehner.
Boehner was barely holding it together! And how can we blame him?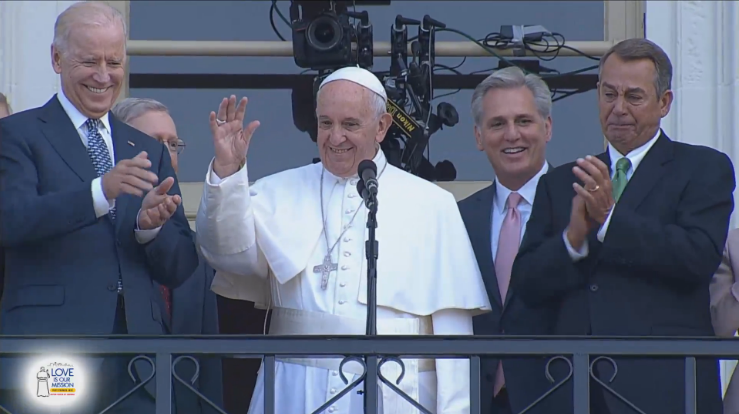 Tens of thousands of Catholics from all over the country, especially students, gather to witness this historic moment.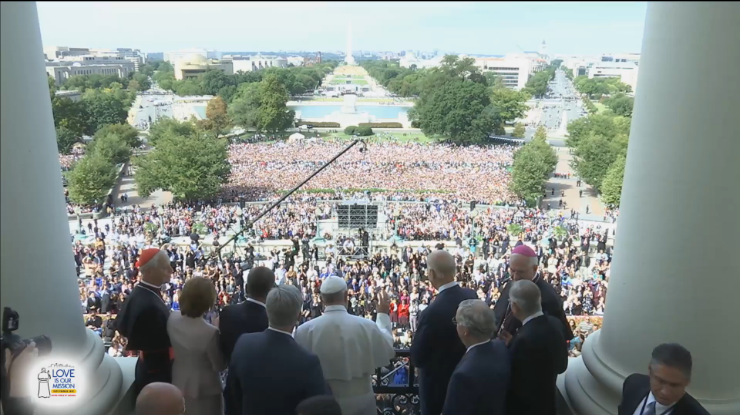 SECOND STOP: CATHOLIC CHARITIES, D.C. ARCHDIOCESE
Pope Francis' next stop was D.C.'s St. Patrick's Catholic Church where he addressed Catholic Charities to commend them for the work they do in serving the poor, homeless, and marginalized.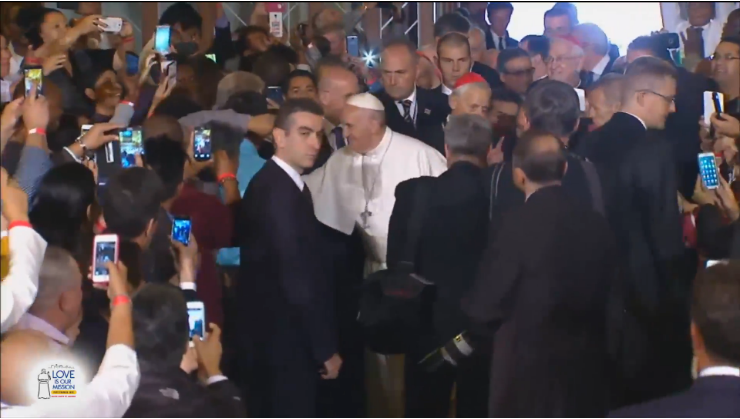 But not before he stops to pray before an altar to the Blessed Mother, whom he always turns to for help in all his apostolic labors in recognition that she is the mother of the Holy Catholic Church.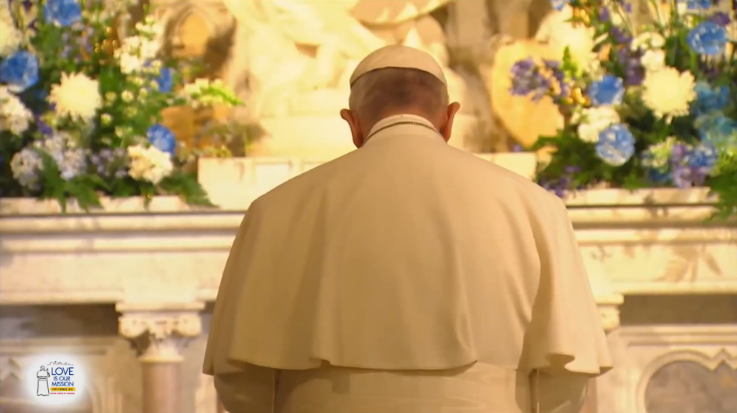 The most touching part of Pope Francis' address to Catholic Charities and the people they serve was how they reminded him of St. Joseph:
"I can imagine Joseph, with his wife about to have a child, with no shelter, no home, no place to stay. The Son of God came into this world as a homeless person. The Son of God knew what it was to start life without a roof over his head."
Read the full text of his visit to St. Patrick's Church and Homeless Shelter.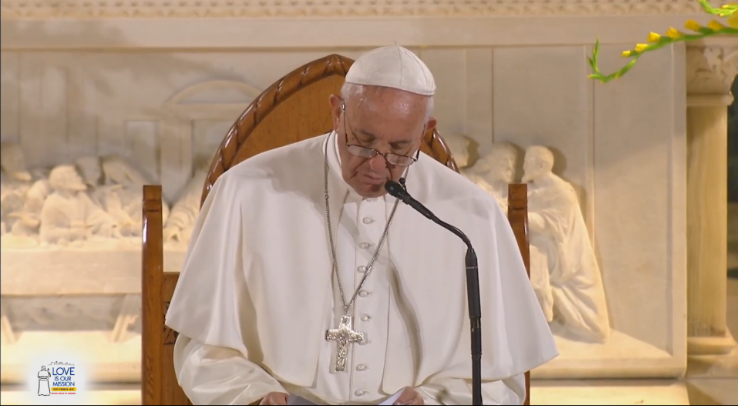 After his speech Pope Francis took some time to mingle through the crowds of the homeless who were gathered at St. Patrick's to be served a hot meal.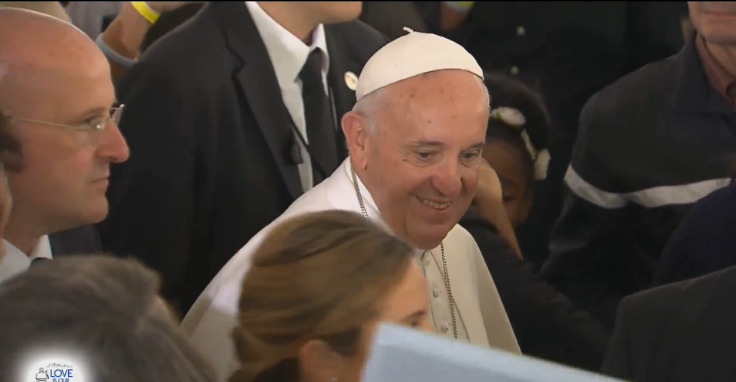 Pope Francis took a break after lunch to rest, while scores of youth waited outside for his next move.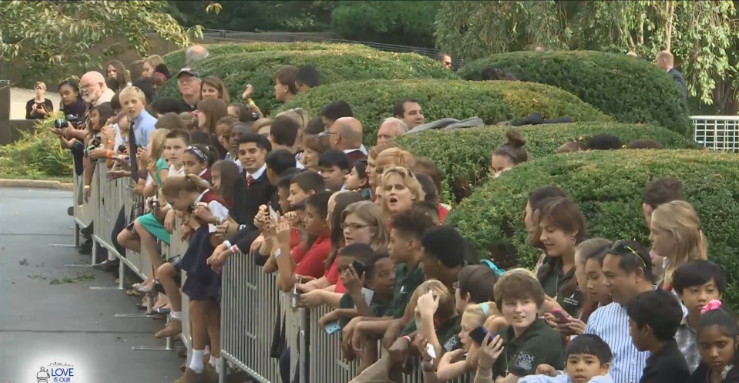 Pope Francis is never a disappointment to the crowds. Before heading to the airport for New York he spends a few moments saying hello to the youth, for whom he has always displayed a special love.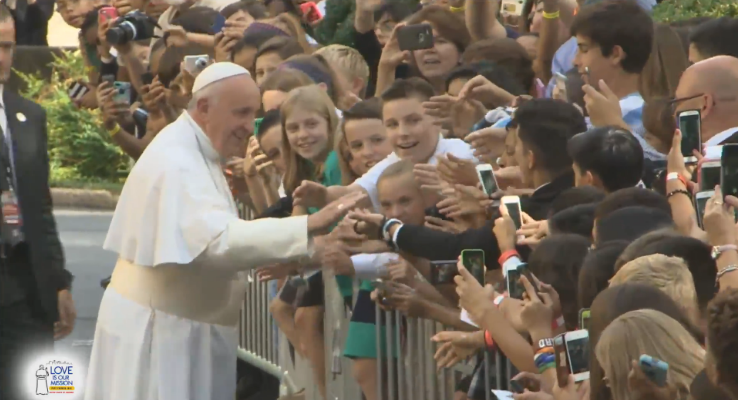 After spending nearly two days in Washington, D.C., Pope Francis heads to New York City.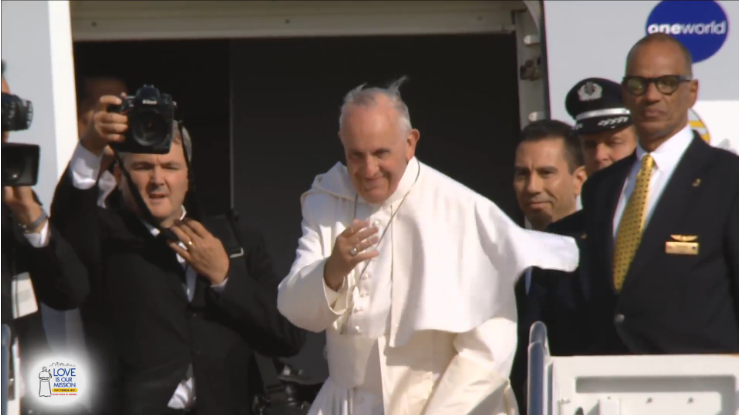 It was so neat to see his plan flying the United States and Papal Flags side by side.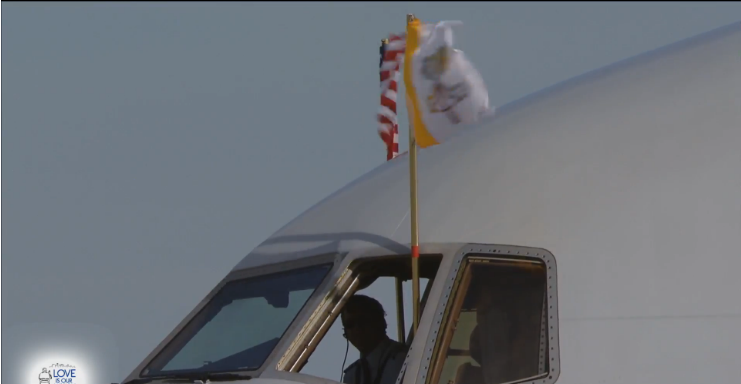 This Pope is never without a proper greeting or a proper farewell.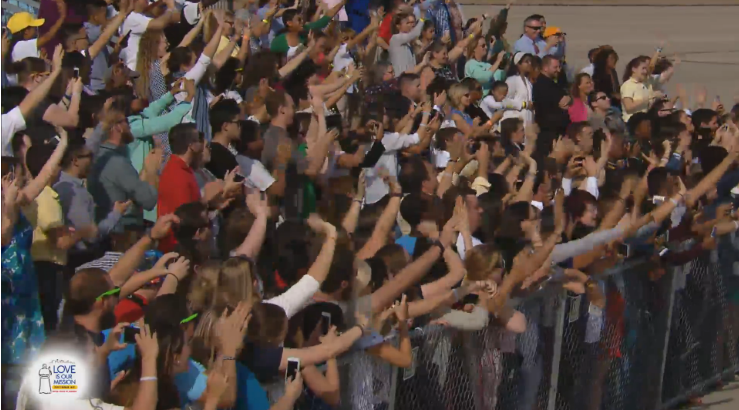 STOP THREE: NEW YORK CITY
Pope Francis arrived in New York City to pray Vespers at St. Patrick Cathedral with clergy as well as men and women religious.
What beautiful vestments - he looks just like St. Patrick!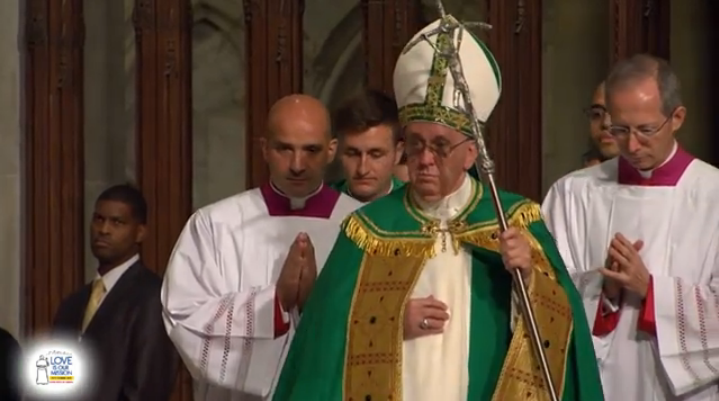 "This beautiful Cathedral of Saint Patrick, built up over many years through the sacrifices of many men and women, can serve as a symbol of the work of generations of American priests and religious, and lay faithful who helped build up the Church in the United States. In the field of education alone, how many priests and religious in this country played a central role, assisting parents in handing on to their children the food that nourishes them for life! Many did so at the cost of extraordinary sacrifice and with heroic charity." - Pope Francis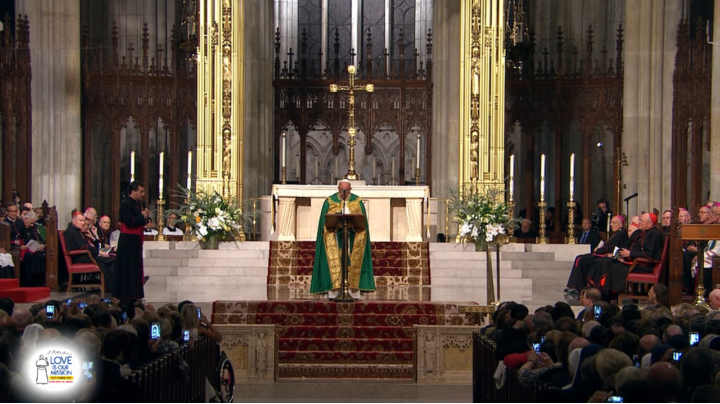 Read the full text of Vespers with Pope Francis in New York City
As Timothy Cardinal Dolan said to Pope Francis in St. Patrick's Cathedral, "Once you entered those famous doors on 5th Ave, you became an official New Yorker." The Holy Father was amused.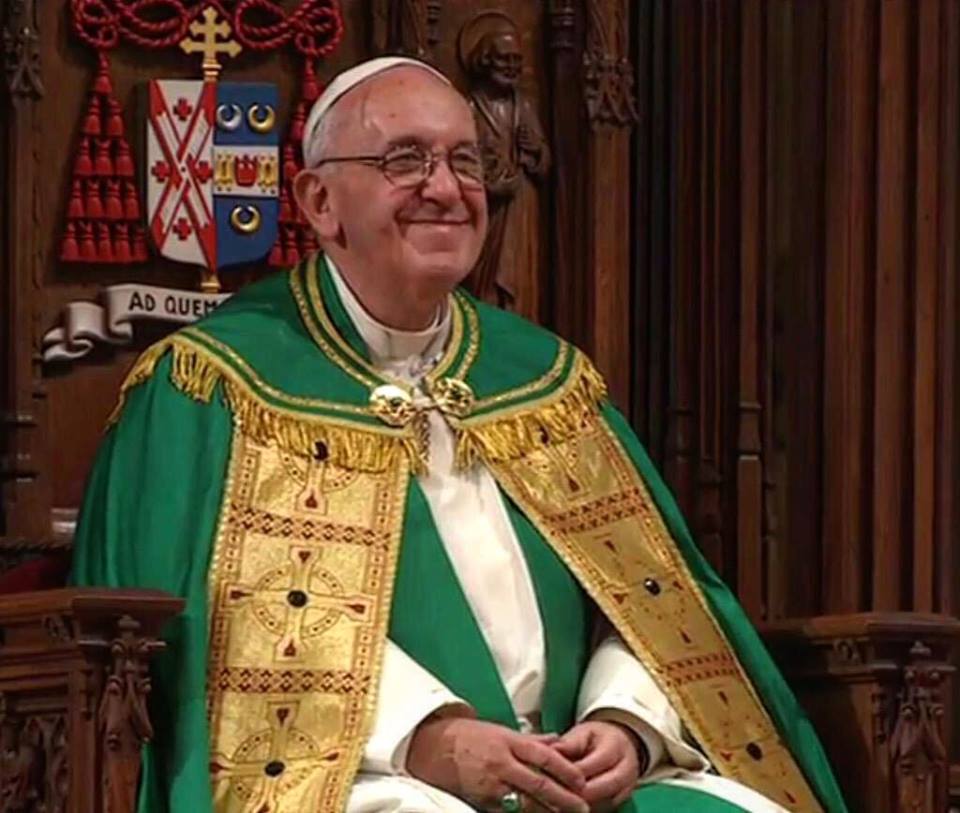 After Vespers the crowds again swarm to get a closer glimpse of the Holy Father.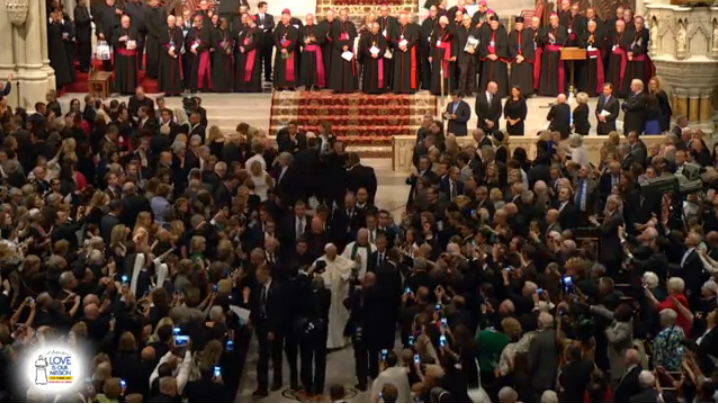 What an amazing day, and how wonderful it must be for the pilgrims on the ground soaking up all those graces and papal blessings.
Looking forward to spending another day tomorrow with our Holy Father in the great United States of America!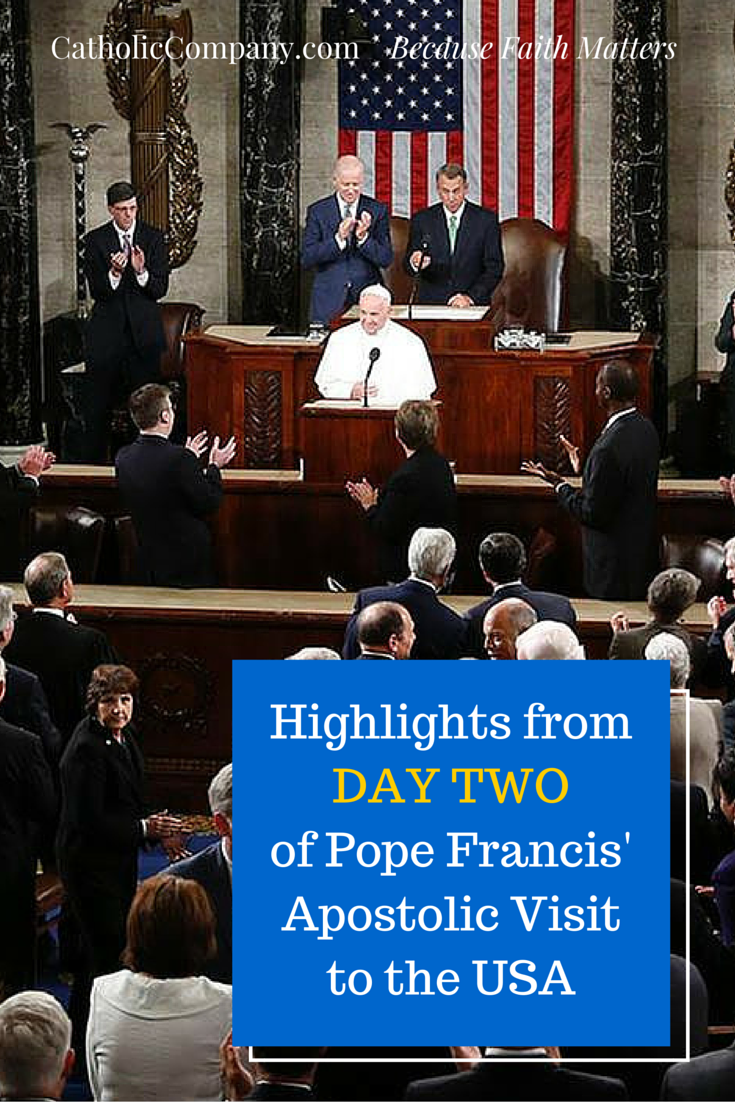 Comments