What's so interesting about watching scenes of violence and death in parades or movies during Holy Week? Well, that is a legitimate question that non-Christians might ask themselves. But there is a good answer.
Since we live in an era when customs and traditions have faded and tend to lose their meaning, it's good to remind ourselves that, concluding the spiritual preparation of Lent, Holy Week is the annual commemoration of the Passion of Christ. It's not just another religious tradition. We aren't celebrating the fact that the Son of God suffered and died, but Catholics are recognizing and honoring His sacrifice, accompanying Him spiritually and physically, as if we had been there with Him, two thousand years ago.
In other words, Holy Week is when Christians observe the anniversary of the last days of Jesus' life on earth—His passion, death, and resurrection—with a special love and gratitude that involves meditating in a deeper way on the great price He paid for our sins.
HOLY WEEK TRADITIONS
Customs and traditions vary from place to place, and Christians commemorate Holy Week in different ways. I was curious as to why some countries (Spain, the Philippines, Portugal, and many places in Latin America) appear to express greater fervor at the close of Lent.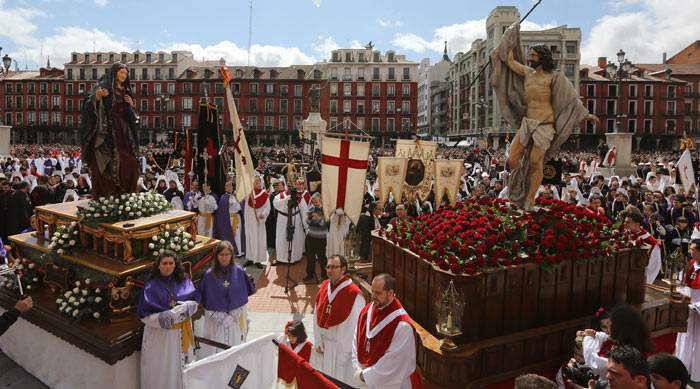 Procesión del Encuentro - The Encounter Procession in Valladolid, Spain. Image Source: www.elnortedecastilla.es
This is because they share a common heritage: Catholicism was the official religion in Spain, and Spanish missionaries brought Catholicism to the Americas and the Philippines. If, like me, you grew up in one of these countries but no longer live there, you might miss all of the religious celebrations, and even get homesick when the Lenten season arrives.
For Many Countries, Lent is a Religious Holiday
In some countries, there was a time when you didn't even listen to contemporary music on the radio during Lent, to help you maintain a spiritual frame of mind. School is suspended for two weeks from Palm Sunday to Easter; not for Spring Break, but in observance of the holiest time of year. That lets people easily participate in church activities (even if some choose to go to the beach instead.)
My grandmother didn't let me run, jump, or play songs and things like that during Holy Week; and if I were to do one of these things on Good Friday, it would make me a sinner! Those are the beliefs in some countries, and that is why some businesses are closed beginning on Holy Thursday.
[[18585, 7151]]
Times have changed, and some people have fallen away from their Catholic faith, but these spiritual traditions have survived as evidence that God is eternal.
There are many ways that Catholics express their faith as a community, so let's get familiar with some of these wonderful Catholic customs and traditions that are practiced annually during Holy Week:
Processions in the Streets
There are many processions during Holy Week: The Palm Sunday procession, the Procession of Silence, the Via Crucis on Good Friday, the encounter of Jesus and Mary on Easter, and more. The video below gives a glimpse of the fervor in Sevilla, Spain.
A procession is a way to represent the life of Christ to every person on the street. If there is one religious observance in which you can see,in a particularly vivid way how Catholics honor Jesus' love for us, it is through the processions. They are a powerful way to express eternal gratitude for the sacrifice of our Lord.
If you want to live Holy Week to the fullest, cities in Spain and Latin America are good places to go on a pilgrimage.
Colorful Carpets
The streets of various cities are filled with vibrant color thanks to the beautiful sawdust carpets placed there temporarily for the Holy Week processions.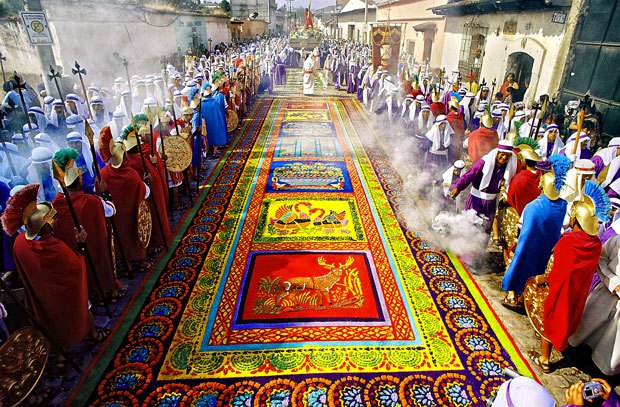 Lent Procession with carpets in Guatemala.
Alfombras
are even more amazing in person! Image source: palasantour.com
These ornate carpets (called alfombras) show the devotion and faith of Catholics who dedicate this work and effort to receive the blessing of the holy images that process into their neighborhoods. This tradition evokes the triumphal entry of Jesus into Jerusalem on Palm Sunday, when people spread their coats on the ground and waved palm branches to receive Him, which is the way kings were received.
But the connotation is not only religious. This is a fusion of both religion and culture, dating from the pre-Columbian era. The carpet motifs also include indigenous designs, animals, and flowers, depending on the custom of each country. So it is interesting to see the mix of Catholic and cultural traditions beautifully represented through these carpets.
Solemn Music
"Perdona a tu pueblo, Señor"
(Spare Your People, Lord) is probably the most popular Lenten song in Spanish-speaking countries. I have often heard it, and can remember it since my childhood. It is normally sung during the Procession of Silence, the
Via Crucis,
and during Mass.
You may have heard this song before, but in Latin, in which it's called Parce Domine. The song's refrain calls upon God's mercy. In English it goes like this:
"Spare your people, Lord,
Spare your people for eternity,
Be not angry with us, Lord."
Good Friday Performance of the Via Crucis
Good Friday is a holy day for everybody. In some places around the world, businesses are closed, making it easy to take to the streets and participate in religious activities. One of the most popular of these is the live performance of the
Via Crucis
, or Way of the Cross, also known as the
Stations of the Cross
.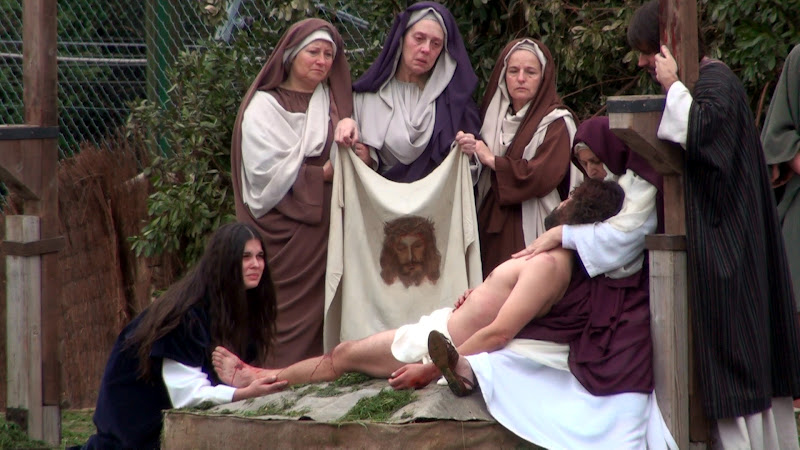 A performance of the Via Crucis in Balmaseda, Spain. Image source: http://balmasedatxoko.blogspot.com
In Italy, for example, the Holy Father will lead the Way of the Cross in the Colosseum on Good Friday, in the same location where so many of the first Christians were martyred. The crucifixion of Jesus is re-enacted to commemorate what took place two thousand years ago. Many local parishioners volunteer to be part of this important performance.
Pilgrimages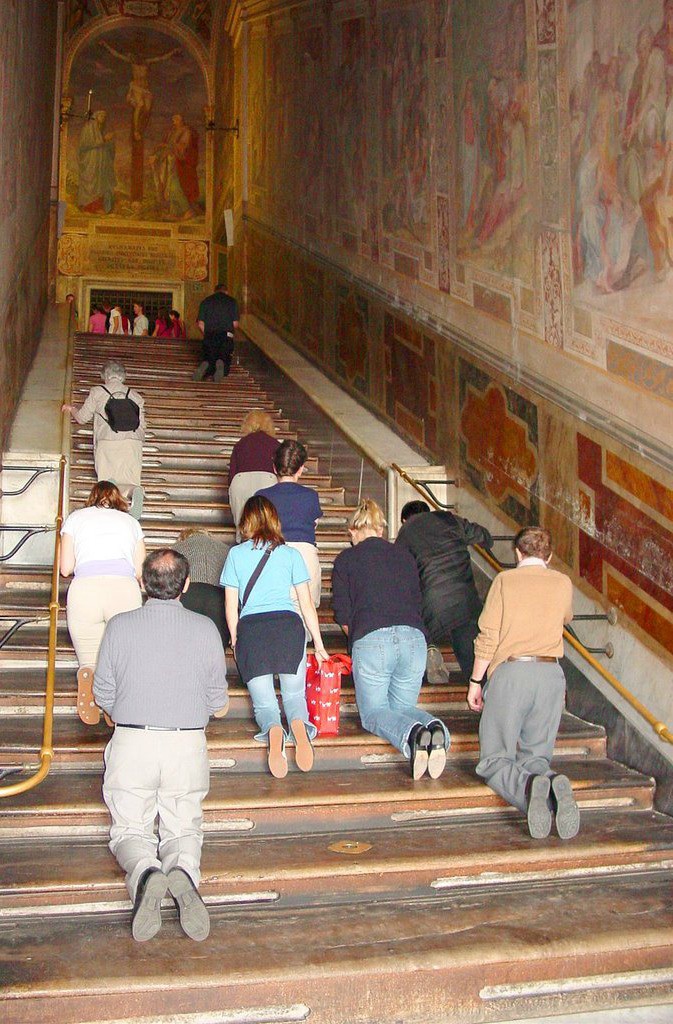 Scala Santa or "Sacred Stairs" in Rome, Italy. Image source: http://ivarfjeld.com
In Italy, during the forty-day season of Lent, some Catholics make a pilgrimage to basilicas all over the city, visiting one church each day. This practice is easiest to follow in Rome because you can find a church in almost every corner and you don't need a car to get around. In the U.S. it would be more difficult unless you lived in old cities with several Catholic churches very close to each other. When pilgrims visit certain holy places, they even walk on their knees to experience pain and offer it up to Jesus.
There is also a tradition of the Seven Churches Visitation, or Visita Iglesia. This takes place after the Mass of the Lord's Supper on Holy Thursday, when the Blessed Sacrament is removed from the tabernacle at the main altar and placed in an Altar of Repose for Good Friday into Holy Saturday. The faithful go on a "mini pilgrimage" to pay a short visit to the Blessed Sacrament at its altar of repose in seven nearby Catholic churches from Holy Thursday night through the morning of Good Friday.
This custom originated with Saint Philip Neri in Rome, who would go with his companions to visit the four Major Basilicas and three Minor ones during Holy Week. They would pack a picnic lunch for the day, and sing litanies as they traveled from church to church.
Easter Eggs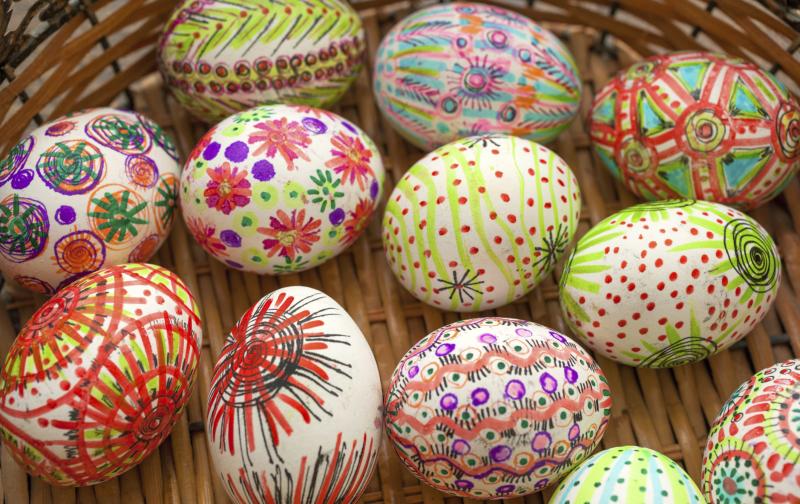 Easter Eggs. Image Source: http://www.taringa.net
What does Easter have to do with eggs? For the early Christians, eggs were a symbol of the resurrection and eternal life in Christ. In fact, Saint Mary Magdalene used the egg to preach the Gospel to the Roman Emperor.
Read The Story of Mary Magdalene and the First Easter Egg
In the early days of Christianity, hen or duck eggs were painted, and each color had a meaning:
Red = the blood of Christ
Ivory = the shroud
Green = rebirth
Blue = the peace of the Easter season
Yellow = the early light of the day of resurrection
Purple = the passion of Christ (color of Lent)
Even though Easter customs vary around the world, the decorating of Easter eggs is common in many countries. While this tradition is stronger in Europe, there are also countries (like Mexico and Central America) where the fun with Easter eggs is that they came filled with confetti and people break them on top of each other's heads—at least, that was something I got to experience!
[[27411, 15947]]
Christian Movies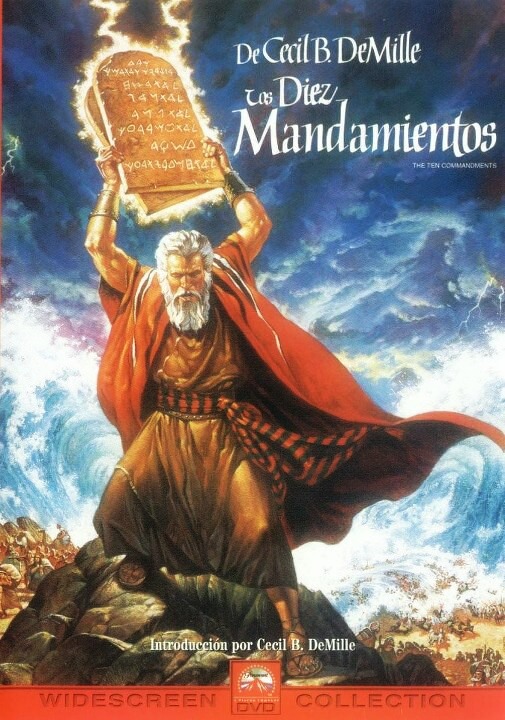 The Ten Commandments
The Ten Commandments is the first Christian movie that I saw, and it still remains one of my favorites. For many Latin American families, it is a tradition to choose a Christian movie to watch at night for a special family time, especially the classics. Even in the U.S. you will find The Passion of the Christ aired on major networks during Holy Week.
Special Lenten Dishes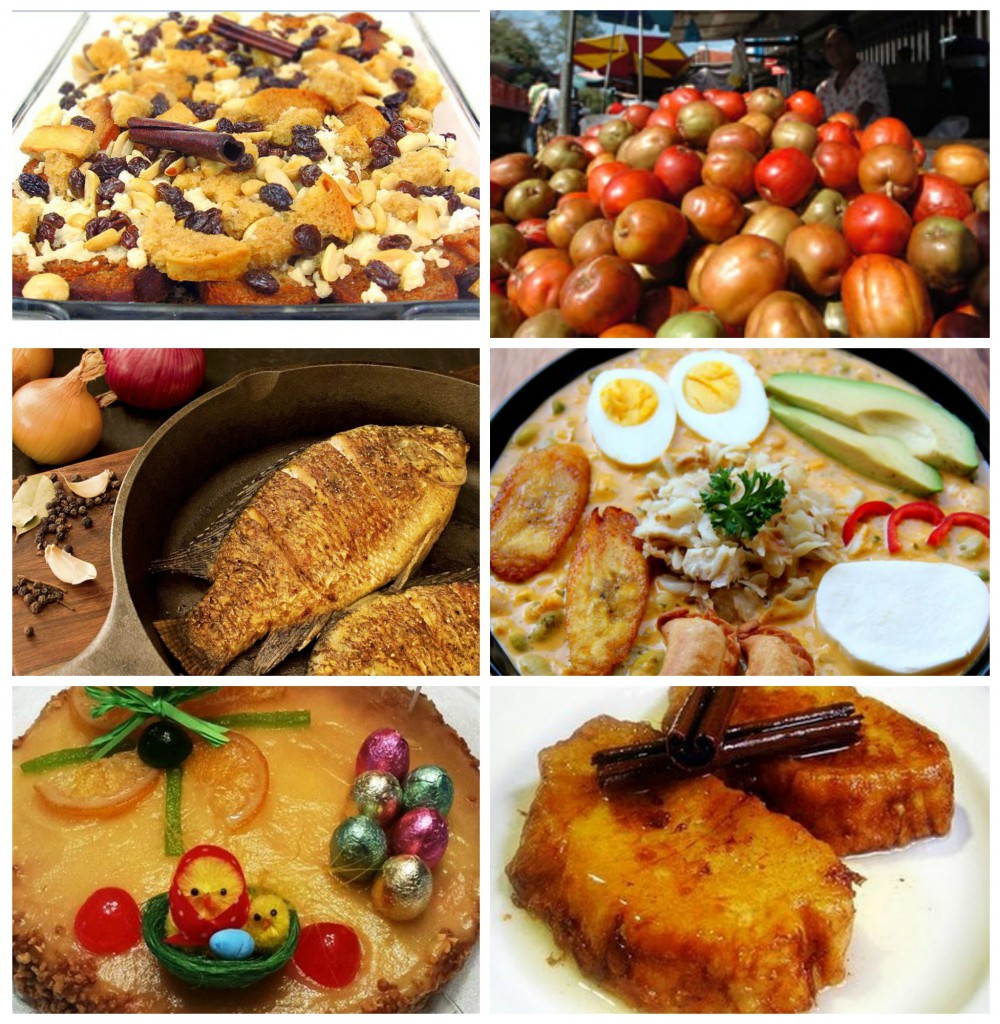 Some favorite (and delicious!) traditional Lenten dishes. From left to right: capirotada, jocotes, Pescado seco, Fanesca soup, Mona de Pascua (pastry), and torrijas or torrejas
Why do people eat particular foods just for Lent? They don't seem to require much sacrifice, because these dishes are delicious!
We all understand why we abstain from eating meat on specific days during Lent, to put forth an effort to attain greater communion with Christ. Eating a lot of bacalao (cod fish), which can be prepared in many ways, is a must-have staple during Lent.
Lent can be a sweet season, too. The capirotada is a traditional Lenten dessert in Mexico. It is bread pudding with fruit, and is prepared in many different ways. The ingredients have a symbolic meaning: the bread represents the Body of Christ, the syrup stands for His blood, the cloves symbolize the nails on the cross, the cinnamon sticks symbolize the wood of the cross, and the melted cheese represents the Holy Shroud.
Another sweet treat is the torrejas or torrijas, which are like French toast, made with dulce de panela (a special whole cane sugar), cinnamon, cloves, nutmeg, and so forth.
Comments