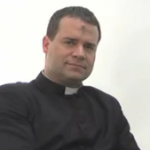 Fr. Matthew Kauth, one of our Charlotte diocesan priests, sits down with The Catholic Company to discuss the how the conclave process works, how the cardinals will elect a new Pope, and what the new Holy Father will face.  This interview was conducted in 3 parts which are both featured here. Enjoy!
1. The college of cardinals will gather after the Holy Father steps down on February 28 to elect a new pope. Some say that we may have a new Pope by Easter. Can you give us an overview of the conclave process? How does it work? What will we see happening?
2. With the election of a new pope, we see many outside the Church wish it harm, and those inside the Church fear harm done. What are the promises of Christ for His Church that we can take comfort in during this time of transition?
3. Even though the Church will always be supernaturally guided, she still faces danger. For example, Pope Benedict XVI spoke often of the dangers of relativism and secularism. What in your opinion are the biggest challenges and obstacles our newly elected Pope will face in the near future?
4. As a pastor, do you have any suggestions for how the faithful can "wait out" this time? How can we pray, what should we pray for?