August 14 is the feast day of St. Maximilian Kolbe, one of the most popular saints of our times. Pope St. John Paul II referred to him as "the patron saint of our difficult century." What makes St. Maximilian Kolbe such a phenomenal saint? Here is a brief summary of his powerful story.
The Story of St. Maximilian Kolbe
St. Maximilian Kolbe was born in Poland in 1894, which was then occupied by the Russians. His father fought for Polish independence and was hung as a traitor in 1914. His mother would later became a Benedictine nun, and one of his brothers became a priest.
St. Maximilian Kolbe was regarded as a wild, mischievous child in his young age—that is, until his life would change forever at just twelve years of age.
In 1906 he received a vision from the Virgin Mary in which she offered him two crowns: one  was white (to symbolize perseverance in purity) and one red (to symbolize a martyr's death). He chose both. Just a year later, he entered the Franciscan seminary; and although he considered leaving to join the military, he remained and took final vows in 1914.
In 1917 St. Maximilian Kolbe began another life-changing endeavor. He and and six friends formed the Immaculata Movement, which focused on converting sinners, opposing Free Masonry, and spreading devotion to the Miraculous Medal and the Virgin Mary.Saint Maximilian Kolbe began to struggle with tuberculosis at this time in his life. Neveretheless the Immaculata Movement began printing their magazine—
The Knight of the Immaculata
—in 1922. The magazine became very popular right away and at its peak had a press run of 750,000 copies a month!
In 1930 St. Maximilian Kolbe began to take his missionary work outside of Europe. He traveled to India and Japan and established a printing press and monastery in both countries (the latter grew and flourished while the former did not last).
See also St. Maximilian Kolbe's Bullet-Point Plan for His Life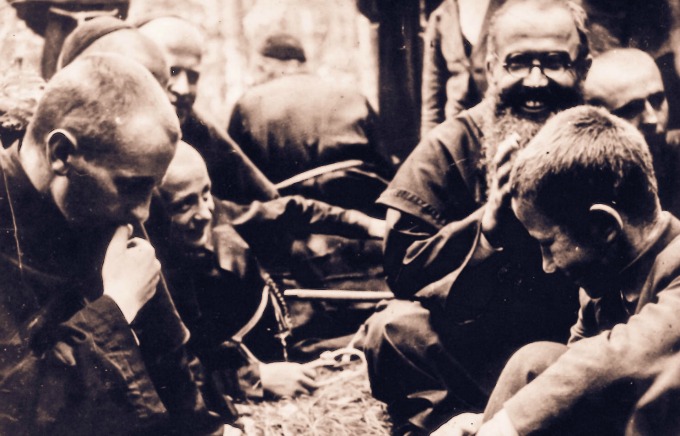 Saint Maximilian Kolbe is seen here playing chess with his brothers, at a time of recreation
In 1936 he returned to Europe, due to his poor health, and started a radio station at the monastery. By 1939 the monastery had over 800 men, making it the largest monastery in Europe at the time.
But in 1939 Germany, led by the Nazi Party, invaded Poland and Saint Maximilian Kolbe, as well as many of his brothers, were arrested—although they were released later that year.
The brothers took in many refugees during the war, most of them Jewish, and continued their publication work, which was openly anti-Nazi. This led to the shutdown of their press and the imprisonment of St. Maximilian Kolbe. He was then transferred to Auschwitz.
See also St. Maximilian Kolbe: Mary's Martyr for Christ
The Martyrdom of Maximilian Kolbe
Saint Maximilian Kolbe spent the last days of his life in Auschwitz. He was beaten severely, because priests were a particular object of hatred and abuse by the Nazis; yet he remained gentle and calm. Once he was beaten, lashed, and left for dead; but luckily some prisoners smuggled him into the camp hospital and he was able to recover and hear confessions.
Kolbe was notorious for secretly conducting Mass with smuggled bread and wine, as well as ministering to prisoners.
But in July of 1941 a prison-break occurred in one cell block, which meant that the remaining prisoners were to be punished. The Nazis chose ten victims to die as punishment, including a young father. But the father cried out, "My wife! My children! I will never see them again."
St. Maximilian Kolbe quietly stepped forward, said he was a priest (knowing that the soldiers would be eager to kill him for this) and volunteered to take the place of the young father.
He died in slow agony in the starvation bunker. To the end, he kept the other prisoners joyful, singing hymns and praying with them.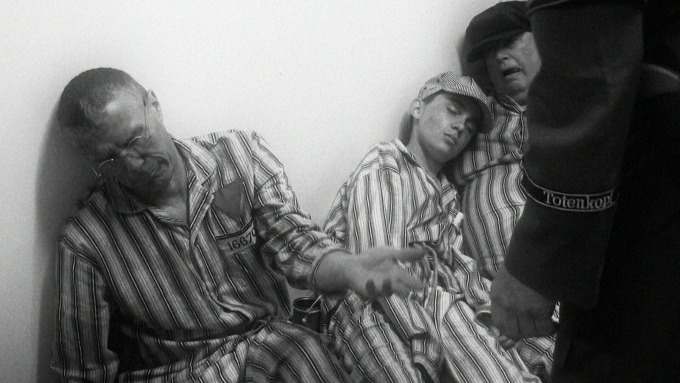 Saint Maximilian Kolbe, about to receive a lethal injection, as portrayed in the film
Saint Maximilian Kolbe
by Mary's Dowry productions
He was the last prisoner found alive, still conscious and at peace, two weeks later; when the soldiers approached to poison him by a lethal carbonic acid injection, he peacefully raised his arm to them so that they could complete their work. It was August 14th. He would spend the Feast of the Assumption in heaven with the Blessed Mother, his Immaculata, whom he loved so much.
The story of St. Maximilian Kolbe is one of tremendous courage, service, love, and faith. It is no wonder that Pope John Paul II referred to him as the Saint of the 20th Century. I would like to close with one of my favorite Saint Maximilian Kolbe quotes:
"The most deadly poison of our times is indifference. And this happens, although the praise of God should know no limits. Let us strive, therefore, to praise Him to the greatest extent of our powers."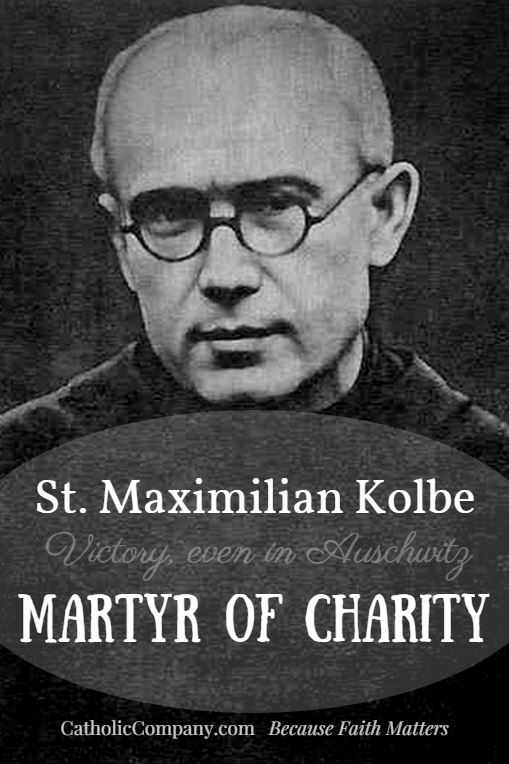 Comments