St. Francis Garden Statue
100% Satisfaction Guarantee
---
Product Description
St. Francis Garden Statue
Look of carved wood
Painted in colorful hues
Details
Many stories surround the life of Francis of Assisi and his love of nature and the animals. He lived his life devoted to Christ, and believed that nature itself was a mirror of God. No wonder that his image is the most popular statuary around our homes and gardens. This St. Francis statue has a base that forms a little dish that can be filled with birdseed... a natural for the garden! Also suitable for your sunroom or other special place in your home.
Dimensions & Specifications
From the popular Joseph's Studio collection
Resin / stone mix
12 x 4.5 x 5.75 inches
Weighs 2.95 lbs
---
Product Video
---
You might also like
$18.95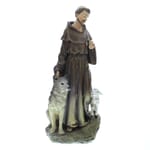 $39.95
Flat on the back

| | |
| --- | --- |
| Review: | I purchased this piece as a focal point to place in my gardens. I understood that the statue is small, but NOT that it is flat on the back. If I keep it, I will put it on my desk in the family room. It is just lovely, but will not be used ourdoors. |
Lovley st. Francis statue!

| | |
| --- | --- |
| By: | gardening Gran (Cambridge, Ohio, April 7, 2009) |
| Review: | The St. Francis statue is a gift for my daugher for her garden! She has been looking for one, so I know she'll be thrilled! This piece is attractive and hopefully can withstand the weather! Best Uses: Display, Gift for a gardener; Pros: Seems durable, Unifies Environment, Visually Pleasing |
I would buy this product again

| | |
| --- | --- |
| By: | Cathy (ridleypark, Pa., February 1, 2009) |
| Review: | I love my new statue and can't wait to put it outside in the spring. My sister had orderded one and I loved it. I also tried to order it for my daughter but sent her just the statue of ST. Francis instead. She likes her statue also. Best Uses: Display, Foyer, Home; Pros: Visually Pleasing |
I must have another!

| | |
| --- | --- |
| By: | Ellen (Oregon, April 16, 2009) |
| Review: | I finally bought this lovely St. Francis statue last fall, planning to put it in the garden when the weather warmed up. But, I love having it in my house -- here to greet me when I come in the door, as well as being a source of serenity whenever I notice it. I haven't seen another that affects me like this, that evokes for me all that St. Francis stands for, in your catalog or elsewhere. So, I'm ordering another one for the garden. Thank you so much. Best Uses: Ambience, Display, Foyer, Home; Pros: Visually Pleasing |
This is a great product

| | |
| --- | --- |
| By: | Sharon (West Virginia, January 26, 2009) |
| Review: | I gave this product as a gift. It was very well received. [...] Thanks for the great product [...] Best Uses: Ambience, Display, Home; Pros: Easy to Install, Visually Pleasing |
Beautiful

| | |
| --- | --- |
| By: | Brenda (Summerville SC, August 30, 2009) |
| Review: | Gift Best Uses: Ambience, Home; Describe Yourself: Looking To Fill Space; Pros: Unifies Environment |
I love it

| | |
| --- | --- |
| By: | maire (red bank, new jersey, June 4, 2010) |
| Review: | It's very pretty and very detailed. It is the best St. Francis I've seen on the market. Best Uses: Ambience; Cons: No cons; Describe Yourself: Gardener; Pros: Easy to Install |
Meticulous painting & sculpting details

| | |
| --- | --- |
| By: | Robadob (Sacramento, CA, August 27, 2010) |
| Review: | My new home, with its lovely garden, needed this statue to make it all feel more like "home" and "blessed". Best Uses: Ambience, Display, Foyer, Gifts, Home; Describe Yourself: Artist, Decorator; Pros: Easy to Install, Unifies Environment, Visually Pleasing |
BEAUTIFUL STATUE

| | |
| --- | --- |
| By: | GRANNY (OHIO, May 8, 2011) |
| Review: | LOOKS GREAT IN GARDEN OR HOME, GOOD QUALITY, PAINTED VERY WELL, LOOKS BEAUTIFUL. Best Uses: Ambience, Display, Foyer, Garden, Gifts, Home; Cons: none; Describe Yourself: Collector, Decorator; Pros: Great Quality, PAINTED VERY WELL, Visually Pleasing |
I love this statue

| | |
| --- | --- |
| By: | d (las vegas, May 16, 2012) |
| Review: | This Statue was purchased as a gift to a chapel built by a devout brother of The Church. It is beautiful in the front of the entrance. Best Uses: Display, Gifts, Home; Describe Yourself: Collector; Pros: Easy to Install, Visually Pleasing |
Beautiful addition to any garden

| | |
| --- | --- |
| By: | K (Harrisburg, PA, June 2, 2012) |
| Review: | Looks great outside among any garden atmosphere. The expression is one of the nicest I've seen on a St. Francis Statue. It definitely adds a wonderful element to our garden. Pros: Beautiful expression, Great Quality |