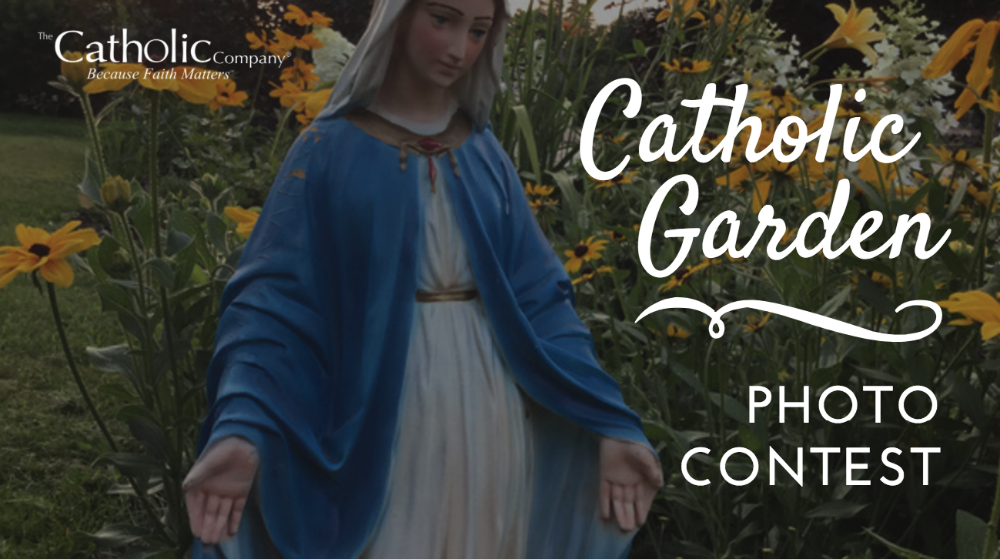 Do you enjoy gardening? Do you love to keep saint statues and other reminders of your Catholic faith in your yard?
If so, this summer grab your camera and snap some photos of your "Catholic Garden." Send us your best photos and you could win one of three gift card prizes to CatholicCompany.com.
All eligible photos will be uploaded to a photo album featured on our Facebook page for our followers and customers to view. We love receiving your beautiful and inspirational photos and sharing them with others!
Contest Start/End:
The contest opens on July 16, 2019 and ends on Labor Day, September 2, 2019.

How to Enter: *Please read carefully. Any non-adhering entries will not be accepted.*

Take your best photo and email it to us at social@catholiccompany.com.
1) In the email subject line include: Your first name and last name initial, and Garden Contest (ie: Susan H - Garden Contest)
2) In the email body include
- Your first and last name*
- Your city and state.
- A caption or description for your photo.
3) Attach your photo to the email. [Original photo files only; must be attached to the email itself (no screenshots and no links to photo folders, Google Drive, etc)]
*Only your first name and last initial will be used for posting your photo to our Facebook page.
Winners:
Employees of The Catholic Company will choose their top three favorite Catholic Garden photos.

Prizes:

The Grand Prize winner will receive a $100 Gift Card to The Catholic Company. Additionally, two runners up will receive a $50 Gift Card. The winners will be announced on Facebook on Friday, September 6th, 2019. Winners will be notified via the email you used to enter your photo.

Rules & Guidelines: *Please read carefully; any non-adhering entries will not be accepted.*
Photos must be from 2019.
The photo must include something Catholic (i.e. a saint statue, a cross, etc.).
Photos must be of a home garden, yard, patio, or balcony (no church gardens or professionally landscaped public areas, etc.)
The higher the resolution of the photo, the better!
Small, low-resolution, or blurry images may be disqualified.
You must own the copyright to the photo.
Original photo files only (no screenshots).
Photo files must be attached to the email itself (no links to photo folders).
Limit three photos per person.
Unenhanced photos only (no photo collages, photo effects, filters, stickers, or text/graphics on photo).

By submitting the photo, you grant The Catholic Company permission to display or distribute the photo on our website, blog, social networks, printed material, etc., without compensation for our usage. We reserve the right to delete any submissions we deem inappropriate in any way. The gift cards have no cash value and can only be used for the purchase of merchandise plus shipping fees at CatholicCompany.com.