During his life, St. Benedict was known to work many miracles using the power of the Holy Cross. Among these included his heroic flight from temptations and miraculous escapes from traps set to kill him.
Saint Benedict became known for his power over the Devil, with the Holy Cross as his efficacious instrument to make the Devil flee. The St. Benedict medal is based on this tradition.
The medal as we commonly know it today (the Jubilee medal) was first made in 1880 to commemorate the fourteenth centenary anniversary of St. Benedict's birth by the Archabbey of Monte Cassino, the most important monastery established by the Saint in the 6th century.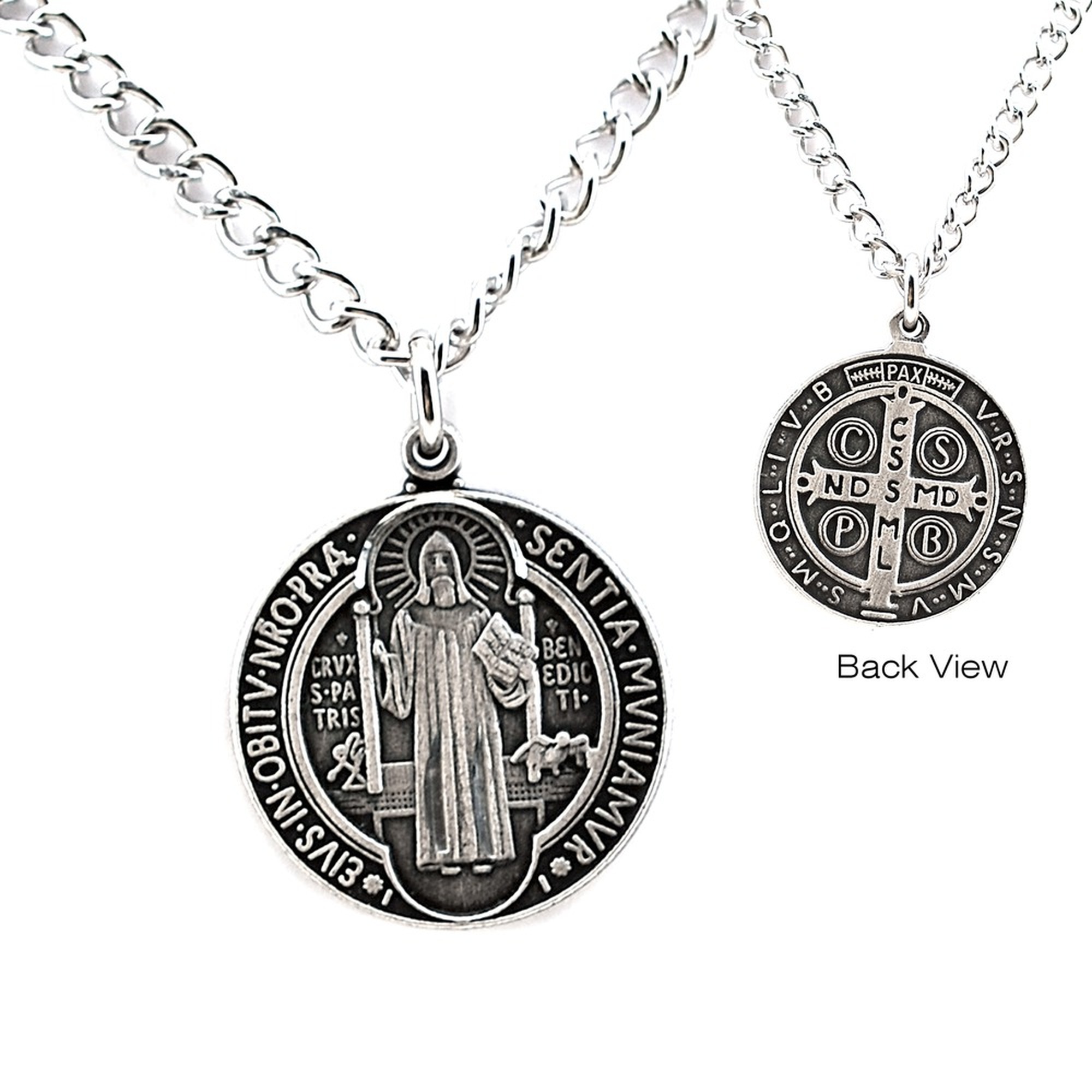 FRONT OF THE MEDAL
Above the chalice and the raven in the center, on either side of Saint Benedict:
Crux Sancti Patris Benedicti
(Cross of the Holy Father Benedict)
Words around the perimeter of the medal:
Ejus in obitu nro praesentia muniamur
(May we at our death be fortified by his presence)
BACK OF THE MEDAL
Initials on the cross in the center:
C. S. S. M. L. - N. D. S. M. D.
Crux Sacra Sit Mihi Lux
(The Holy Cross be my light)
Non Draco Sit Mihi Dux
(Let not the dragon be my guide)
Circles by the four corners of the cross:
C S P B
Crux Sancti Patris Benedicti
(Cross of the Holy Father Benedict)
Initials around the perimeter:
V R S N S M V - S M Q L I V B
Vade Retro Satana, Nunquam Suade Mihi Vana—Sunt Mala Quae Libas, Ipse Venena Bibas
(Step back, Satan, do not suggest to me thy vanities —evil are the things thou profferest, drink thou thy own poison)
And at the top:
Pax
(Peace)
HOW SHOULD THE MEDAL BE USED?
The St. Benedict medal is one of the most popular among Catholics, and there are many indulgences associated with this medal. There are also spiritual benefits associated with the pious use of the medal including warding off evil and temptation, obtaining the conversion of sinners, help for women during childbirth, strength in preserving purity, granting the grace of a happy death, protection during storms, and interceding for curing diseases.
Needless to say, this is a very powerful medal for spiritual protection. However, it is important to not be superstitious about Catholic medals; they are sacramentals to be used as "sacred signs instituted by the Church to prepare us to receive the fruit of the sacraments and to sanctify different circumstances of our lives" (CCC, 1677).
Prayers for the intercession of St. Benedict to use with your medal.