We recently enjoyed the privilege of having Fr. Leo Patalinghug (of EWTN fame) drop by our studio for a few questions while he was traveling in our hometown of Charlotte for his Grace Before Meals apostolate.
Many know Fr. Leo for being a master chef and charming TV personality, but he is first and foremost a gifted priest. That's why the first question we wanted to ask when we sat down with him is how he discerned his call to the priesthood, and what advice he would give to young men currently discerning this vocation.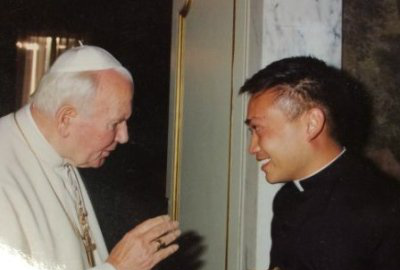 Fr. Leo Patalinghug with Pope St. John Paul II
Central to Fr. Leo's answer was that, as a young man, hearing an explanation of what was really happening in the liturgy led to a profound moment during Mass where he recounts,
"I don't know how to say it . . . but I saw God in the Eucharist."
This spiritual experience sparked his desire for God, and daily Mass attendance from that day on enabled him to stay close enough to God to hear his call to holy orders.
Watch our interview below!