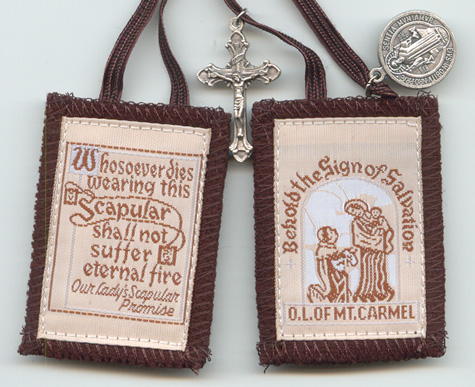 What did Pope John Paul II ask doctors to not remove when he was shot in 1981? His brown scapular. The scapular is one of the most popular devotions of the Catholic Church. Today many different scapulars exist with all sorts of different promises to their wearers and different histories. The scapular originally was the most significant part of the habits of monks, and then a smaller personal version was created and given to third order members of monastic orders and confraternities. Today anyone can wear any of the different personal small scapulars and receive the blessings entitled to it as long as they wear it constantly. Here is a brief history and discussion on some of the most popular laity scapulars today.
Brown Scapular
Many Catholics love their Brown Scapular. This scapular was given to Saint Simon Stock, the first vicar general of the Carmelite order, by Our Lady of Mount Carmel. Our Lady of Mount Carmel said to St. Simon Stock, "Take this scapular, it shall be a sign of salvation, a protection in danger and a pledge of peace. Whosoever dies wearing this scapular shall not suffer eternal fire." Today many wear a brown scapular as a devotion to Mary and a sign of their trust in her promises for salvation that she made to those who faithfully wear a brown scapular.
Green Scapular
The Green Scapular is known for bringing both spiritual and physical healing to those who wear it. They typically invoke the blessings of the Immaculate Heart of Mary and come with a Jubilee medal cross of St. Benedict. The Jubilee medal cross of St. Benedict is the most highly-indulged medal in the Catholic Church. For those that are especially in need of healing, this could be the perfect scapular.
Red Passion Scapular
The Red Scapular of the Passion dates back to 1846 in which an apparition of Jesus promised that all who wear it will have a great increase of faith, hope, and charity. This scapular invokes the blessings of the Holy Passion of Jesus Christ upon the wearer.
It is important to note that scapulars are by no means magical. In order to receive the blessings of a scapular it is important that you have it blessed and invested by a priest. When getting it invested a priest will ask you to make promises, and by following through with the promises of the scapular you can receive the graces it provides. Scapulars are a great devotion and are worn by Catholics across the world. What is your favorite scapular?