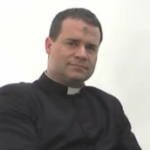 Fr. Matthew Kauth, one of our Charlotte diocesan priests, sits down with Gretchen at The Catholic Company to discuss the life, legacy and pontificate of our beloved Holy Father Pope Benedict XVI.  This interview was conducted in 3 parts which are both featured here. Enjoy!
1. Pope Benedict XVI has a short pontificate, just 8 years long, yet he accomplished much. What in your opinion are the most noteworthy accomplishments and contributions of Pope Benedict to the Church, and are these contributions significant enough to merit a place among the greatest and most influential popes?
2.  The long pontificate of Blessed Pope John Paul II ended not many years ago. He was a huge intellect, very influential, and very much loved. How do you think the legacy of Pope Benedict XVI will compare with the legacy of Blessed Pope John Paul II? How do these two Popes of most recent memory compare and contrast with one another?
3. With this decision will come a wave of renewed interest in Pope Benedict XVI and many will for the first time discover much written about his brilliant intellect . . . moving from an introductory level to more advanced, what would you suggest people read if they want to learn more about his significance as one of the most brilliant theologians of our times?