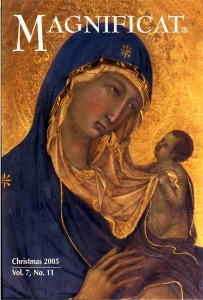 The Magnificat is a magazine quickly sweeping the Catholic World - second to none in its pocket-sized, easy-to-read nature. The Magnificat, according to the publisher, is a "spiritual guide" which will help you to "develop your prayer life" and to "participate in the holy Mass with greater fervor." This magazine has proven to be each of those things and many more as well. Magnificat also offers Magnifikid and Magnificat Junior for children and younger people who would like to benefit from the beauty and spiritual gifts offered by the Magnificat.
The Magnificat includes a multitude of useful literature. It includes morning and evening prayers for every day based on the Liturgy of the Hours and meditations for every day written by Fathers of the Church. Moreover, The Magnificat includes essays on the lives of the saints and the complete readings for every Sunday, weekday, and feast day of the month. The Magnificat prints one issue for every month as well as a special issue for lent and one for advent. This magazine is clearly a cherished tool which could certainly change your prayer life and love of the holy Mass.
If your loved one already has a subscription to Magnificat, then perhaps you could get him or her a Magnificat leather cover which can be personalized. Do you use the Magnificat? If so, why? How has the Magnificat changed your prayer life and life with Christ?
This article has been updated and was originally published in May 2012.