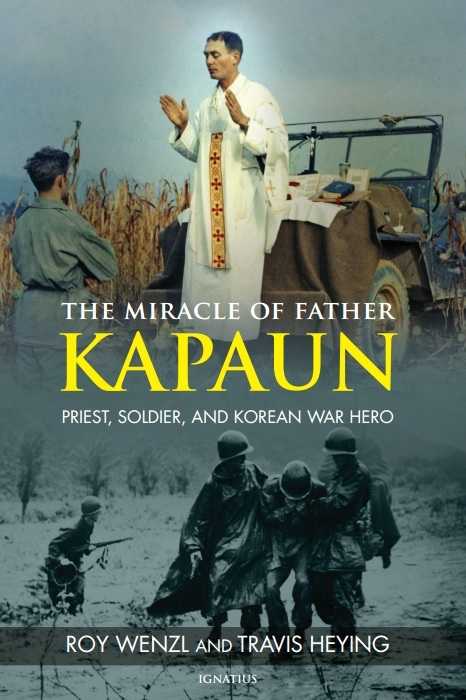 Find the new release Catholic book, The Miracle of Fr. Kapaun: Priest, Soldier, and Korean War Hero, here.
Emil Kapaun-priest, soldier and Korean War hero- is a rare man. He will receive a Medal of Honor by the White House and is also under consideration at the Vatican for canonization as a saint.
As remarkable as this double honor are the non-Catholic witnesses who attest to Father Kapaun's heroism: the Protestants, Jews and Muslims who either served with the military chaplain in the thick of battle or endured with him the unbelievably brutal conditions of a prisoner of war camp. As journalists Roy Wenzl and Travis Heying discovered, all of these Korean War veterans, no matter their religion, agree that Father Kapaun did more to save lives and maintain morale than any other man they know.
Then there are the alleged miracles-the recent healings attributed to Father Kapaun's intercession that defy scientific explanation. Under investigation by the Vatican as a necessary step in the process of canonization, these cures witnessed by non-Catholic doctors are also covered in this book.
In tracking down the story of Father Kapaun for the Wichita Eagle, Wenzl and Heying uncovered a paradox. Kapaun's ordinary background as the son of Czech immigrant farmers in Kansas sowed the seeds of his greatness. His faith, generosity and grit began with his family's humility, thrift and hard work.
The Father Kapaun New Release DVD
Find the new release DVD, The Miracle of Father Kapaun, here.
Servant of God Fr. Emil Kapaun may not be well-known. But he should be. The son of Czech immigrants, Fr. Kapaun grew up on a small Kansas farm. But this seemingly ordinary farm boy became one of the most inspiring heroes of the Korean War—and unlike many war heroes, this military chaplain is also on the road to sainthood. His cause for canonization has been opened by the Diocese of Wichita, and two medical miracles attributed to him are being investigated by the Vatican. He has also been nominated for the highest military medal, the Medal of Honor.
In this powerful documentary, learn his inspiring life story, his heroic work as a chaplain during battle, and his leadership and comfort of fellow American prisoners after capture and torture by the Communists. This imprisonment under incredibly harsh conditions ultimately led to his death at 35 years of age in 1951. The film features interviews with the soldiers who were imprisoned with Kapaun in Korea, as well as with church officials, military historians and the Kansas family who is convinced Kapaun's miraculous intercession saved their son's life. A man of incredible courage and faith, he is credited with saving the lives of hundreds of prisoners, instilling them with hope when all hope seemed lost.
His fellow soldiers already consider him a saint, and one memorial in his honor by the military says of Fr. Kapaun, "He was all man and all priest."
Media Events
The Medal of Honor presentation for Fr. Kapaun will happen at the White House on April 11. And then another ceremony on April 12 at the Pentagon.
Plus these major media events as well:
NBC Evening News – April 10th Interview of our two authors Wenzl & Heying
Today Show – April 11th Interview with the 2 authors
CBS Evening News – April 10th piece on Fr. Kapaun
EWTN - The World Over – April 11th interview with author Roy Wenzl and Korean War POW Mike Dow
Fr. Kapaun's Medal of Honor in the News . . .
"President Obama will present the nation's highest military honor to Kapaun's next of kin to commemorate the Army chaplain's acts of personal bravery during the Korean War, both on the battlefield and in a POW camp.
For years, POWs who survived the camp have pushed for Kapaun's wartime actions to be recognized. Now, it seems they've been heard on multiple fronts.
Despite the high honors, Kapaun's story began much more humbly, half a world away from where he would encounter the horrors of war. He was born April 20, 1916 in the small town of Pilsen, Kan., about an hour and a half outside of Wichita.
At age 24, he was ordained a priest of the Diocese of Wichita. Four years later, he joined the U.S. Army Chaplain Corps. Kapaun left the Army in 1946, returned in 1948, and left for Japan and Korea in 1950 with the 8th Cavalry Regiment of the 1st Cavalry Division. Read more here: