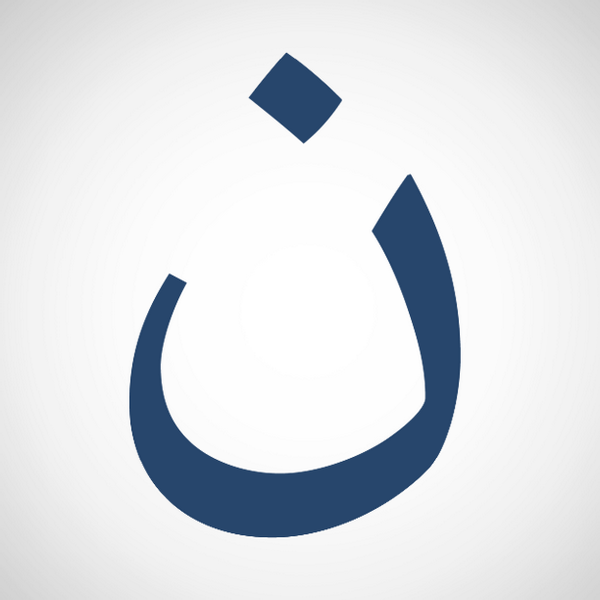 In the writings of the early Church Fathers we find that the first Christians, before they received the name "Christians," were commonly called "Nazarenes" by their Jewish neighbors because they were followers of Jesus of Nazareth (Acts 24:5).
The Arabic letter Nun (?) is the first letter of the word Nasara (Nazarenes), a derogatory term that Muslims have still used for centuries to refer to Christians.
The letter 'Nun' (pronounced noon) has been used in Iraq by Islamic militants to identify and target Christians, along with their homes and businesses, in an effort to eliminate the most ancient Christian communities from their region. The tactic is reminiscent of how the Star of David was used by the Nazis against the Jews.
As a result of this violence, a wave of solidarity has risen. The Nun symbol, while used by Islamists to instill terror, is being spread across social media and used around the world as a symbol of solidarity with these persecuted Christians.
In the town of Mosul, where Chaldean Catholics have been living peacefully for two millennia, Christians were given the ultimatum to convert or die. Many have fled for their lives, and over 100,000 are still stranded, homeless, and in need of our material support in addition to our prayers. We should stand united in Faith with their grave plight in the face of the monstrous brutality that continues to be perpetrated against them.
SOLIDARITY
Here at The Catholic Company we want to join this effort of solidarity. We've developed several items with the Nun symbol that our customers can purchase for themselves or as gifts to help raise awareness about the persecuted Church in the Middle East.
Please join us in supporting our brothers and sisters in the Faith! #WeAreN