August 26th is the feast of Our Lady of Czestochowa, a revered icon of the Virgin Mary and the Child Jesus said to be one of those painted by St. Luke the Evangelist (who was an artist, as well as a writer and physician) as Our Lady relayed to him the stories of Jesus' life contained in his Gospel account. Also known as the "Black Madonna", the icon is painted on wood, according to tradition the very wood of the Holy Family's table built by Jesus himself.
This icon of Our Lady has held a special place of honor at the heart of the Catholic faith in Poland for at least the last 600 years. The two sword slashes on Our Lady's face, and a scar from an arrow to the throat, sustained in the 15th century from separate attacks by enemy invaders, has given hope to the Polish people of the Blessed Mother's special protection, and comfort in their many sorrows, throughout centuries of devastating invasions to their country.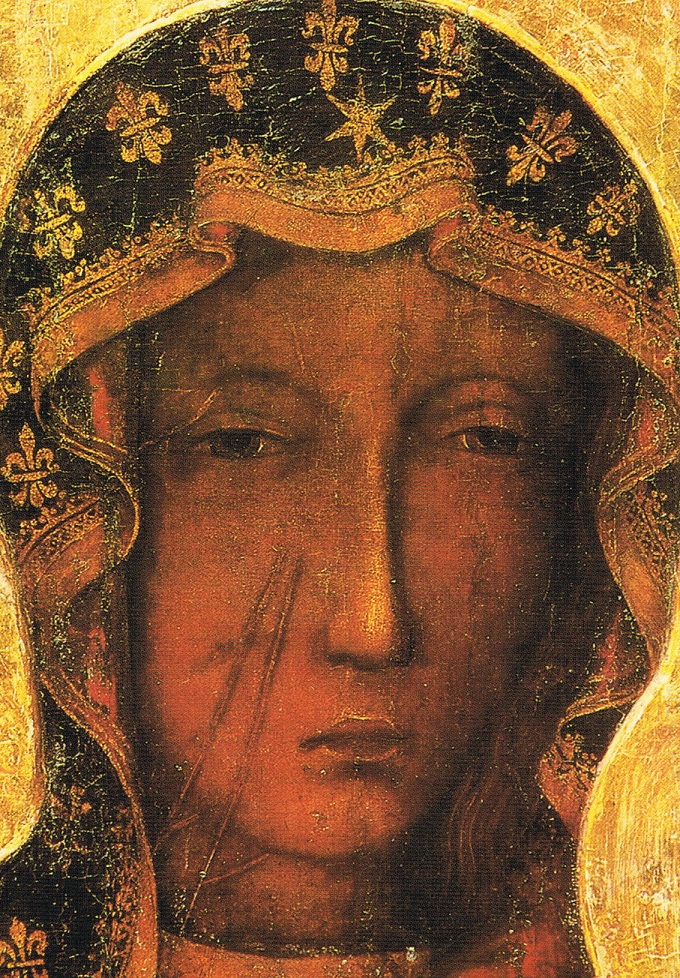 Numerous miracles have been attributed to the icon, which is kept and venerated at Jasna Gora Monastery in Czestochowa, Poland.
In 1656 King Casimir declared Our Lady of Czestochowa "Queen of Poland" and made the city the spiritual capital of the nation, now the third-largest Catholic pilgrimage site in the world. Our Lady of Czestochowa, pray for us!
PRAYER TO OUR LADY OF CZESTOCHOWA
Holy Mother of Czestochowa, Thou art full of grace, goodness and mercy.
I consecrate to Thee all my thoughts, words and actions—my soul and body.
I beseech Thy blessings and especially prayers for my salvation.
Today, I consecrate myself to Thee, Good Mother,
totally —with body and soul amid joy and sufferings
to obtain for myself and others Thy blessings
on this earth and eternal life in Heaven. Amen.