The name Mary mentioned in the Bible as the Virgin Mother of Jesus is one of the most endearingly popular names in the Christian world. Churches, shrines and cathedrals have been erected in her honor, and all of them with different names, i.e., Our Lady (Notre Dame), Basilica of St. Mary Major (Basilica Papale di Santa Maria Maggiore), Our Lady of the Angels, etc.
Mary used to be one of the most popular names for baby girls, too. I am guessing everybody might have a relative or friend with that name - by the way, my mom's name is María Esther.
So, why does the Virgin Mary have so many names, titles, and feast days?
When I was a child I didn't understand why the Virgin Mary had a lot of names. I thought there were different Virgins everywhere! I lived with that doubt in my mind, not even bothered to get out of my ignorance by asking my devoted Catholic mom, or someone else, about it. As I grew up, my curiosity led me to look into the Catholic faith by reading and learning more about the history of the Catholic Church.
Recently, my husband hired a carpet cleaner, and the man was impressed by the icon of Our Lady of Perpetual Help that we have in our home. This nice man asked us if she was a goddess. Obviously he was confused, too!
[Read My God Incident with Our Lady of Perpetual Help]
I am an ordinary Catholic woman, not a theologian, but I am writing about this because I had doubts about the Virgin Mary and her different titles, so I suppose other people, Catholics and non-Catholics, may have the same confusion; so below are some facts explained in basic terms.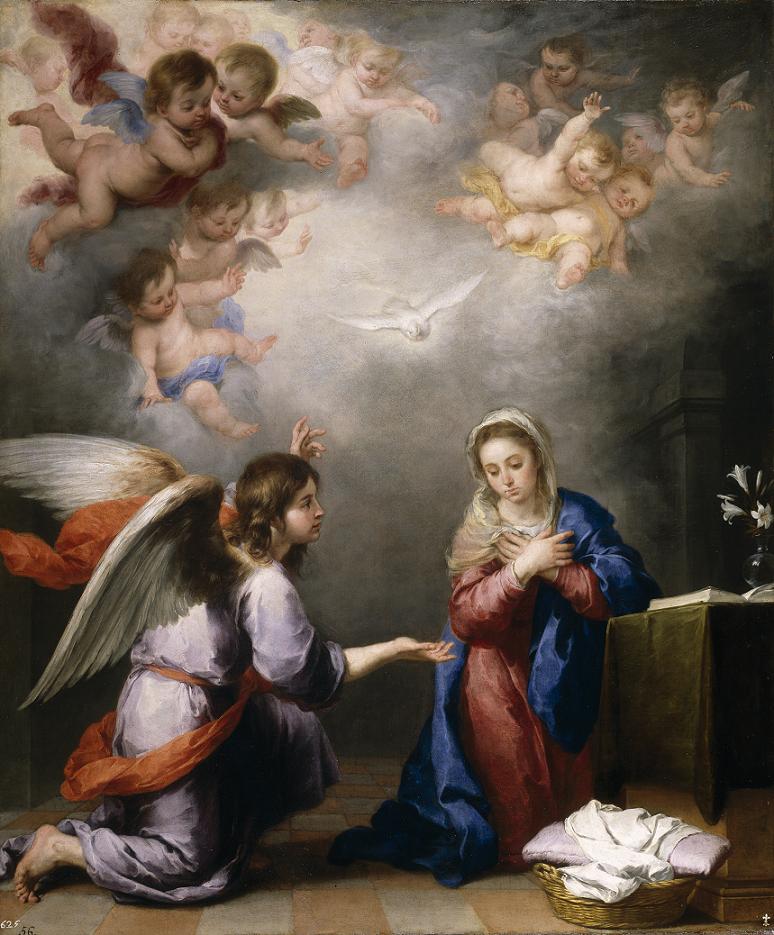 The Annunciation of the Angel Gabriel to the Blessed Virgin Mary
6 Ways to Understand the Variety of Marian Titles and Feasts
Event. It means what took place in Christian history, narrated in Sacred Scripture, i.e., the feast day of the Annunciation, which celebrates the Angel Gabriel's appearance to the Virgin Mary.
Dogma. The beliefs that we have learned through Church doctrine, such as the feast day of the Solemnity of the Assumption, where Mary goes to heaven in body and soul.
Geographic. A title received commemorating Mary's apparitions in certain places, i.e., the feast day of Our Lady of Lourdes, where the Virgin Mary appeared to St. Bernadette.
Mary's Life. This is related to her live experiences as the mother of Jesus, i.e., the feast day of Our Lady of Sorrows, which focuses on her intense suffering and grief during the passion and death of our Lord.
Symbolism. This indicates some of Mary's powerful roles as an intercessor, and the way she guides us towards Christ, i.e., Our Lady Star of the Sea feast day. Under this title, the Virgin Mary intercedes as a guide and protector of those who travel or work at sea.
Virtue. The titles that were given to the Virgin Mary in honor of her multiples merits, i.e., the Immaculate Heart of Mary, where Catholics have recourse to her inspired by in her love and perfect purity.
---
The message of our Blessed Mother can be summarized as a call to a stronger faith in our Lord Jesus, a deeper prayer life, a life of penance for the conversion of sinners, and the offering of her consolation and help to anyone that turns to her. Through the Virgin Mary's apparitions and miraculous intercession, believers have increased their faith, their hope, their love, and they have spread the devotion to others, too.
Please share with us in the comments below which is your favorite title for the Blessed Virgin Mary and why.
"O Mary, conceived without sin, pray for us who have recourse to Thee."