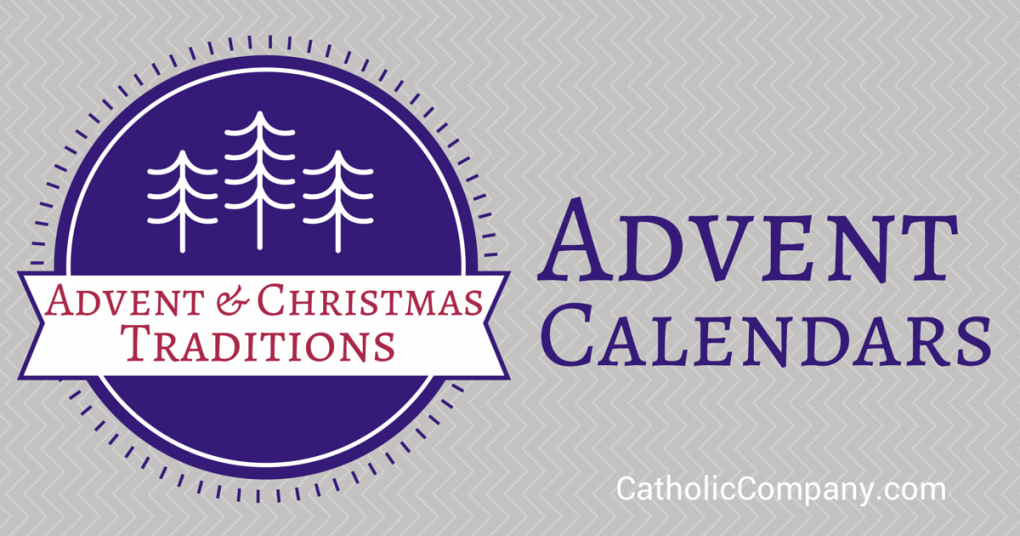 Advent calendars are a fun and popular children's Advent activity as well as a great catechesis tool. Advent calendars teach children to join with the Church in the waiting, expectation, and preparation of the coming of Jesus Christ--which is the true meaning of the Advent season.

The Advent calendar counts down the 24 days of December ending on Christmas Eve. Advent calendars are a great way to teach your kids the spiritual richness of the Advent and Christmas season. Children are already counting down the days until Christmas arrives, so Advent calendars are a way for parents to focus their eagerness and excitement on the birth of the baby Jesus.

The Advent Calendar is believed to have been created by Christians in the early 19th century to mark the days of Advent leading up to Christmas. The first known Advent calendar was handmade in Germany in 1851. Today Advent calendars take all kinds of forms and styles, the most popular and basic being the paper Advent calendar made out of thick card stock that children can keep as a Christmas decoration in their bedrooms.

Many Advent calendars display a colorful nativity scene with little numbered windows or doors that open to reveal a symbol of Advent or Christmas, or a passage from the Bible relevant to the Christmas season. Some special Advent calendars even have chocolates or other treasures hidden behind each flap. Whatever kind of Advent calendar you choose, your child is sure enjoy this fun Christian tradition!

Although the Advent calendar is relatively new way to count down the days until Christmas day, celebrating the Advent season is an ancient Church tradition established long ago in the liturgical calendar. According to one Advent prayer book, the Advent and Christmas Wisdom book series,

"Advent---that period of great anticipatory joy---is a time of preparation for the celebration of Christ's arrival in Bethlehem as a helpless infant. In the Western liturgy, Advent begins four Sundays prior to December 25---the Sunday closest to November 30, which is the feast day of Saint Andrew, one of Jesus' first disciples. The annual commemoration of Christ's birth begins the Christmas cycle of the liturgical year---a cycle that runs from Christmas Eve to the Sunday after the feast of the Epiphany."

The four weeks of Advent symbolize both the four thousand years (from the Old Testament to the New Testament) that the world waiting for the promised redeemer, as well as symbolizing the four ways that Christ comes into the world:
As a baby born in a manger in Bethlehem
His redemptive death on the cross
His dwelling in the hearts of believers
His Second Coming at the Last Judgment
For other fun and popular ways to celebrate the Advent season with your children, such as with a Jesse Tree kit, please visit our selection of Advent for Children gifts and resources for families.