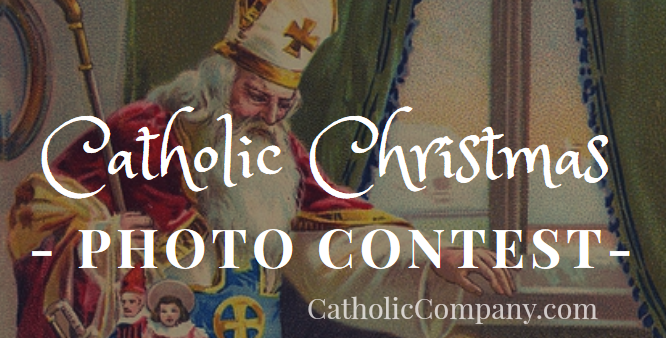 We want to celebrate a Catholic Christmas with you! Announcing our annual Catholic Christmas Photo Contest!
We've decided to try something new this year for our Christmas Photo contest.
As a Catholic company striving to provide beautiful, unique, faith-filled products, we're always looking to see how our items are making an impact in your spiritual life, in your relationships and family, and in the community!
This year, we're asking our faithful followers and customers: How are our products making your Christmas more Christ-centered?
We want YOU to show each other what your favorite Catholic Company seasonal and gift items are!
We want to see your Fontanini nativity village bringing the spirit of Bethlehem into your home, and your kids learning how to make acts of charity from the Advent card pack. We want to see you praying with the St. Andrew Novena bracelet and adopting practices from our Catholic Christmas books. Let's encourage and inspire each other in practical ways to keep Christ at the center of this Christmas season!
Contest Start/End:
The contest opens on the Feast of St. Lucy, December 13th, 2019, and closes on Epiphany, January 6th, 2020.
~Please read carefully. Any non-adhering entries will not be accepted.~
How to Enter:
Take your best photo and email it to us at social@catholiccompany.com. You may submit up to 3 photos per household (you can stagger them throughout the entry period if you want include a different photo for different events in the course of the Advent & Christmas seasons).
Along with your attached photo, in your email please include:
Email subject line: Your first name, last initial and "Christmas Contest" (ie - Debbie S - Christmas Contest)
Email body: 1) Your name, 2) The name of the Catholic Company item that inspired the photo, 3) A description of what is happening in your photo.
We will upload all eligible photos that meet the criteria mentioned to a photo album featured on our Facebook page for our followers and customers to view along with your first name and photo description.
Winners:
Employees of The Catholic Company will choose our top three favorite photos.
Prizes:
The Grand Prize winner will receive a $50 Gift Card to The Catholic Company. Additionally, two runners up will receive a $25 gift card. The winners will be announced on Facebook on Thursday, January 9, 2018 and personally contacted via the email address you used to enter your photo.

Rules & Guidelines:
Photos must be from the 2019 Advent/Christmas season.
Photos must fit the overall theme of "A Catholic Christmas."
Limit of 3 photos per family
The higher the resolution of the photo, the better!
Small, low-resolution, or blurry images may be disqualified.
You must own the copyright to the photo.
Original photo files only (no screenshots).
Photo files must be attached to the email itself (no links to photo folders).
Unenhanced photos only (no photo collages, photo effects, or text/graphics on photo).
By submitting your photos, you grant The Catholic Company permission to display or distribute the photo on our website, blog, social networks, printed material, etc. You will receive no compensation for our usage. We reserve the right to delete any submissions we deem inappropriate in any way.
The Gift Cards have no cash value and can be used only for the purchase of merchandise plus shipping fees at www.CatholicCompany.com.
We hope you have a very Merry Christmas!