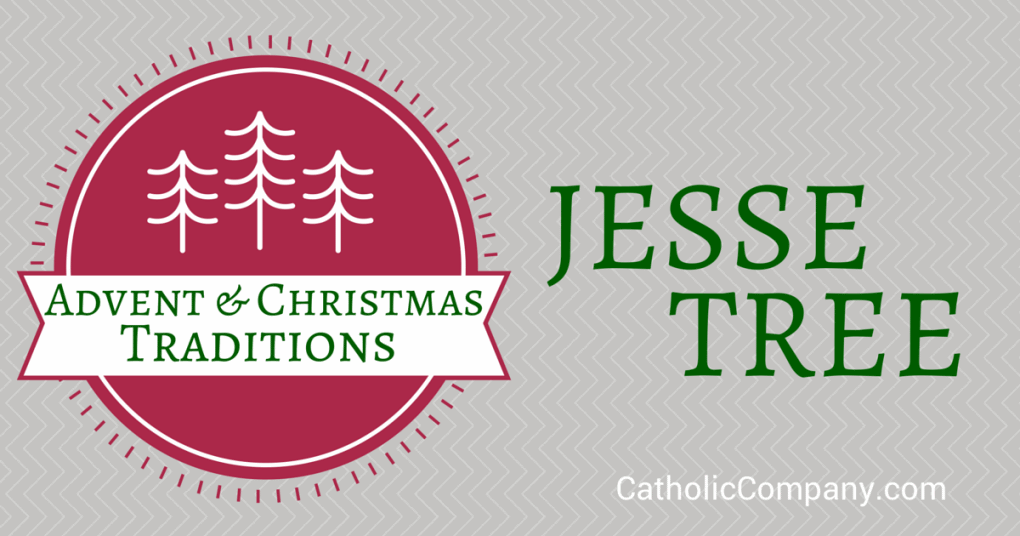 [[636]]
An excellent catechesis tool to celebrate the Advent and Christmas season with your family is with the popular tradition of the Jesse Tree. The Jesse Tree is a special tree (usually an actual tree, or a paper tree) that visually recreates the genealogy of Jesus as presented in the Catholic Bible, beginning with Adam and Eve from Genesis through to the birth of the Baby Jesus in Bethlehem.
Each ancestor of Jesus featured on the Jesse Tree plays an important role in Salvation History and is represented by a symbol that allows that ancestor to be easily recognized. For example, Jacob is represented with a ladder ornament that recalls the Old Testament story of Jacob?s vision of a ladder descending from heaven to earth. The symbol is featured as an ornament that hangs on the Jesse Tree. This is a great way for kids to learn their Bible stories and to help them understand how important every individual is and how they each have a role to play in Salvation History.
The Jesse Tree takes its creativity from well-known verses in the Catholic Bible:
?There shall come forth a shoot from the stump of Jesse, and a branch shall grow out of his roots. And the Spirit of the Lord shall rest upon Him, the spirit of wisdom and understanding, the spirit of counsel and might, the spirit of knowledge and the fear of the Lord?
(Isaiah 11: 1-2)
?Abraham was the father of Isaac, and Isaac the father of Jacob, and Jacob the father of Judah and his brothers?and Matthan the father of Jacob, and Jacob the father of Joseph the husband of Mary, of whom Jesus was born, who is called Christ.?
(Matthew 1: 1-16)
Although Jesse Trees are a fun activity that can be completed all at one time, many families also use the Jesse Tree as a type of Advent Calendar to count down the days of December until Christmas. The Jesse Tree ornaments are usually hung from bottom to top as as Christmas approaches. Each day of the Advent season kids can learn a different Bible story involving the ancestors of Jesus, and it?s an excellent way to keep them focused on Christ and the joyful anticipation of the Advent season.
Jesse Tree kits are already pre-planned with instructions, Bible references, and ornaments. Jesse Tree kits are a great educational resource for families, home-school groups, CCD classes, and parish use. Encourage children to study the symbols depicted on each ornament, and then read together the related Bible passage. As we move through the four weeks of Advent, the Jesse Tree helps us to see clearly through the ages God?s incredible plan to send Jesus as our Savior.