Quick Confirmation Tips:
The white dove and the color red are fundamental symbols of the sacrament of Confirmation.
Choose a gift to correspond with the Confirmand's chosen Patron Saint.
Catholic Bibles and rosaries always make great Confirmation gifts.
Confirmation photo albums and picture frames are a wonderful way to store treasured memories for years to come.
Don't forget to pick out a Confirmation card to go with your gift.
Confirmation is the time when young Catholics fully join the Roman Catholic Church as adults and embrace the responsibilities and joys of choosing to be Catholic. Through the Sacrament of Confirmation the Holy Spirit is bestowed upon the baptized in order to make them more perfect soldiers of Christ. Giving someone special the perfect gift for Confirmation is an opportunity that only comes around once in a lifetime. So it's understandable that you might feel a little anxious about finding just the ideal keepsake. With the help of this Confirmation gift guide you will have plenty of gift ideas and feel good knowing that whatever it is you choose, it is just the right gift for your Confirmand.
When looking for a Confirmation gift there are a few symbols of the sacrament to help guide your decisions. The image of a white dove and the color red are very characteristic of the Sacrament of Confirmation.
The white dove is representative of the Holy Spirit descending upon the Confirmed to more firmly unite them to Christ. This symbol perhaps is rooted in the Acts of the Apostles 8:14-17 when Peter and John laid hands on the Samarians and prayed that they would receive the Holy Spirit, as is done in the Confirmation ceremonies of today. Through Confirmation, the gifts of the Holy Spirit are increased.
Pentecost is also closely related to the Sacrament of Confirmation as the day when the Holy Spirit descended upon the Apostles. This is why the color red is associated with Confirmation. The red flames of the Holy Spirit and the white dove are incorporated into pieces of Confirmation jewelry, keepsake boxes, crosses, Four Way Medals and many other Confirmation items.
Choosing a Confirmation name is a big part of being confirmed. Find out what patron saint your Confirmand has chosen and present them with their patron saint's medal. Patron Saint medals come in a variety of styles and materials from sterling silver and gold to pewter. Make their Confirmation even more special by giving them the patron saint medal just before the ceremony as something special to wear as they are being confirmed. Patron Saint books and figurines are also great choices to go along with a medal and will always remind them to be grateful for the blessings and protection they receive from their patron saint throughout life.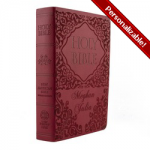 When looking for your Confirmation gift, don't forget about the classics, like a Catholic Bible or rosary. Confirmation is a wonderful time to give a Teen Bible. The youth of today are faced with so many challenges. A Catholic Teen Bible will help answer tough questions and guide Confirmandi as they embark on their journey through this particular sacrament and well into adulthood. A rosary is another great way to mark the occasion. For many Catholics, Confirmation is when they receive their first "adult" rosary. Choose from birthstone rosaries, rosaries specifically for Confirmation or a rosary with their patron saint to go along with their patron saint medal or book.
Another great idea are Confirmation photo albums and picture frames. Family and friends are sure to be taking lots of pictures both at the Ceremony and at any family gatherings afterwards. Specially designed photo albums and picture frames for Confirmation are the perfect place to store all those photos, so they can be looked back on with fond memories and shared with future generations.
Finish off your gift with a beautiful Confirmation card, to congratulate them on this wonderful occasion. Professionally designed and written Confirmation cards have just the right words to show how proud you are of your Confirmand. When choosing a Confirmation gift make sure it reflects the sacredness of the sacrament, and you can be certain it will be treasured with fond memories for years to come.
God Bless you and your Confirmand!