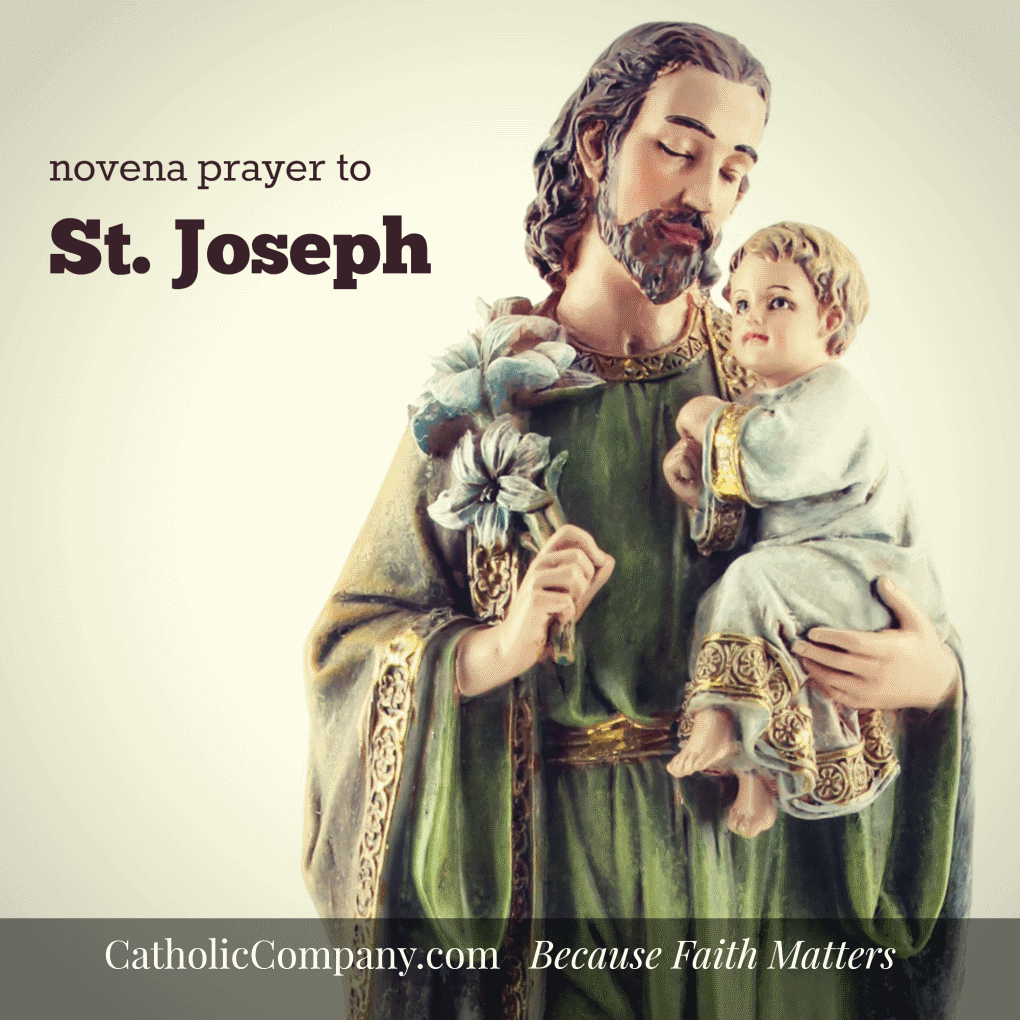 This novena prayer to St. Joseph can be prayed for nine consecutive days for a particular intention at any time of the year, but most traditionally beginning nine days (March 10th) before his feast day (March 19th).
Glorious St. Joseph, you came to share in the sublime greatness of God's Mother by taking Mary to be your wife. Pray that I may partake of your faith by which you accepted divine providence, promptly obeying the will of God.
Through your venerable silence, may I grow in a spirit of recollection. You gave God's Son his name; help me always to call on the Holy Name of Jesus in trust. Enable me to love the Blessed Virgin Mary as you do.
May my love for Mary take precedence over all my plans, preconceptions, and self-reliance. Bless me with your hope when circumstances become overwhelming or my problems seem impossible.
Let me do what you do: look at the face of Mary, icon of the Father's love. To you, who protected the Mother of God and her Son from deadly danger, I offer my intentions (make your request here).
Our Father... Hail Mary... Glory Be... Amen.
Novena taken from "Novenas for the Church Year" by Fr. Peter John Cameron, O.P.
St. Joseph—as the chosen earthly father of God Incarnate, Jesus Christ—is, after the Blessed Virgin Mary, one of the most powerful patron saints in heaven. He is the patron of very many causes, including the following:
Against doubt, against hesitation, accountants, attornies, barristers, bursars, cabinet makers, carpenters, cemetery workers, children, civil engineers, confectioners, craftsmen, dying people, educators, emigrants, exiles, expectant mothers, families, fathers, furniture makers, grave diggers, happy death, holy death, house hunters, immigrants, interior souls, joiners, laborers, lawyers, married people, orphans, people in doubt, people who fight Communism, pioneers, pregnant women, social justice, solicitors, teachers, travelers, unborn children, wheelwrights, workers, and working people.
St. Joseph, pray for us!