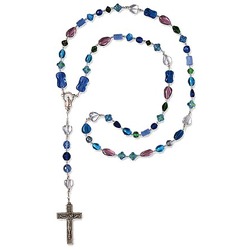 The March birthstone is aquamarine. Aquamarine is a famous gemstone which gets its name from the Latin word for "seawater" as its typical natural color is strikingly similar to the color of a clear ocean.
Aquamarine has been a very popular stone throughout secular history, and it has been thought to give everything from invincibility to soldiers in ancient times to a renewal of love to married couples in medieval times. Aquamarine was especially popular amongst royalty as it was thought that simply wearing the gemstone would protect against illness or heal one of current illness.
Aquamarine is identified with the apostle St. Thomas due to his long journeys to India across the seas.
Today aquamarine has been attributed as the birthstone of March. March Birthstone Rosaries tend to have the beautiful pale blue color of aquamarine, making them dazzling and stunning prayer beads.
Birthstone rosaries include more of a personal touch than most other rosaries, and are a constant reminder of the person's God-given gift of life. I encourage you to give your loved one born in March not only the powerful gift of the rosary but the unique and lovely March birthstone rosary.
If you would like to learn more about birthstones, rosaries, or birthstone rosaries, please read the Birthstone Rosaries Guide.
This article has been updated and was originally published in March 2012. © The Catholic Company. All rights reserved.