The entire month of September is dedicated by the Church to the honor of Our Lady of Sorrows. The feast day on September 15th falls on the octave day of the feast of Mary's nativity on September 8th: for this is what Our Lady was born for, the reason for her Immaculate Conception—to be a co-sufferer with Christ for the redemption of mankind. Her soul was perfectly conceived so that she could suffer perfectly with her Son.
Our Lady's sorrows are also a special subject of meditation during the Lenten season; the Friday of Passion week is dedicated to her Seven Sorrows.
The devotion to Our Lady's sorrows recalls the Blessed Virgin Mary's spiritual martyrdom in virtue of her perfect union with the Passion of Christ as she stood resolutely at the foot of the Cross. This was her role in salvation history, and what merited her place as the spiritual Mother of all Christians.
Mary's suffering was prophesied by Simeon, who said to her at the time of the Baby Jesus' dedication in the Temple,
"This child is destined for the falling and the rising of many in Israel, and to be a sign that will be opposed so that the inner thoughts of many will be revealed—and a sword will pierce your own soul too." (Luke 2)
The high price that had to be paid for the sin of mankind—the Incarnation and Death of the God-Man—was fully and completely felt in the heart of the Mother of God. This most privileged and highest of all God's creatures felt acutely in her soul the depth of pain and suffering heaped upon her Son, as none of her children can ever fully imagine or understand.
But, we can try.
Meditating on Our Lady's Seven Sorrows inspires in us at least these things: a realization of how greatly sin offends God; true contrition for our own sins; gratitude to Jesus for our salvation; inspiration to not commit even the smallest of sins; a deeper understanding of the battle between good and evil; and a desire to pray for the conversion of sinners.
PROMISES OF OUR LADY OF SORROWS
These are the seven promises Our Lady made, through St. Bridget of Sweden, to those who are devoted to meditating on her Seven Sorrows:
1. "I will grant peace to their families."
2. "They will be enlightened about the Divine Mysteries."
3. "I will console them in their pains and I will accompany them in their work."
4. "I will give them as much as they ask for as long as it does not oppose the adorable will of my Divine Son or the sanctification of their souls."
5. "I will defend them in their spiritual battles with the infernal enemy and I will protect them at every instant of their lives."
6. "I will visibly help them at the moment of their death. They will see the face of their Mother."
7. "I have obtained this grace from my divine Son, that those who propagate this devotion to my tears and dolors, will be taken directly from this earthly life to eternal happiness since all their sins will be forgiven and my Son and I will be their eternal consolation and joy."
PROMISES OF OUR LORD
Additionally, as relayed by St. Alphonsus de Liguori in his classic work The Glories of Mary, Our Lord promised four graces to those devoted to the Sorrows of his Blessed Mother:
1. That those who before death invoke the divine Mother in the name of Her Sorrows will obtain true repentance of all their sins;
2. That He will protect all who have this devotion in their tribulations, and will protect them especially at the hour of death;
3. That He will impress on their minds the remembrance of His Passion;
4. That He will place such devout servants in Mother Mary's hands to do with them as She wishes and to obtain for them all the graces She desires.
Do you have a devotion to Our Lady of Sorrows? How has the Blessed Mother under this title been a comfort to you in your own sorrows? Please share with our readers in the comments below.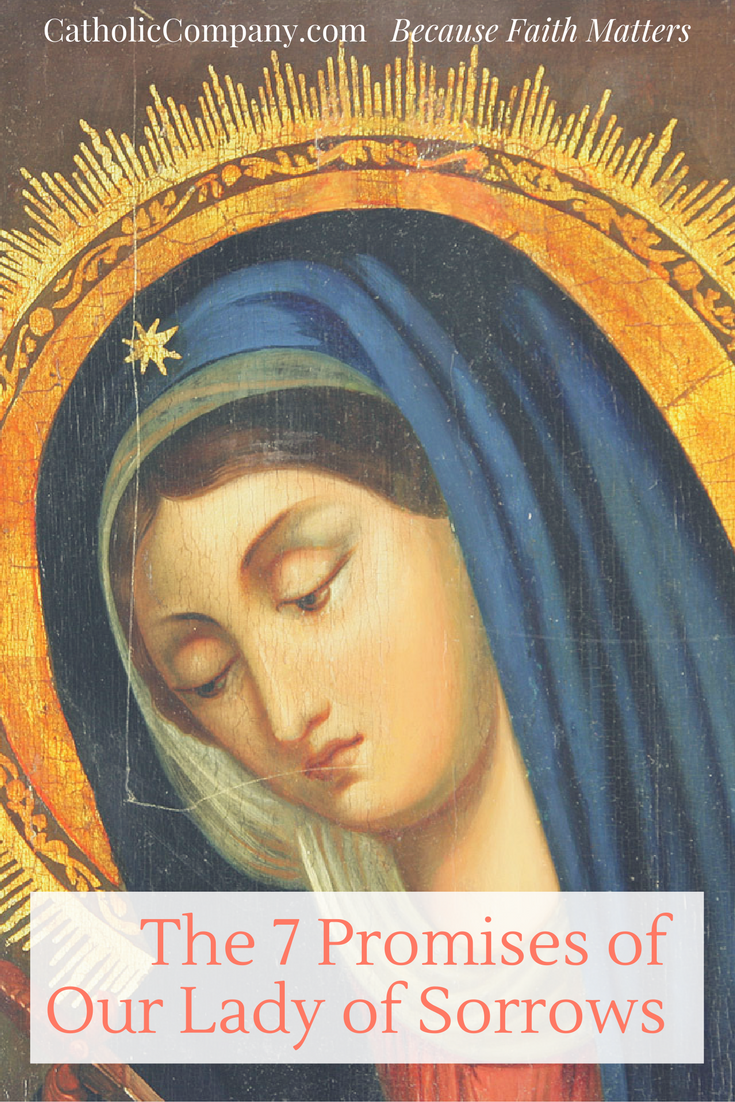 © 2016 The Catholic Company. All rights reserved.