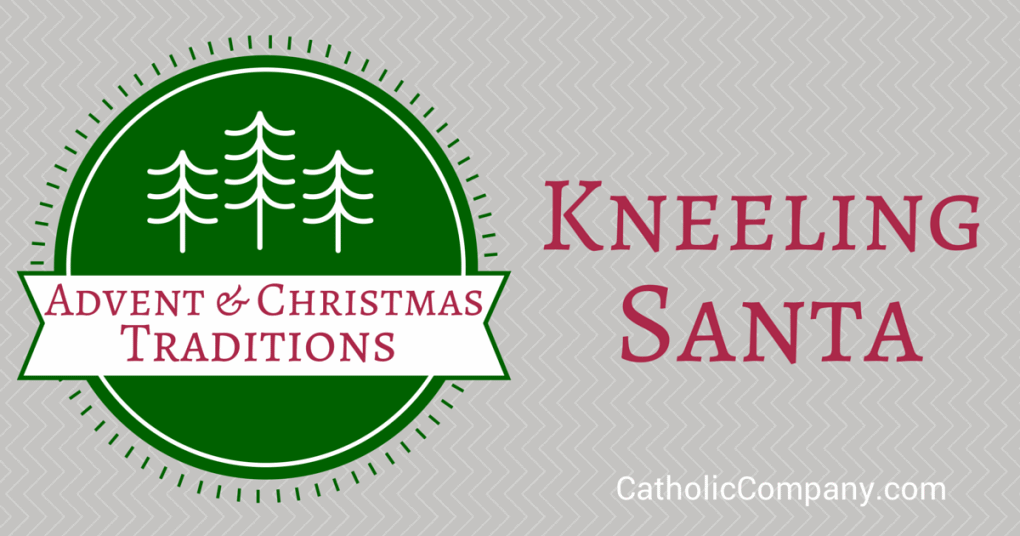 The Kneeling Santa collection of Christmas gifts featuring renditions of Santa Claus kneeling before the Infant Jesus is one of our most popular selling Christmas traditions for our customers each Christmas season.
The Kneeling Santa takes its inspiration from the passage in Sacred Scripture that reads, ??at the name of Jesus every knee should bend, of those in heaven and on earth and under the earth, and every tongue confess that Jesus Christ is Lord.?
The Kneeling Santa imagery solves a problem that many Christians have to deal with at Christmastime when raising their families: how do you incorporate both St. Nicholas and the Nativity of Our Lord together, without the former taking away from the latter?
In the Kneeling Santa imagery, even Santa Claus, or St. Nicholas according to the oldest traditions, pays respect and homage to the Baby Jesus. Santa removes his Santa hat out of respect, bends down on one knee next to the manger of his Lord, and adores the Christ Child as his King. A wonderful way to teach your children about the true meaning of Christmas!

The Kneeling Santa is depicted in a wide range of Kneeling Santa gifts such as glitter-domes, Christmas tree ornaments, decorative statues, Christmas cards, and much more. Fans add the new designs coming out each season to their Kneeling Santa collection.
Kneeling Santa gifts, especially Kneeling Santa ornaments, also make small yet thoughtful gift ideas for those special people you don't want to forget this year, such as teachers, mailmen, and other family friends and acquaintances. The inspiration behind Kneeling Santa gifts make them a festive yet religiously centered gift that can spread the Christmas cheer and remind them of the true reason for the season!
In addition to the Kneeling Santa collectible gifts, there is also a widely popular children's Christmas book entitled A Special Place for Santa. This Catholic Christmas book for children is top seller because it gives an excellent explanation of the Santa Claus tradition in an engaging way that kids enjoy, in addition to telling the historical tradition of St. Nicholas and his original "Christmas gifts" given to those in need of his charity. The children's book tells the story of how St. Nicholas became ?Santa Claus? leaving gifts for others and spreading Christ's cheer on Christmas day. Whether you are looking for a special gift for an adult or for a child, the Kneeling Santa Christmas gift collection has something for everyone!