Christmas is just around the corner: which means that evenings with friends or coworkers, and weekends with out-of-town relatives, are just around the corner as well.
At this thought, many minds will immediately jump to "which means cleaning, and arranging, and cooking, and extra laundry and..."
But WAIT!
Before you start down a rabbit hole of anxious planning, don't forget that, as we face any situation, God's grace is there too - in abundance!
It's always easier to recall God's presence and peace when we have visible reminders of that presence in front of us. With that in mind, we present for your reflective, lighthearted enjoyment, twelve steps to a peaceful planning, preparation, and execution of a Catholic Christmas gathering.
P.S.: The items featured below also make stellar gifts for hosts or hostesses!
A Catholic Christmas Gathering to Remember: 12 Steps to Success
1. Take a Deep Breath
Click to shop
You're hosting this party to bring family and friends together to celebrate God coming down from Heaven to save us from our sins. Why let unnecessary stress, impatience, or frustration rob you of your Christmas joy? Start the day by gazing at Our Lady, so serene with the Christ Child in her arms, and invite her to accompany you throughout the day as you prepare for the festivities.
2. Get Fueled
Grace builds on nature. Our Lord will not be offended if your morning prayer includes caffeine - He knows human nature quite well!
3. Send Up A Cleaning S.O.S. Plea
Don't let perfectionism cause you to lose your peace. Ask God to bless the space that your guests will be enjoying, and then ask Him for the grace and time to get it in order. "Dear Lord, bless this mess!"
4. Deck the Halls
Authentic beauty draws us to God. So get out those statues, those Nativity scenes, and those wreaths and ornaments - 'tis the season to be jolly!
5. Meal Prep
If you have kids, pets or a mixer with a mind of its own, an apron is highly, highly recommended.
6. Set the Table
Sometimes it's the littlest details that make the biggest impression. Bonus - napkins like these will remind everyone to say grace!
7. Make Sure They Come to the Right Home
There's nothing worse then arriving to an unfamiliar place and wondering if the door you're knocking on is the right one. A festive, personalized door accent should do the trick.
8. Set the Tone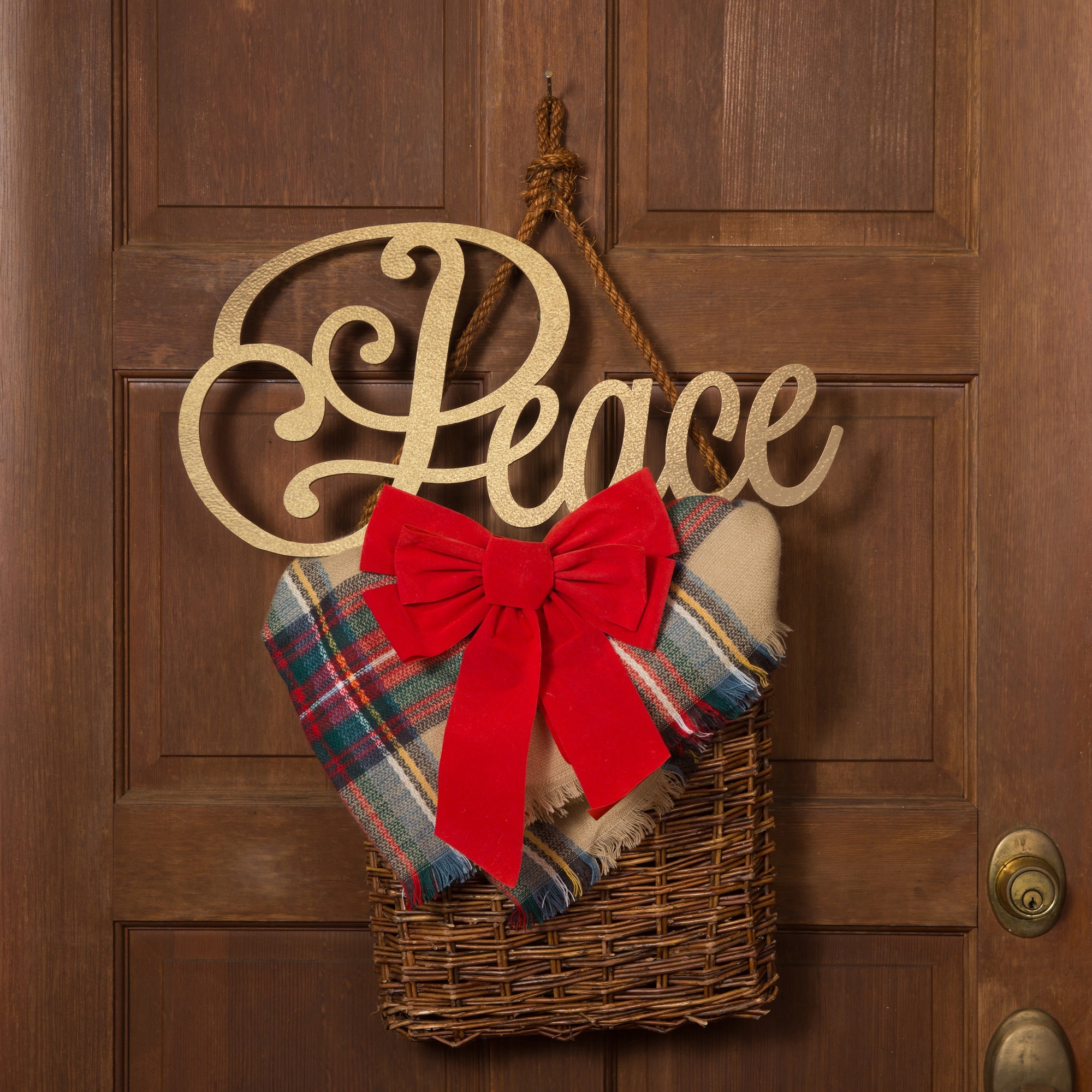 A great way to spread Christmas cheer is to let them know they are thoroughly welcome here!
9. Make a Drink
Crack open a holiday drink book and get mixing! Drinking with St. Nick is especially fun if you have guests who would enjoy reading about the history of the celebration or saint that inspired their drink.
10. Grab a Bite
Let's be honest - after all the preparations, you'll have worked up quite the appetite...Did you even stop to eat lunch today? (Or breakfast?!) Grab a quick snack and cut up some fruit or cheese to keep your energy high.
11. Say Cheers
When the evening has progressed and the hot chocolate, coffee, and spiced cider are flowing, take a moment to propose a toast to the whole group. Thank God for the gifts and graces of the year, and for the presence of your guests. It's the perfect way to bring everyone together for a reflective moment without it feeling forced!
12. Send Them Off with Prayerful Wishes
May God's peace (and rest!) be with YOU too, after hosting such a memorable gathering.
Merry Christmas and happy party planning!