Thank you to everyone who submitted your entries to our 2015 Catholic Garden Photo Contest.  We received so many amazing entries that it was very difficult to choose just four winners. You'll see what we mean if you scroll through all 2015 entries via our Facebook page here. We had three rounds of voting among several staff members in our marketing, merchandising, I.T., and Customer Care departments, and these four photos below came out on top.
1ST PLACE WINNER
Our first place winner came up first in all rounds of voting. Thanks to Beth H. from Michigan who submitted this stunning photo of her outdoor Marian sanctuary. This photo won a $100 gift card to
CatholicCompany.com
.
2ND PLACE WINNER
Who can resist a St. Francis statue seated on an old wagon, surrounded by flowers? The scene completely evokes the sentiments expressed in the plaque under his feet. Thanks to Alyssa A. from St. Charles, Minnesota, for submitting this lovely photo. This entry won a $50 gift card to our online store.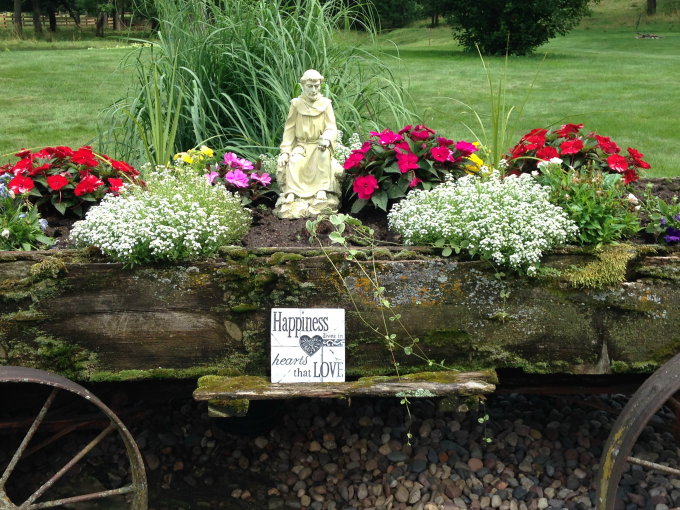 "In the peacefulness of the garden our soul finds rest." Our family has always had a special devotion to St. Francis; we grew up on a farm and learned a reverence for all life and nature. We lived simply and the Catholic values our parents embodied we now are passing on to our children. Saint Charles, MN.
3RD PLACE WINNER
This photo is simply gorgeous and took everyone's breath away. Although it is a small space, it definitely deserves a spot in our top four finalists. Thanks to Jennie M. from Monroe, New York, for sharing your daughter's beautiful art combined with your green thumb. This photo won a $50 gift card.
4TH PLACE WINNER
We loved the thought that went into this rock garden with each stone symbolizing a rosary bead. Who wouldn't want to spend time here praying their rosary? Thanks to Melinda T. from Pembroke Pines, Florida, for sharing this inspirational rosary garden with us. This photo won a $50 gift card.
We hope these photos brought you inspiration for creating your own prayerful Catholic Garden on your patio, balcony, garden, or yard. Get it ready and snap a photo to enter it into our new contest next summer.