The most important moments in a Catholic child's life aren't the little league championship or the big dance recital ... they are the Sacraments they will receive initiating them into the divine life of Jesus Christ through the Catholic Church.
The Sacraments are something to honor and celebrate!
After a child's baptism, through which they become a child of God, the next Sacrament is First Holy Communion. Making this day special for a child—with gifts and a small celebration with close family and friends—will teach a child to remember and honor this day, and teach them the reverence due to Jesus in the Blessed Sacrament.
Read next Why a Child's First Holy Communion is a Big Deal
One of the ways family members, godparents, and friends can make this day special for a child is with religious gifts that become special mementos or keepsakes.  If you're not sure what kinds of gifts are appropriate for a child's First Communion, our top recommendations are listed below.
You can find all of them by clicking here to our First Holy Communion gifts collection.  We think you'll enjoy our latest arrivals! And be sure to check out our video below showing off some of our particular favorites.

OUR 2016 FIRST COMMUNION GIFT GUIDE
Catholic Bible - every child should have their own age-appropriate Bible to encourage them to nourish their new relationship with Jesus by spending time reading from God's Word. There are lots of options that can also be personalized with their name and date of their First Holy Communion.
First Communion rosary - after the Holy Sacrifice of the Mass, the rosary is the most powerful prayer of the Church. A First Communion rosary becomes a precious memento that a child will treasure for the rest of their life, and even hand down to their own children and grandchildren.
Children's Missal - now that a child is growing up, it's time for them to become more deeply rooted in their Catholic faith. A children's missal will help kids learn more about the Mass, the source of the Holy Eucharist, own their own level.
Personalized photo frame - there will be many photos taken on that special day, so be sure to memorialize them with a personalized frame that includes the child's name and First Communion date. This is also a great gift idea for parents, grandparents, and godparents.
Statues & Figurines - kids love to have little statues and figurines to look at, and getting one that honors their First Communion is sure to be appreciated. Some of them play music, too!
Crosses and crucifixes - every child should have a cross or a crucifix in their bedroom to remind them of Jesus' love for them. Having a special First Communion cross or crucifix can be carried with them all throughout life. Some can also be personalized, too, making it an heirloom for future generations.
Religious Jewelry - children love to wear jewelry, and there are lots of options for both boys and girls that they can be excited to wear as an outward sign of their new relationship with Jesus in the Holy Eucharist.
Keepsake boxes - make sure your First Communicant has a special place to keep all their First Communion gifts together. This will teach them how to delicately handle and protect the nice things they receive as gifts, especially holy things that have been blessed by a priest.
To see examples of these gift ideas, watch our 2016 First Communion Video Gift Guide below - enjoy!
"If angels could be jealous of men, they would be so for one reason: Holy Communion."  -St. Maximilian Kolbe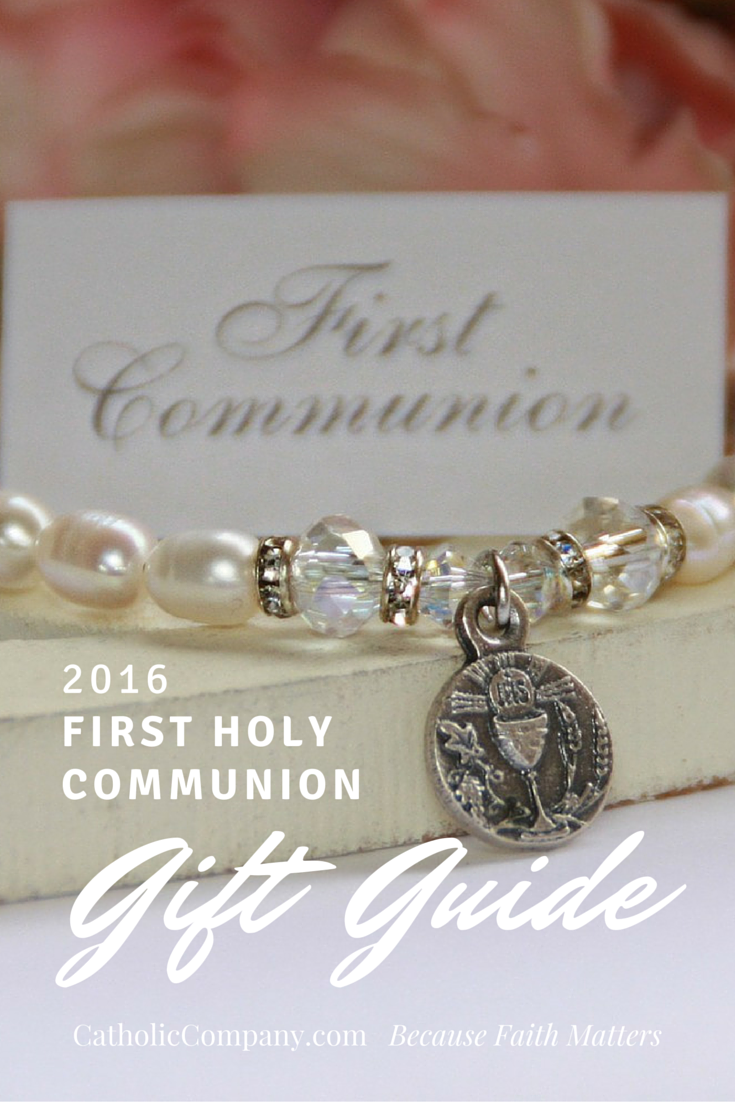 © The Catholic Company. All rights reserved.