Take a quick look around your office. How many reminders of your faith do you have?
Whether in the home or away from home, many of us spend a lot of time working in our office. There is no better way to be inspired to offer up your prayer and work to God every day (that is, to sanctify your daily work) than to have reminders of your faith in your work space. Over the course of our lives, it is one of the main places where our small, ordinary acts will add up to make us more or less holy:
Your ordinary contact with God takes place where your fellow men, your yearnings, your work and your affections are. There you have your daily encounter with Christ. It is in the midst of the most material things of the earth that we must sanctify ourselves, serving God and all mankind.

- St.Josemaria Escriva
Check out the video below for some ideas on adding
religious devotional items
to your office space. You don't need a lot, or even anything large for that matter, in order for them to have their effect. Large pieces look great as far as decorating goes, but even if you have little space or a little budget, smaller will do just fine.
For starters, think about your favorite devotion (such as the Divine Mercy) or your favorite saint (such as St. Therese of Lisieux or St. Joseph). Framed prints come in all sizes, as do statues. Next, to these particular favorites add the universal staples of a crucifix and an image of Our Lady, even if it's just on a holy card taped to your computer screen. Finally, if you want a little something else, try a religious candle (now available in flameless versions), a Catholic calendar, holy water, a rosary, etc.
As you will see below, just adding a few things will go a long way to incorporating faith into your work.
Do you have reminders of your faith in your work space? Does it make a difference to your day?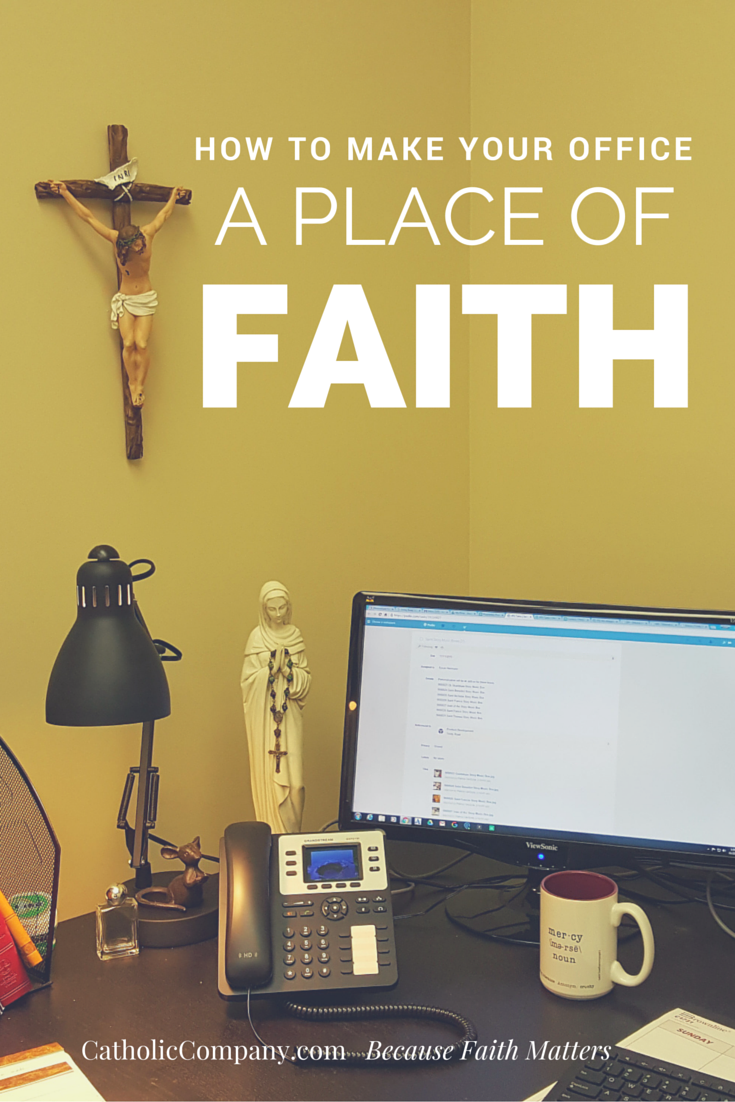 Copyright © 2015 The Catholic Company. All rights reserved.