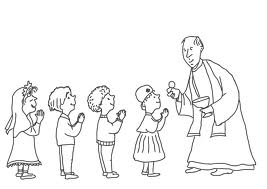 If you're like most people, it can be a little daunting to pour through a huge selection of First Communion gifts and choose just the right one that the little girl or little boy in your life will love.
We know the challenge is that you want to choose a gift they'll enjoy right now, but you also want this Catholic gift to be a keepsake they will always treasure even into adulthood. And because they celebrate their very First Communion only once, you have only one chance to get it right. Are you feeling the pressure yet?
Don't worry, we're the professionals! We know how you're feeling, and we're here to help you choose just the right gift that will meet both criteria.
Here are tried-and-true, you-can't-go-wrong First Communion gift ideas from our extensive experience as parents, catechists, and Catholic gift experts.
First Communion Bible Story Books are great because your child will use it now and they will hand them down to their own kids in the future. I'm sure you can attest to this . . . most of you probably have your childhood Bible laying around somewhere, right?
First Communion crosses and crucifixes make a great gift because they'll have something to hang up in their room now, and it will hopefully follow them to their college dorm, first apartment, and starter home.
First Communion Figurines of a little girl or boy receiving First Holy Communion sell like hotcakes year after year. This also has potential to be a great family heirloom.
First Communion Personalized prayer cards have endless potential to be a great gift that will be treasured for years to come. Design a prayer card for your First Communicant and make it all about their personality, the saints they love, and the special prayers you have for them on their special day.
First Communion personalized photo frames are a great item to etch your little one's name and the date of their First Holy Communion on a wood, gold, or silver picture frame they will keep for a lifetime on a shelf or wall in their home.
We hope this helps, and happy shopping!