Have you noticed? The secular, salesy, toss-Baby-Jesus-out-with-the-bathwater celebration of Christmas has a riptide effect.
It sweeps us up before the turkey leftovers are ziplocked and the pumpkin pie crumbs are off the table. Actually, it trickles in when the Halloween decorations wilt.
By the time December 26th rolls around, the riptide has run its course, and we're scrambling to shore amid discounted Christmas candy and 70% off Santa gnome figurines.
[[7971]]
I think it's time we stepped out of the riptide. We need to flip things around.
As Catholics, we should be celebrating and rejoicing to the rhythm of the liturgical calendar—not the world's commercial calendar. After all, the celebration of Christmas is crucial to our faith. Without the birth of Christ, there would be no Passion, no Resurrection—and no salvation. There would be no hope. But Christ has come. So Christmas is a festival of gratitude and joy. It is a very holy time of year.
When we celebrate holidays liturgically, we join the hosts of heaven in a feasting that transcends the limitations of time and space. Think of it: the angels are observing the liturgical calendar! As theologian Cardinal Jean Daniélou wrote:
The mysteries of Christ are celebrated by the heavenly powers at the same time as they are by the Church on earth.
And why would we ever want to separate ourselves from the revelries of heaven?
Let's fix our mental calendar. Christmas doesn't begin the day after Thanksgiving. Nor does it end December 26th. Christmas begins at midnight on Christmas Eve, after we've prepared for it with a contemplative and penitential Advent. It ends on the Feast of the Baptism of the Lord, which is a moveable feast around the second week of January. Until then, there are various ways to relish the Christmas season, and to extend the festivities to others.
One of the best ways to do so is by celebrating Epiphany.
What is Epiphany?
The word "epiphany" has Greek roots and means "manifestation." The first Epiphany occurred soon after Christmas, when the Wise Men found the Christ Child and worshipped Him.
According to the Catechism of the Catholic Church:
The Epiphany is the manifestation of Jesus as Messiah of Israel, Son of God and Savior of the world. The great feast of Epiphany celebrates the adoration of Jesus by the wise men (magi) from the East, together with his baptism in the Jordan and the wedding feast at Cana in Galilee. In the magi, representatives of the neighboring pagan religions, the Gospel sees the first-fruits of the nations, who welcome the good news of salvation through the Incarnation. The magi's coming to Jerusalem in order to pay homage to the king of the Jews shows that they seek in Israel, in the messianic light of the star of David, the one who will be king of the nations. Their coming means that pagans can discover Jesus and worship him as Son of God and Savior of the world only by turning towards the Jews and receiving from them the messianic promise as contained in the Old Testament.
[[31690]]
When these mysterious wise men bowed down before the Son of God, they also presented Him with gifts that had a profound significance. The gold acknowledged His kingship on earth; the frankincense paid homage to His divinity; the myrrh foretold His sacrificial death and burial, since myrrh was used as an embalming oil.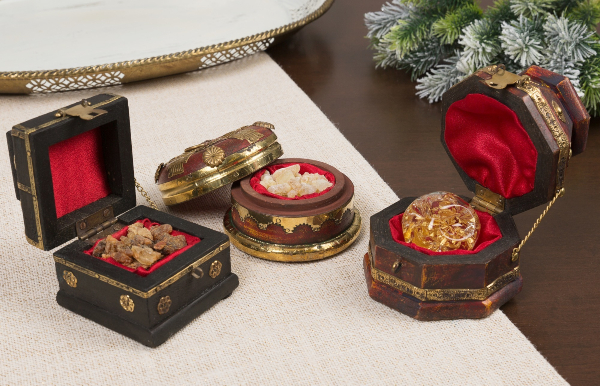 The commemoration of the visit of the Magi has been celebrated by Catholics all over the world in unique ways.
One way to honor this feast is to host an Epiphany party. How about it? Would you like to throw an Epiphany party?
How to Throw an Epiphany Party
There isn't one definitive way to throw an Epiphany party. Different cultures have celebrated in different ways. New Orleans—of King Cake fame—has its own traditions for this celebration.
I'd like to be more specific and personal, and share some tips from the beautiful ways in which my own mother has hosted Epiphany parties. She has been quite inspired by the concept and done a lovely job of hosting that touched the hearts of her guests. You can take one or all of these ideas and make them your own, or use them as inspiration for new ways to host an Epiphany party.
Let's look at some tips, inspired by Mrs. Cunningham.
1. Set a date for your Epiphany party.
The Solemnity of Epiphany occurs on January 6th, although some dioceses move it to the second Sunday after Christmas.
You could host your party on January 6th, no matter what day of the week that happens to be. But weekends are better for most people, so why not host it on the Sunday on which your parish celebrates it?
Many dioceses will celebrate the Feast of Epiphany on January 5th in 2020.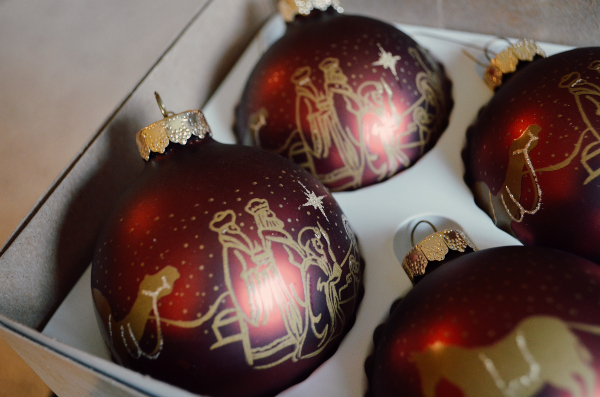 2. Craft a guest list and send invitations.
Whenever she planned an Epiphany party, my mom put thoughtful consideration into her guest list. She thought about who might enjoy the kind of evening she was planning.
Because my family moves a lot, we have not able to invite the same people to this party each year. When we lived in Jacksonville, Florida, my mom was part of a local chapter of the Catholic Writers Guild. This group was made up of men and women with a literary bent. She invited them and their spouses for our Epiphany party of 2013.
A few years later, my parents had moved to the other side of the state, near Sarasota. My mom then invited members of her tiny parish to the Epiphany party.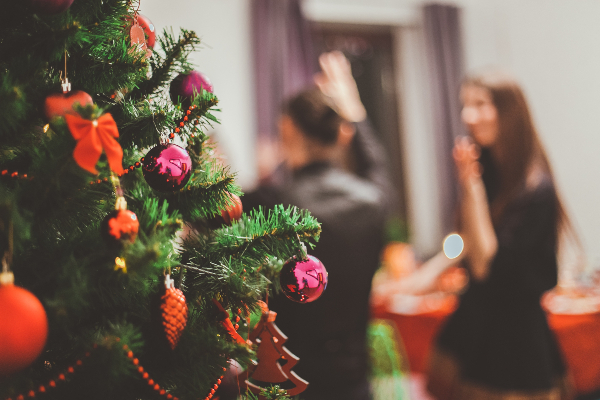 Who would you like to invite? Maybe you could invite someone who's new to your parish? Maybe a combination of friends and family? Give it some thought!
When you decide who to invite, make some invitations, digital or paper—take your pick!
My mom insists that her drawing skills are very poor, but that didn't stop her from sketching a Madonna and Child, and including it with her home-made invitations. Don't be intimidated by apparent limitations.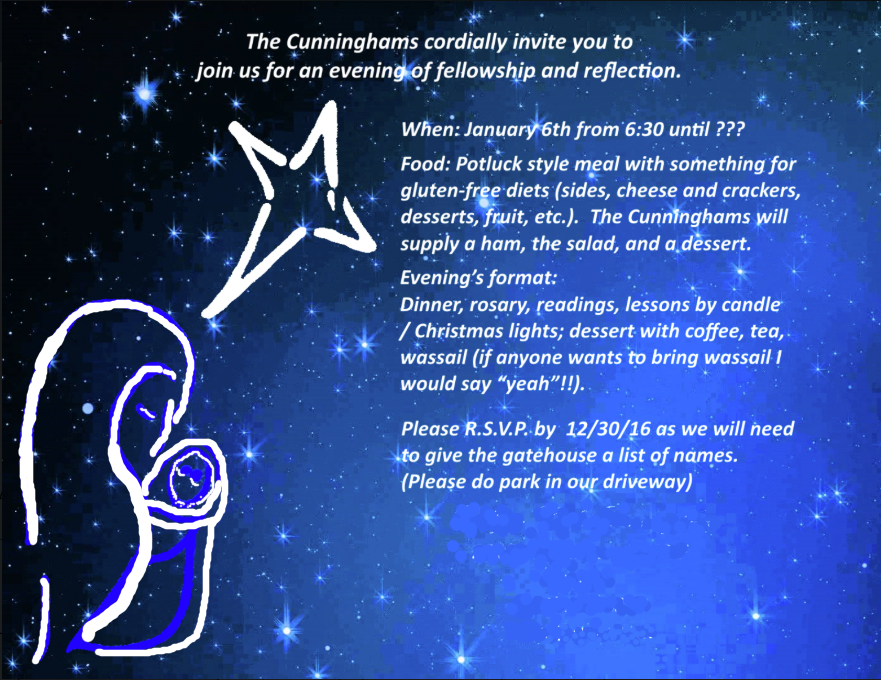 3. Keep your decorations up.
It's important to keep all your Christmas decorations up. Don't take down your Nativity scene. Christmas lights should be glowing, candles flickering, Christmas music playing! We are still in a time of liturgical feasting!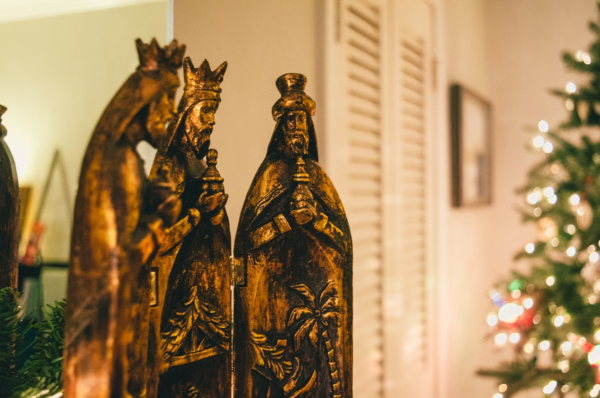 Growing up, my sister and I liked to have the Wise Men for our miniature Nativity scene "journey" to the manger. We placed them across the room from the Nativity, and moved them a little closer about once a week during Advent. By Epiphany, they had found the Baby Jesus. You could do the same! And if you want something really special, you can purchase a replica of the Three King's gifts.
Final decorating tip: if some guests are new to your home, a Christmasy front door will assure them that they're at the right place.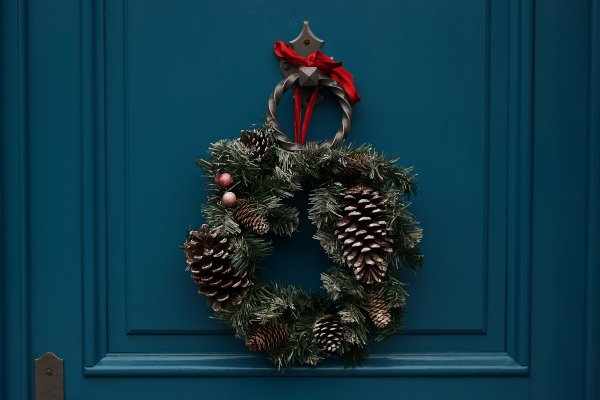 4. Plan a menu.
It's hard to go wrong with wine, savory treats, cheese and crackers, nuts, toasted bread, desserts, et cetera. You can provide tea and coffee for guests. If you plan to serve dinner rather than appetizers alone, you could make a soup, a ham, and a salad—or a favorite meal that your family likes to serve around Christmastime.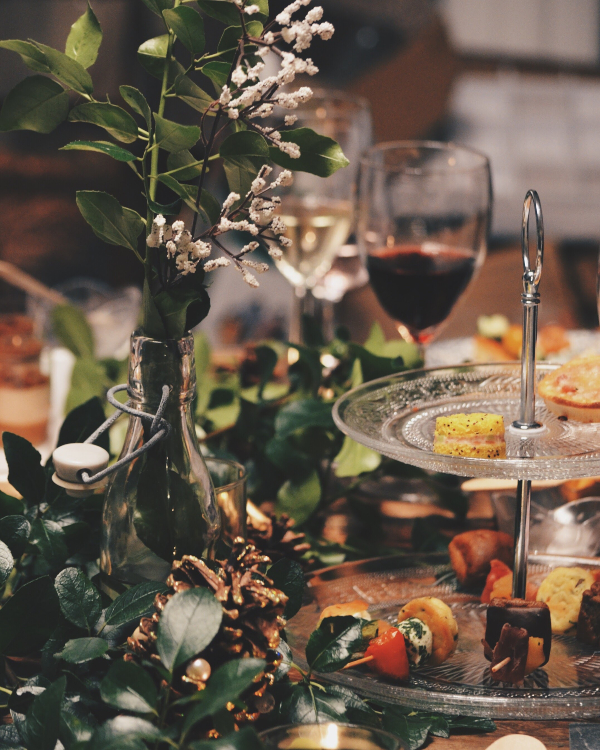 Many people love to get (or make!) a King Cake for Epiphany, but my mom went a different route. She made, from scratch, a decadent Yule Log Cake.
She also likes wrapping brie cheese in pastry, after spreading fruit jam over the cheese and studding it with nuts. She then shapes more pastry into holly leaves and a Baby Jesus and pops the whole thing into the oven to warm. You can use cookie cutters to shape the pastry design, if you like!

If providing a buffet all by yourself sounds overwhelming, make it a potluck and ask guests to contribute something!
5. Create a festive ambience.
In addition to the glow of Christmas lights, a crackling fire (even a gas one!) is welcome to everyone. At our Epiphany party in Jacksonville, the weather actually got cold enough for a fire. My brother gathered kindling and wood from the backyard and had a beautiful fire going when the guests arrived.
Have Christmas music playing softly in the background. Light some candles.
You can also decorate your food table with Christmas accents. Be as simple or as extravagant as you like!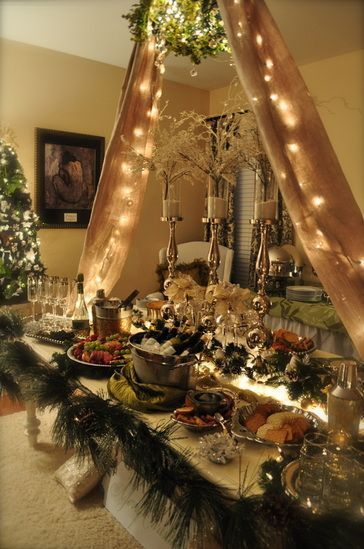 6. Plan the format for your evening's festivities.
To make the feast of Epiphany central to the party, my mom gathered a selection of readings. These readings were Bible verses, short stories, or poems that are imbued with the theme of Christ's Incarnation. They focus on the silent, unassuming, mysterious coming of the Christ.
So, when guests had mingled for a bit, and everyone had gotten something to eat and drink, my mom would announce that the "lessons and readings" were about to begin. We would all gather together and sit down in one room. My mom would start us off by reading a poem about Advent and the heart's longing for a savior.
Guests were then invited to take turns reading if they wished. Well, sometimes they weren't given the option. "I enjoy springing a reading on an unsuspecting guest," says my mom.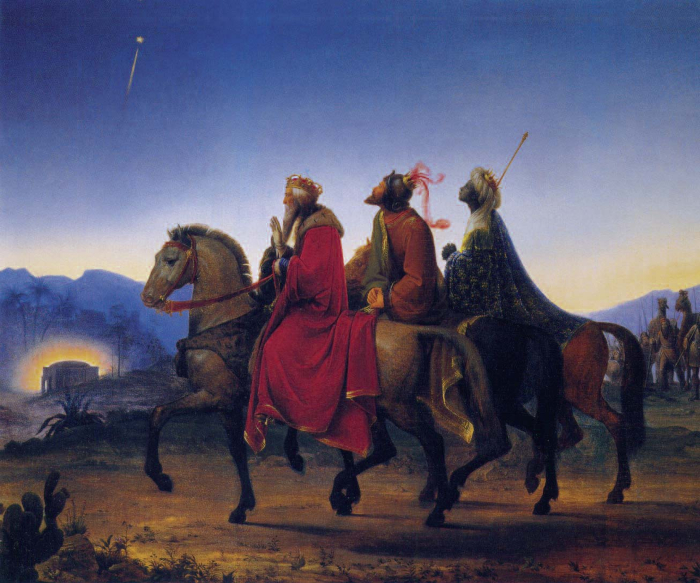 After the readings, we would recite the rosary together.
We might also sing Christmas carols. ("We Three Kings" is a must!) If you know someone who plays an instrument, ask them to bring it. My uncle plays the cello, for example; my brother, the guitar. Perhaps your friend or family member can delight your guests by playing well-loved Christmas carols.
We would do all this by candle-and-Christmas-tree light, which was beautiful.
If you would like to do something similar, but feel somewhat intimidated by the idea, give yourself time to think about it. Do some searching online, or, better yet, look through your missal or breviary or prayerbook for Christmas verses and prayers that can start you off.
These are some notes my mom made on the readings ("lessons") she had selected: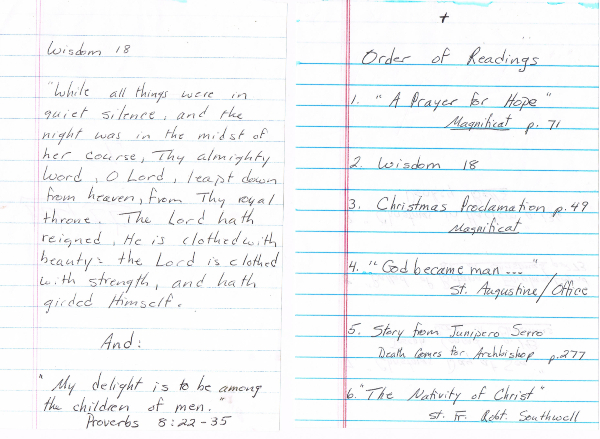 You can find some beautiful reading options in Catherine De Hueck Doherty's book Donkey Bells: Advent and Christmas.
An Unforgettable Epiphany
You might be surprised at how interested people are in attending an Epiphany party. And why not? They have been told that Christmas is over, and now here is a marvelous extension of it!
It's also a better time of year for most people to attend a party. They are able to relax more. The frantic rush to buy gifts is over, and pre-Christmas social events are over. Visitors have gone home. Things have quieted down.
Yes, an Epiphany party is a wonderful way to relish the last days of Christmastide. It's time to bring this tradition back!
If you want to learn more about bringing a Christ-centered atmosphere to your home, and living in tune with the liturgical seasons, you'll want to sign up for this series: Catholic at Home. Don't miss it!
Have you ever hosted an Epiphany party? Would you like to host one this one year?
How would you make your Epiphany party a memorable experience for guests?
Share your thoughts with us in the comments below!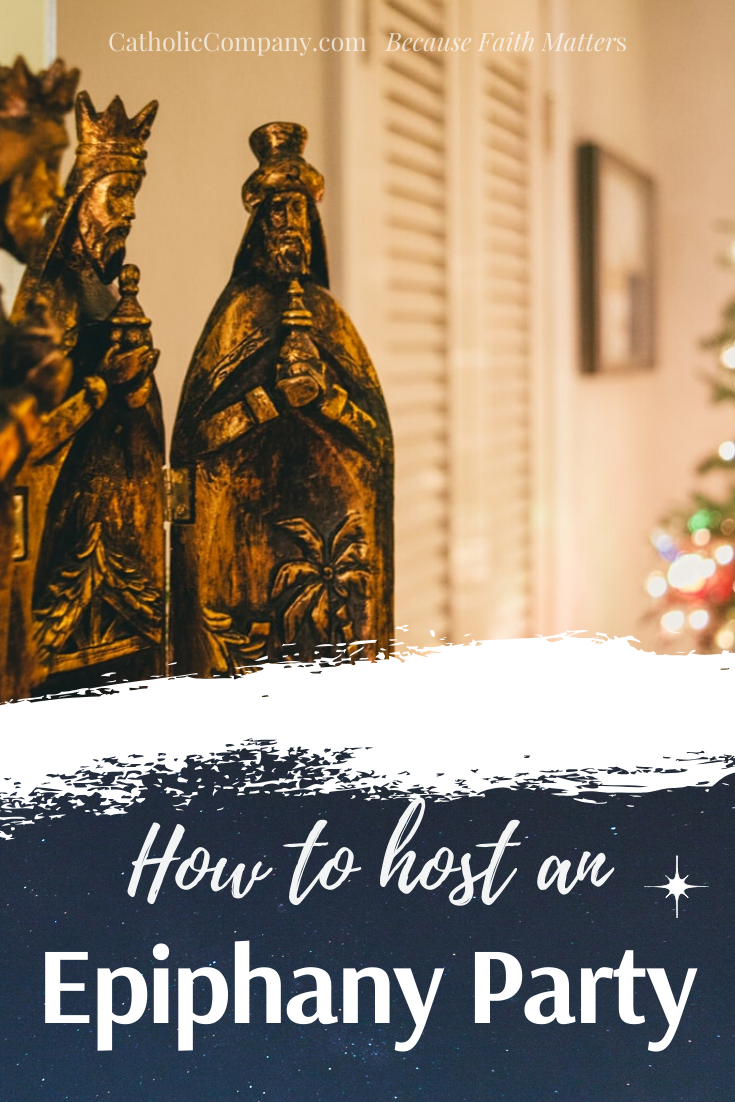 [[15127]]