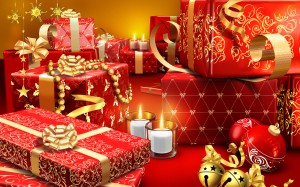 Christmas is a beautiful tradition of Christianity which includes the practice of gift-giving. Gift-giving during Christmas in the West is a tradition which can bring one to greater virtue or, unfortunately, great temptation to sin. In the consumer culture of the West it is to see the abuses occurring in gift-giving during Christmas. During the Christmas season we see it all to clearly the obsession over gifts and the excess spending which tends to overshadow the focus of Christmas which is the birth of Christ.
             Although we see this every Christmas season, this does not mean that we should toss out gift-giving altogether simply because it is commonly abused. Instead we should attempt to rediscover how to practice gift-giving more virtuously. Too often we see Christmas as a dualistic season of gift-giving and receiving on one side and the birth of Christ on the other side. This is not an accurate way to see Christmas at all. I contend that we should see Christmas as an opportunity to celebrate the birth of Christ by giving each other gifts which bring us to a deeper love and understanding of Christ so that our faith might deepen.
             The Christmas season presents the unique opportunity for us to give each other gifts which will benefit each other's faith life instead of purchasing loads of clothes, and entertainment media. One can lead their loved one to a deeper love of the Savior whose birthday they are celebrating by giving them Catholic books, Nativity Sets, Kneeling Santa, or other Christmas gifts for Christmas. Is not a deeper love and relationship with Christ not the ultimate gift which He would want from us on Christmas?
             Christmas is one of the most important times during the year in which families come together in joy and love of the Lord in a unique way. I challenge you to encourage your family to consider giving each other gifts for the betterment of their faith life and relationship with Jesus if you and your family do not already do so already. Remember that these gifts embody the true spirit of Christmas which is a love and awe at the birth of the Word of God into human existence as the most lowly of humans.