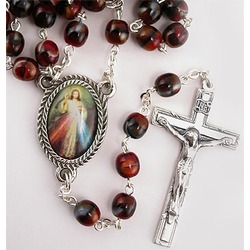 This Sunday is Divine Mercy Sunday in which Catholics celebrate the power of the Divine Mercy of Christ. Catholics around the world are beginning to fall more and more in love with a devotion that  is less than a century old: The Divine Mercy Chaplet. The divine mercy chaplet was given by Jesus Christ himself to St. Faustina Kowalska. This beautiful devotion focuses on the mercy God has for us through his sacrificial love. According to EWTN, the message of the divine mercy chaplet is three-fold and is easy to remember as ABC.
A – Ask for the Lord's Mercy. God asks that we repent and ask for Him to bestow His mercy upon us and the whole world.
B – Be merciful. Just as God sends us mercy so too does he ask us to be merciful unto others. We are called to be God-like meaning that we are called to be loving and merciful.
C – Completely trust in Jesus Christ. In order to receive grace we have to be open to it, and a part of being open is trusting in that very grace.
Praying the chaplet of divine mercy and committing yourself to the devotion is a decision to give yourself to that mercy of God and live out the message of the devotion. Jesus had this to say about the chaplet of divine mercy to St. Faustina Kowalska: "Say unceasingly this chaplet that I have taught you. Anyone who says it will receive great Mercy at the hour of death. Priests will recommend it to sinners as the last hope. Even the most hardened sinner, if he recites this Chaplet even once, will receive grace from My infinite Mercy. I want the whole world to know My infinite Mercy. I want to give unimaginable graces to those who trust in My Mercy." This chaplet of divine mercy was given to us by Christ and in less than a century it has changed the lives of millions.
The chaplet of divine mercy has picked up a lot of steam over the years. Recently the Sunday after Easter was made Divine Mercy Sunday. According to EWTN, the Apostolic Penitentiary of the Holy See created new indulgences that can be gained through celebration of Divine Mercy Sunday. Learning how to pray the divine mercy chaplet could completely change your experience with Jesus Christ and Divine Mercy. Do you love to pray the chaplet of divine mercy?