Dads are wonderful, but shopping for them can be...not so wonderful.
Choosing a gift can be tough, especially when you need a gift for a man.
Luckily, we are not just shopping for men in general. We are shopping for D-A-D. ( Yes, he can never find his socks, but he gives his whole heart to providing for his family.)
This is a different kind of shopping. Dad will love whatever you get him, provided there was thought put into it, and especially if it's useful. (This excludes the soiled ties I brought home from volunteering at a thrift store back in 2007. I cannot emphasize enough that my father feigned zero enthusiasm.)
So let's get started. Here are ten gift ideas that can help you decide what to get for your father, grandfather, or for anyone who has been a father-figure for you.
A Masculine, Handcrafted Rosary
Why it's a good choice:
Paracord is threaded rope of slim nylon, originally used for everything from suspension lines on parachutes to hiking boots. It's durable, masculine, and perfect for an outdoorsmen or anyone who tends to be, well, hard on their material things. Try a rosary with black onyx for a more sophisticated look, or one with stone beads and wire for a feel that's less bulky than paracord but still rustic. Shop all of our handcrafted rosaries for men here.
A Leather Journal
Why it's a good choice:
Sleek, minimalist, and seriously awesome, leather-style journals will delight any man. Make this gift even more special by including a handwritten note on an inside page, and leave it for Dad to find. And check this out: you can even personalize the cover! Find all of our journals here.
A Spiritual "How-To" Manual
Why it's a good choice:
Just read what others have to say:
"I purchased 3 of these beautiful books. One for my husband and one each for my adult sons. They are beautiful to hold in your hand and when you open it you will find something to read to fill you with grace for the day." (Manual for Men)
"This book has a number of great prayers. I start each day with a prayer for several things: 1. to serve Jesus more faithfully; 2. to be a supporter of my wife, unconditionally; 3. thanksgiving for my family; 4. for my children and their spouses; 5. for me to be the man that God wants me to be as a servant. It's a terrific book." (Father's Manual)
"An excellent book to ready you for spiritual combat. Teaches the weapons and strategy needed, and contains numerous prayers, devotions, and even hymns. It is a book that will be in continuous use for as long as the warfare lasts." (Manual for Spiritual Warfare) Find more thoughtful books for men here.
An Image of St. Joseph the Worker
Why it's a good choice:
When it comes to gifts for dads, a Saint Joseph image for his office is a home run! Saint Joseph was the guardian chosen for Jesus by God Himself, and he is the patron saint of fathers and workers as well as of the Universal Church. He is the perfect example of leadership at home and the crucial vocation of the working man, no matter how humble or exalted the job. These finely-detailed depictions portray Saint Joseph as he was: a man who practiced a diligent trade and worked hard with his hands. Find more St. Joseph items here.
A Gift of Gratitude
Why it's a good choice:
"Thank God for Dad" is such a simple prayer, but it's so incredibly true. Whether he's bringing home the bacon or scooping up a little one for a bear hug, there are so many reasons to be grateful for Dad! Tell him right out how you and the kids feel with a gift of gratitude, so he can be strengthened by your love while he works in the office or in the yard. Find more "Thank God for Dad" gifts here.
A Monogrammed Wallet or Bag
Why it's a good choice:
Men like practical gifts. They need them. They use them. And you can personalize these wallets and bags with your dad's initials, which makes them that much more meaningful. Customer John says: "This is a great wallet that has more than enough room for my 'wallet' stuff. The leather feels good and looks good. I think it will hold up for a long time. It fits in my back pocket and allows me to close my pocket with the velcro flap, in other words its not too big. I love the small cross on the corner." Find more personalized gifts here.
An Inspiring Key Chain
Why it's a good choice:
Key chains provide a simple, subtle way for Dad to carry his faith with him on the go without wearing jewelry. They also provide a reminder for him to pray for the protection and safety of his family while he's driving to work. Find (lots) more key chains here.
A Meaningful T-Shirt
Why it's a good choice:
Dad needs some fun t-shirts to throw on when he's out in the yard, on a trip, or taking the kids to a sports game. Why not give him one that's fun and classy, but also thoughtfully Catholic? Our in-house designs are standard size and fit, plus they're pre-shrunk cotton: no surprises on the second wear! Find more men's t-shirts here.
Real Men Pray Swag
Why it's a good choice:
It's true: real men pray. Fathers need to be encouraged in their spiritual life, because there's nothing more masculine than being a man of prayer and setting the example of a godly life for his family. After all, the father should be the spiritual head and protector of the household's faith. Find more motivating gifts for men here.
Don't Forget About Your Spiritual Fathers!
Why it's a good choice:
Don't forget about your priest on Father's Day! Our good and holy priests dedicate their whole lives to the service of the Church. Not only do they make it possible for us to receive Holy Communion, Confession, and Confirmation, they also become mentors and spiritual fathers for us, the faithful, through their accompaniment. Find fun and unique gifts for priests here.
Why a gift of faith?
It's Fathers Day. He wanted tickets to the Braves' game. So why give a gift of faith?
Let me start by pointing out that Dad can certainly wear the t-shirt to a baseball game!
And you can still get him tickets to the Braves game, or the Yankees or Red Sox game, for that matter. But out of all the holidays in the year, Father's Day is a chance to celebrate a day that has mountains of meaning surpassing its seemingly-sentimental surface.
Dads face so much pressure in society today. Now, more than ever, it is important for them to turn to God for recourse: in times of trouble with their marriages, their children, their temptations, their griefs, their sorrows, their failures, and their joys.
Now, more than ever, we need to celebrate, cherish, and nurture our fathers. Now, more than ever, we need to provide the fathers of tomorrow with role models: men truly providing for their families, not just financially, but spiritually and emotionally—fathers who give the gift of their time.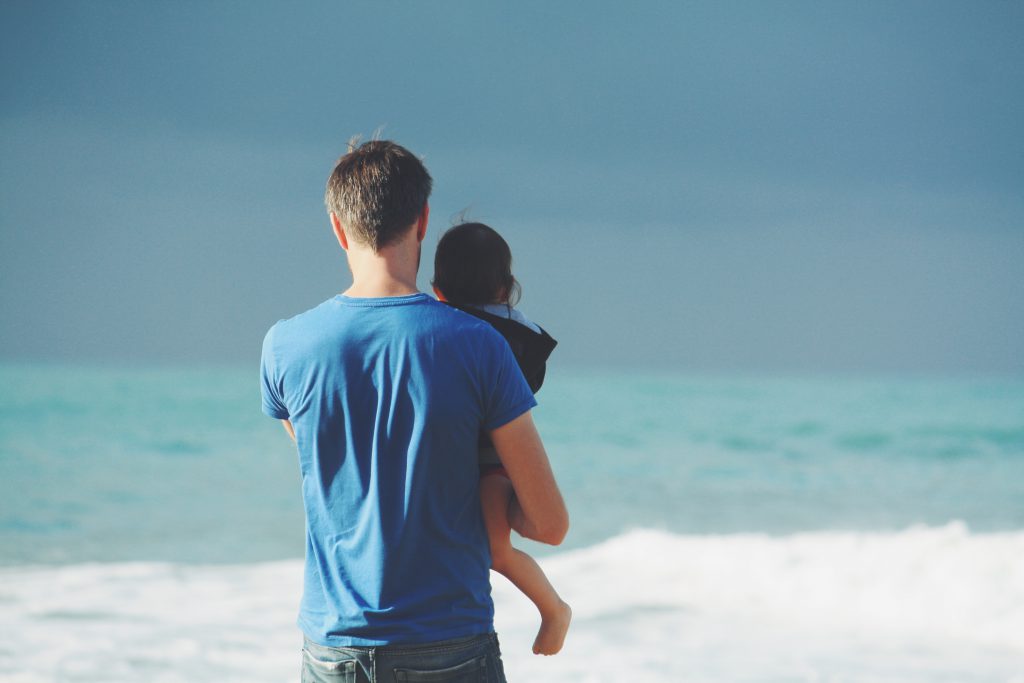 Now, more than ever, it is important to show them perfect love: the kind that is patient, kind, and forgiving. The kind that keeps no record of wrongs.
Maybe some of us are subconsciously afraid to insinuate that our fathers are anything less than perfect. What does it tell dad if we give him a rosary along with a card that says "World's Best Dad"? Or a Fathers' Manual?
Well. These gifts DO remind your dad that he's doing a wonderful job. Men appreciate meaningful gifts and the family that gives them. And these gifts are important because they mean so much more. They remind him that he has a Father too: a Heavenly One. And your dad can always turn to Him for guidance and support as he navigates the sometimes stormy—but very beautiful—sea of fatherhood.
How has your father been a meaningful influence on your life? If not your own father, has there been a father-figure who has been a source of grace for you?
We'd love to hear from you, so share your story in the comments below!
This article has been updated and was originally published in June 2016. © The Catholic Company. All rights reserved.