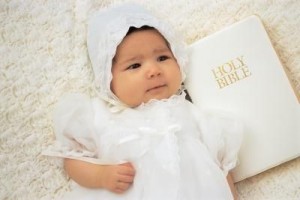 Getting babies a gift has to be one of the hardest things to do. Babies can't articulate what they like or want, and they can't really appreciate a great gift very well. And what is usually the biggest day in a baby's life? Baptism. How does one go about choosing the right gift for a baptism? You can't really make the choice based on what the child would want because they don't have much of a preference. The best gift for a baptism in my opinion is one that will last for years to come. That way when the little one gets older they can enjoy the gift for all its worth. Here are some gifts for a baptism that are certain to last.
A baptism rosary makes a great gift for a baptism. These rosaries are beautiful and durable. Some of them come in rosary boxes and can be engraved. Giving the little one in your life a rosary is more than just giving a set of beads. Giving a rosary as a gift for baptism is giving the little one encouragement in the future to develop a love for the Blessed Mother and the rosary.
Baptism jewelry is sure to last in your loved one's life and makes a great gift for a baptism. One of the most popular pieces of baptism jewelry are baptism pins. Baptism pins are usually pinned to the baptism gown or blanket of your loved one. These pins usually include beautiful miraculous medals, crosses, guardian angel images, or something of the like. Baptism jewelry makes a great gift and is sure to inspire your loved one in the future.
Children's Bibles make great gifts for a baptism. What better gift to a baby coming into the Christian faith then the inspired Word of God. Even though your love one won't be reading their Children's Bible for a few years, it will more than likely be one of the first Bibles they read and you can always read them stories out of their Children's Bible. The Children's Bible is a traditional baptism gift which many, like myself, still have decades years after their baptism.
Every little one loves something fluffy and baptism bears fit that to a tee. Perhaps your loved one's baptism bear will become that childhood friend that accompanies them everywhere they go. Baptism teddy bears are certainly not a traditional gift but it might just come to be your loved one's best friend for their entire childhood.
Baptism Crosses and Crucifixes
A Baptism cross or crucifix is one of the most traditional and classic gifts for a baptism. Baptism crosses and crucifixes are typically hung in the child's bedroom and remains there throughout the child's entire childhood. It might even follow your loved one to college or their own home. Baptism crosses and crucifixes are gifts made to call your little one to reflect on Christ and his love for us.
What is your favorite gift for a baptism? Do you have any of your baptism gifts with you today?