The Sacred Heart of Jesus has become one of the most beloved Catholic devotions. Although this devotion arose in the 13th century, its popularity in modern times originated with a 17th century French nun and mystic, St. Margaret-Mary Alacoque, to whom Jesus taught the secrets of His Sacred Heart.
While on a pilgrimage I visited the Basilica of the Sacred Heart and the Chapel of Apparitions in Paray-le-Monial, France, a charming and quiet town: it is where St. Marguerite-Marie saw Jesus. This experience inspired me to bring the devotion to the Sacred Heart into my home.
My husband had the idea of doing an official Enthronement to the Sacred Heart of Jesus when we bought our new house. It was a beautiful event for our family as we entrusted our home to Christ and asked for His blessing and protection.
If you would like to enthrone an image of the Sacred Heart of Jesus in your home, here is a practical guide to plan a ceremony.
But first, you should get familiar with what this enthronement is:
What is the Sacred Heart of Jesus Enthronement?
An enthronement is a ceremony in your home where Jesus is given authority over your family. In other words, Jesus becomes the King in your home, and your family publicly acknowledges this consecration by installing a picture or statue of the Sacred Heart of Jesus in a place of honor in the house.
Why should I enthrone the Sacred Heart of Jesus in my home?
This request comes directly from Jesus. He told St. Margaret-Mary Alacoque that He would bless each home where a picture of His Sacred Heart is exposed and honored; and the Sacred Heart enthronement ceremony was officially approved by Pope St. Pius X in 1908. Who needs more incentive than that?
What are the spiritual benefits?
The enthroned image of the Sacred Heart will inspire you and your family to stay close to the Lord, reminding you that Jesus is with you in all of life's circumstances. And there are 12 promises of the Sacred Heart of Jesus (Leer en Español) for those who venerate His image. By this covenant, we make our homes and hearts His place of worship.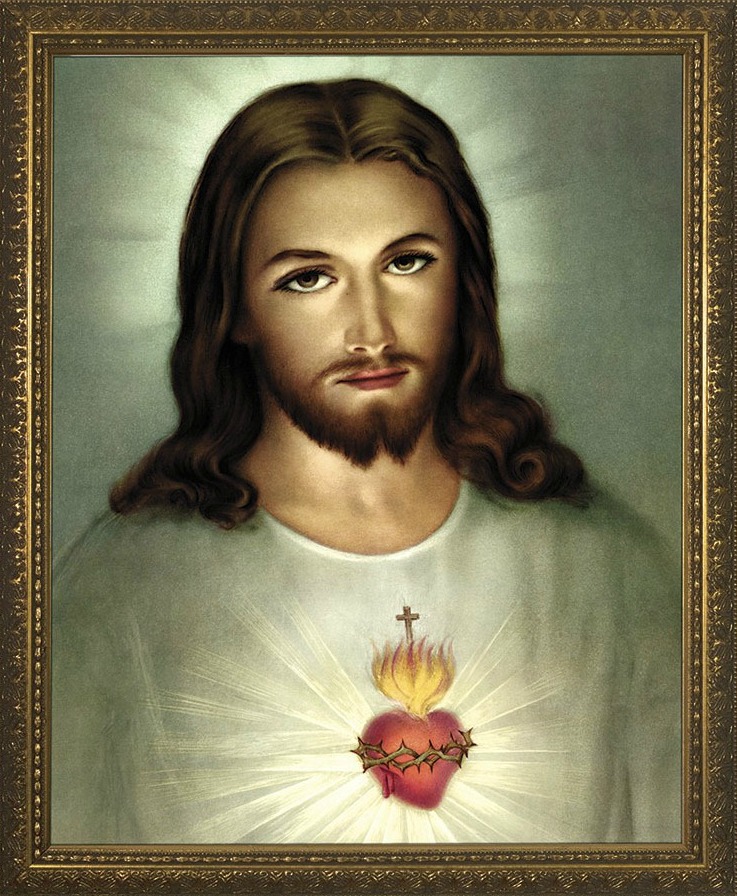 How to Plan a Sacred Heart of Jesus Enthronement Ceremony
1. Get the instructions and rubrics for the official ceremony.
Check out these 12 Steps of the Sacred Heart of Jesus Enthronement Ceremony where you will find general instructions about the ceremony and links to the necessary materials.
2. Pick a Date.
The first thing you have to do is pick a date for your enthronement ceremony. You might have to choose a weekday since priests are busier on the weekend. It would be nice to choose a date that is special to you and your family. For example, plan it around a wedding anniversary, a baptism, or on a favorite saint's feast day, such as the feast day of Our Lady or St. Joseph. Other good options are during the month of June (this entire month is dedicated to the Sacred Heart) or on the actual feast day of the Sacred Heart.
3. Book a priest.
The rubrics for the enthronement ceremony calls for a home blessing by a priest. Call (or go to) your local parish to schedule this event with a priest. You will want to give him plenty of notice to get it on his calendar—probably months in advance. Don't expect the priest to stay for your whole event—just the parts where he is involved, which shouldn't take very long.
4. Get a framed image or statue of the Sacred Heart of Jesus.
The enthronement ceremony requires an image of the Sacred Heart. You can find a beautiful selection here.
5. Choose a place of honor in your home.
This is the place in your house where you will prominently display the image or statue. This will probably be a mantle over the fireplace, or in the main family room. You can also add other items around the image to create a focal point—such as a crucifix and a candle.
6. Invite close friends and family.
Think of the people with whom you share your life on a regular basis and invite them to the ceremony. Hopefully these will be the ones to see and benefit from the graces that consecrating your home to Christ will bring. Send invites via email, or, to make it more intimate, create and send an invitation by mail.
7. Have holy water.
Holy water is included in the ceremony for the blessing of the image and your home, so have it available. It is also good for your guests to bless themselves with holy water before the ceremony begins.
8. Have a feast.
Plan a light reception or even a meal for your guests after the enthronement ceremony. Invite the priest (and any of his assistants) to enjoy feasting with you and your guests if he is able to stay.
9. Thank your guests for coming.
Consider giving your guests a little something as a thank you for sharing this important moment with you and your family. For example, have the priest bless Sacred Heart of Jesus medals or Sacred Heart of Jesus prayer cards and give those out to your guests. You can find these and other inexpensive Sacred Heart devotional tokens here.
The benefit of making this ceremony solemn and special is that it becomes a great evangelization tool. Once your guests participate in this beautiful devotion, they may want to do the enthronement in their own homes, too!
My Testimony
Having an enthronement has been a great experience. The fact that I am more aware of His presence brings tranquility to my soul; it makes me want to pay that back with respect for my home and my family.
Every time we come back home, especially after a long trip, the first image that we see is Jesus, at the entrance, and it feels like He is welcoming us with His open arms.
Have you done an enthronement to the Sacred Heart of Jesus in your home?
How has it benefited your family?
This article has been updated and was originally published in June 2015 © The Catholic Company