Se ve, se siente, el Papa está presente!
This is how hundreds of Latinos standing by the White House cheered Pope Francis, eager to see their spiritual leader and to take some pictures during his parade down the streets.
Washington D.C., New York, and Pennsylvania are home to thousands of Latinos in the U.S., and the opportunity to listen to Papa Francisco speak in his native language, Spanish, is one reason why Latinos are so excited about his visit and feel so connected with the Holy Father.
Moving the Masses in the Name of God
He is 78 years old. I don't know how you picture yourself at that age, if you are not there yet, but I think that most people are retired by then. Well, Pope Francis is busier than ever. He is a world leader who has come to America not to offer advice on political ideology, but to preach the gospel.
The head of Christ's Church is being received by national leaders in the U.S., and people expect this historic visit to bring historic results: for "In God we trust."
"A Dios le Pido" ("I Pray to God")
There are some events taking place during Pope Francis' visit that Hispanics are also deeply excited about.
For example: the Colombian pop star, Juanes, will sing for the Pope in Philadelphia as part of the special event of the World Meeting of Families on September 26th. Juanes himself couldn't believe he was invited to sing for the Holy Father! If you are familiar with his song lyrics you can anticipate some of the songs he might sing about faith, family, and hope. One of his best known songs is "A Dios le Pido."
An especially important event that just took place yesterday was the canonization of a Spanish Franciscan friar, Junípero Serra, who brought the Catholic faith to the native people of America, and who defended indigenous peoples against abuse by the settlers.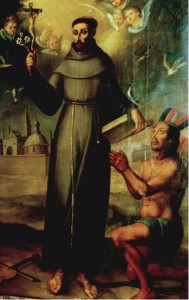 Spanish Franciscan friar Junípero Serra
Usually, canonizations take place in Rome, but it is difficult for most people to travel there. This has been mentioned as one of the reasons why Pope Francis decided to make the declaration of his sanctity here in the U.S.
Since I am from Latin America, I believe this is an important occasion to reaffirm our faith in the Roman Catholic Church. I keep reading that the number of visitors to the Vatican has tripled since his election.
Can this vicar of Christ help to bring back people's faith through his humility and charisma? I believe so.