It seems that more and more women are bringing back the tradition of wearing chapel veils at Mass. How does a woman come to change her belief about practicing an old Catholic custom in such a modern world? Here is the account of my reluctant journey to wearing a mantilla.
To Wear or Not to Wear
One day my husband, a faithful Catholic, gave me a fine purple mantilla imported from Spain. I was offended! What was he trying to say?
I was born and raised Catholic, but I considered the use of veils during Mass to be an old-fashioned tradition for older women and Evangelicals. (In Latin America, Protestant Evangelical women use them the most.)
I've never worn a veil—not even for my wedding, and I didn't feel comfortable wearing one at church. I would only consider wearing one in sacred places where specific modesty is required and people have to dress appropriately. For example, I would wear one to go to the Vatican and attend Mass at St. Peter's Basilica, and in other churches where they don't let you enter if you are wearing shorts, sleeveless shirts, or hats.
Bonjour de Paris!
I was in such a place while on pilgrimage. I was visiting Sacré-Cœur (Sacred Heart) Basilica in Paris as part of my top ten must-see places. Whether you are Catholic or not, you can enjoy the architecture inside and out: the facade, the mosaic in the apse, the choir...I didn't attend Mass, but there were young people singing at the front who sounded like angels. Clearly, this was a reverent place.
At the entrance of this basilica, there was a man observing whether people who were in line to get in were dressed appropriately. I was familiar with the dress code, so I was confident that I was dressed properly for the occasion, but I witnessed how he ordered some of the tourists to remove their hats, and I saw some girls wearing tank tops that they had improvised by covering their arms with plastic bags.
Soon I was seated in one of the pews, contemplating the whole panorama, when I saw a couple leaning on each other in one of the pews. Suddenly, the same man who had been at the entrance approached them and, with a nagging tone, told them, "This is God's house, show some respect."
I had never seen people this committed to observing a dress code or to showing such reverence in a church. (Having attended Mass in the United States, it is common for me to see people hand-combing other people's hair, chewing gum, and wearing shorts.)
It reminded me of something that happened to me in El Salvador when I was about twelve years old. I was wearing a tank top for Sunday Mass, and an old deacon told me right as he gave me Holy Communion: "Vístase mejor." (Dress appropriately.) I never forgot that; I think I got a childhood trauma after that. He made me feel ashamed, but not even my mom thought that I was dressed "indecently." I don't celebrate the way he told me, but it was effective. After that, I was more conscious about what to wear for Sunday Mass.
So, I knew that I would be inspired to wear a mantilla as a traditional accessory in a historic and more conservative place, such as Sacré-Cœur Basilica in Paris, where you even feel like you are travelling back in time.
Unveiling the Veil
But the inspiration to wear a veil began to follow me even when I was back at home. The experience I had while on pilgrimage helped me to notice the reverence I saw in the churches where I attended Mass. I must confess that I didn't need to go far to re-live some of the inspiration that I felt at Sacré-Cœur.
I then wore my mantilla at St. Ann Catholic Church in Charlotte, NC, one of my local parishes, where the Latin Mass is celebrated. I felt comfortable when I saw that most women, old and young, and even little girls, wore them.
Yes, I know what you might think, this shouldn't be my reason for wearing a veil—and maybe you think that I shouldn't be embarrassed to wear one either, but for me this was a new beginning on my path of faith.
By wearing a mantilla, I felt like I was offering more reverence to God, not only from my soul, but from my appearance too: a bonus!
I have noticed that older Sacred things are making a comeback these days, at least in my area. For example, choirs are singing in Latin more during Mass; many people are receiving Holy Communion on the tongue, on their knees if possible; and, yes, some women are now wearing mantillas.
I even found that St. Ann's offers free veils in the vestibule.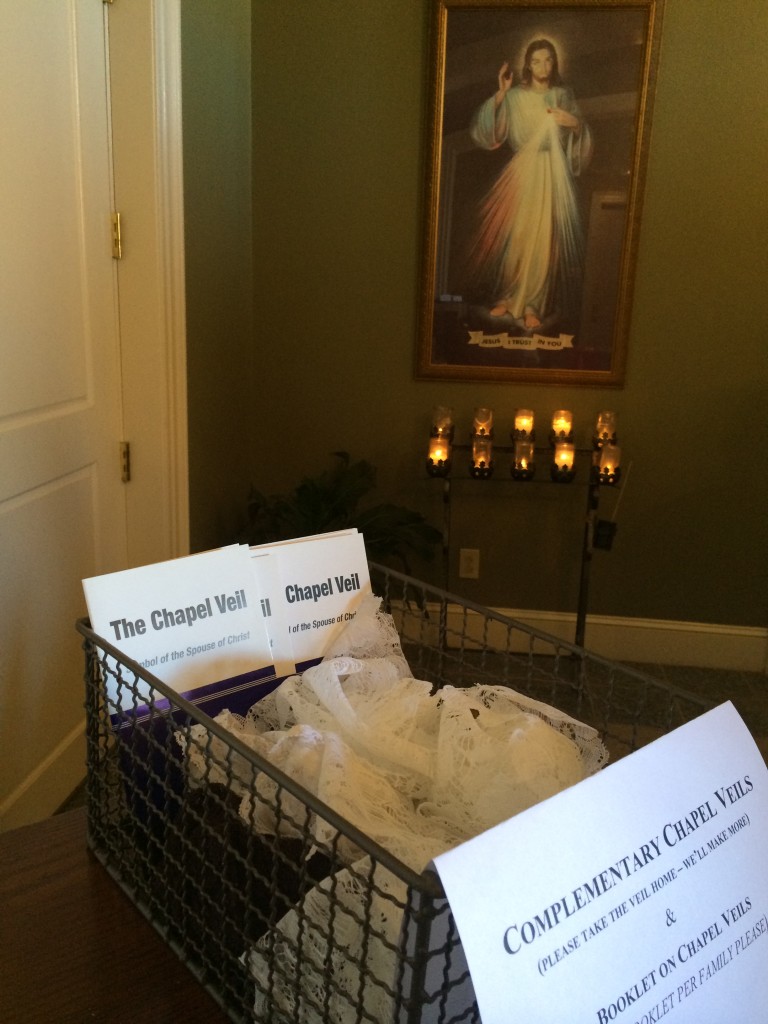 It has caught my attention that some parishes offer veils for free at their entrances. This is St. Ann's Catholic Church, Charlotte, NC.
From Being Offended to Being Contented
I have surprised myself in that I am now wearing a veil to Mass. Who, me? How did I get here? I ask myself. Am I old yet? I don't think so—I see little girls wearing veils, too. I'm not a bride and I'm not going to a funeral, either. In the past, the only reason that I would have worn a veil would be for the sake of fashion, but now that isn't my reason.
So how did I go from being offended to being contented?
The idea of wearing a mantilla has changed for me, but it took time. I never intended to wear the mantilla my husband gave me, and I didn't change my mind by watching videos that encouraged women to wear it. That didn't work for me.
What began to change my mind, little by little, was when I started to pay more attention to my faith, and when I started to appreciate the richness of history, and to be inspired by the symbolism and traditions of the Catholic Church. And it also helped to see other women, just like me, who were doing the same thing.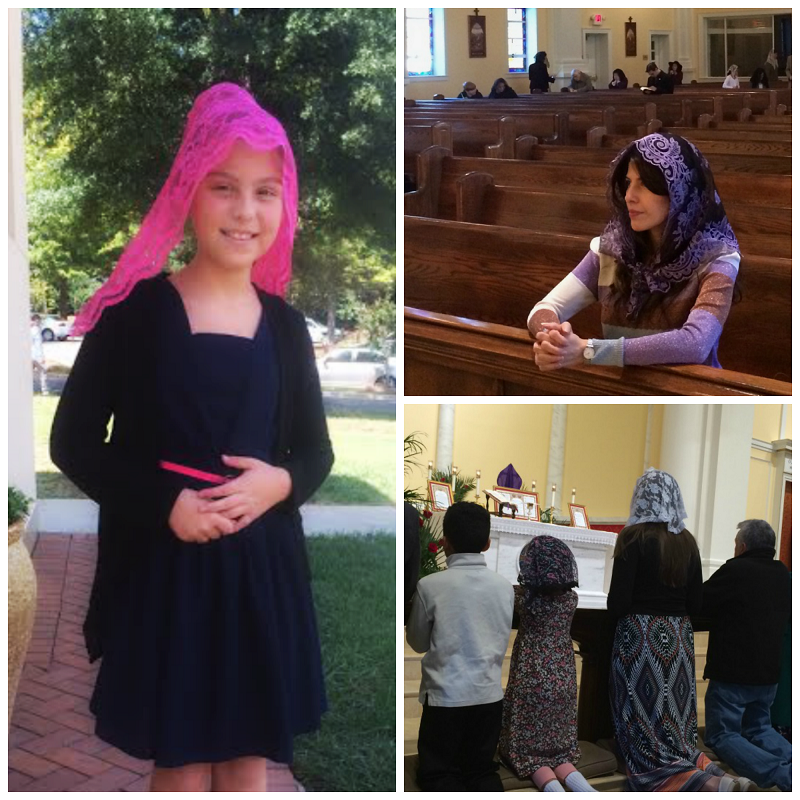 There are a lot of ways to show reverence to God. I now think that wearing a veil must be one of them.
The use of a mantilla might be a stark contrast because we are living in a post-modern culture. I must confess that I wouldn't wear it every day, but to me, it looks like this a return to tradition, to the early Church. I guess something that is truly classic never dies.
Viva la Mantilla!
Please share your story about the use of a mantilla, or not, during Mass.
Have you decided to start wearing a chapel veil?
Share your thoughts with us in the comments below!