Have you ever noticed that in order to persevere joyfully and not feel depleted during certain seasons of life, you need a very specific spiritual focus? This is such a time for me, so I've been considering practices that could be spiritually rejuvenating.
After hearing the Gospel reading at mass where Jesus healed the lame man at the Pool of Bethesda, I am praying with the Scriptures focused on the miracles of Christ. The miraculous healing of the lame man reveals some important and restorative spiritual lessons for all of us.
Inspiration from Bethesda
"After this, there was a feast of the Jews, and Jesus went up to Jerusalem. Now there is in Jerusalem at the Sheep Gate a pool called in Hebrew Bethesda, with five porticoes. In these lay a large number of ill, blind, lame, and crippled. One man was there who had been ill for thirty-eight years." - John 5: 1-5
At the Pool of Bethesda, the Jews believed an Angel of the Lord would occasionally stir the waters, and the first person to enter the pool as it bubbled would be healed of their affliction. Thirty-eight years is a long time to suffer. To be stuck with something - weighed down, unable to move forward or change your circumstances.
He Chooses Us
"When Jesus saw him lying there and knew that he had been ill for a long time, he said to him, 'Do you want to be well?'

The sick man answered him, 'Sir, I have no one to put me into the pool when the water is stirred up; while I am on my way, someone else gets down there before me.' "- John 5: 6-7
Christ did not go to Bethesda to heal the masses. The Gospel account only references this one soul, who had been afflicted since before Jesus was born. The Lord knew the desires of the lame man's heart. He chose this man, from among many, to heal and redeem.
[[32476, 17868]]
Lesson to Remember: God chooses each of us. He has revealed Himself to us in the gift of faith and redeemed us in new life. Even when we feel alone in our sufferings, He has not forgotten us. He knows and loves us intimately and personally. We are His.
He Stirs the Waters of the Heart
This encounter with Christ stirs something in the lame man. It causes something to bubble up within him, just like the waters of Bethesda. Has a certain suffering become so much a part of who you are that you have forgotten who you are in Christ? Have you forgotten who Christ is in you?
We are not our miseries. We are children of God and heirs to His Kingdom. We can persevere through the temptation to lose hope or despair. He will help us press on through the weariness of prolonged suffering. Our Redeemer wants to refresh us by stirring the pools of our souls when we go to Him in prayer.
Lesson to Remember: We all have our "38 years" - our painful seasons of life. These too, He can redeem. We cannot know that redemption if we do not keep faith and hope. Invite Him to stir the waters, and believe in what He has in store for you.

He Heals with Authority
When Christ asked him, "Do you want to be well?" the lame man did not answer the question directly. He told the Lord he had no way to reach the pool. He revealed the depths of his despair, and Jesus felt it too. Lying near the pool on his filthy mat for years, demoralized and dejected, this lame child of God could not lift himself up out of his misery.
It's so easy to get stuck and become paralyzed by painful circumstances, unable to move from our mats or see the way out. It's hard to remember that we don't have to know the solution or see the way out. God is already there, ordering all for our good.

He knows exactly what we need, and He tries to send it to us in His way and in His timing. If we are not poised for the miracle, if we are stuck on our mats, we may not be ready - or able - to receive it.
Lesson to Remember: In this season of our redemption, and in every season of our lives, Jesus invites us to believe in Him as our Healer and Redeemer, to have faith in His desire for us to be well, and to be open to His plans.
"Jesus said to him, 'Rise, take up your mat, and walk.' Immediately the man became well, took up his mat, and walked." - John 5:8-9
The lame man had faith. When asked if he wanted to be well, he did not say, "It's no use!" He said he was unable to do it alone. We can't either. Faith opens the door. Jesus saw the lame man's faith, and knew what was needed to restore His dejected child. He commanded him. Rise! Take up your mat! Walk!
Lesson to Remember: Jesus knows what we need, but often we only want our preferred solution. We don't trust the God of the Universe enough to receive His plans without question. If we want to receive His perfect gifts for us, even when they seems impossible to understand, we have to entrust everything to Him, not limit him to our puny imaginations.
He Invites Us to be Changed
"Now that day was a Sabbath. So the Jews said to the man who was cured, 'It is the Sabbath, and it is not lawful for you to carry your mat.' He answered them, "The man who made me well told me, 'Take up your mat and walk'." They asked him, 'Who is the man who told you, 'Take it up and walk?'

The man who was healed did not know who it was, for Jesus had slipped away, since there was a crowd there. After this, Jesus found him in the temple area and said to him, 'Look, you are well; do not sin any more, so that nothing worse may happen to you.' The man went and told the Jews that Jesus was the one who had made him well." - John 5:10-15
The lame man lived at Bethesda as an outcast for years. Ritually unclean, he was not allowed in the temple area, so his disease affected him physically, spiritually, and emotionally. He had not heard of Jesus, the Miracle Worker. He probably hoped this Stranger would hear his story, wait with him, and offer to lower him into the pool. Lying in his own sorrow and regret, he was hoping for a sliver, and Jesus was ready to give him everything.
Later, in their encounter at the temple, Jesus wanted more for him so He asked more from him. God's gifts and mercies are not a means to an end. They are meant to be a new beginning for us.
[[1825, 11169]]
Lesson to Remember: While we are immersed in our sufferings, He waits for us to call out to Him, so we can know and experience His healing love. Each of His miracles points to something more. It is not meant to be "an end" to our situation. His graces are supernatural means to a higher purpose - the transformation of our souls. In these gifts, He invites us to be changed.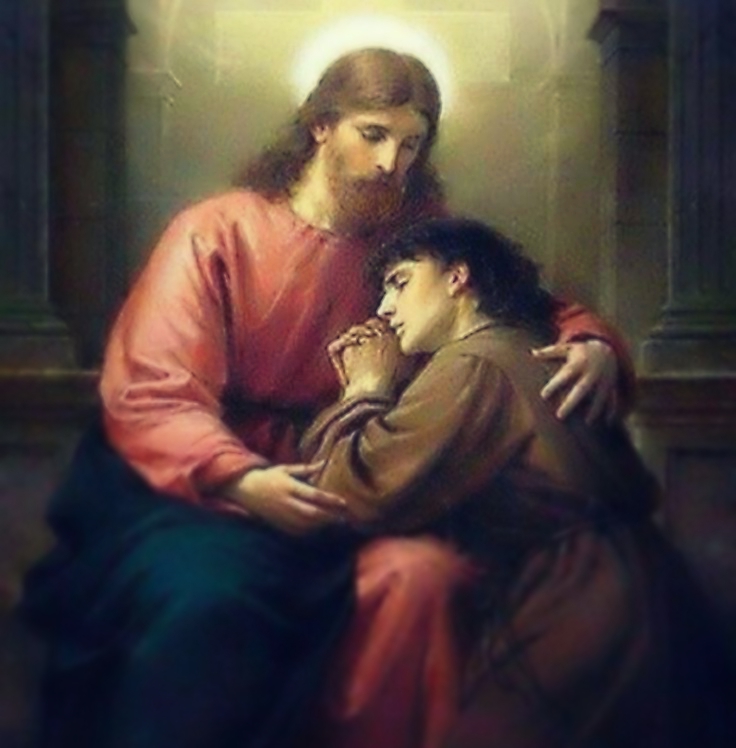 He is our Rest
"Therefore, the Jews began to persecute Jesus because he did this on a Sabbath. But Jesus answered them, 'My Father is at work until now, so I am at work.' For this reason the Jews tried all the more to kill him, because he not only broke the Sabbath but he also called God his own father, making himself equal to God.

Jesus answered and said to them, 'Amen, amen, I say to you, a son cannot do anything on his own, but only what he sees his father doing; for what he does, his son will do also. For the Father loves his Son and shows him everything that he himself does, and he will show him greater works than these, so that you may be amazed. For just as the Father raises the dead and gives life, so also does the Son give life to whomever he wishes.' " - John 5: 16-21
Life can be exhausting, especially during the difficult seasons. Conforming ourselves to Christ by working to master our vices, correct our faults, and grow in holiness - all while living our vocations in this disordered world? It's hard work, and we all grow weary sometimes.
When the cares of this life wear me down, I prop myself up in my bed, lean back, and imagine that I am resting on the Heart of Christ like John the Beloved. I sit comfortably supported like this for some time, eyes closed, taking in the immensity of His love for me and meditating on that incredible mystery.

Sometimes I talk to Him. Sometimes I say nothing at all. The certitude and comfort of his love console me and remind me that one day the cares of this life will pass away.
The Sabbath is for communion with God, expressed in the act of rest. Jesus healed the lame man on the Sabbath because God originally made the Sabbath to be a blessing to man, not a burden. The Lord of the Sabbath is not subject to it. Christ exists outside of time and can heal mind, body, and soul in His appointed time.
Lesson to Remember: Jesus gave His life to ease our burdens. In Him, we have the ability to face difficult situations no matter what they are. When our sufferings seem too painful to bear, we can take courage and peace in this:
He has secured our eternal glory and heavenly rest. Until then, we can rest our worldly cares in Him.
A Prayer for Healing