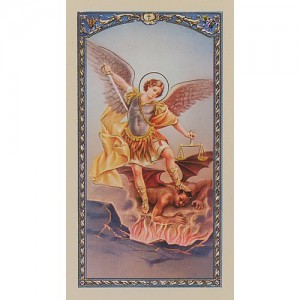 One of the most interesting traditions in the Catholic culture is certainly holy cards. As a cradle Catholic I grew up with holy cards. I would receive them at sacraments, youth group events, retreats, school, and at funerals. I usually ended up throwing them away or losing them. Then I came to Belmont Abbey and my perspective on them changed dramatically. I remember walking into one of my friend's rooms freshman year and he had this sort of prayer corner set up. Above his prayer corner was a surplus of beautiful holy cards.

I was shocked by the number of holy cards he had on his wall in his room. These holy cards had beautiful images with prayers on the back. It was at this moment that I had it explained to me that some actually use holy cards to remind themselves to venerate certain saints. I remember him having a few of Mary the Mother of God and some others of popular saints like Padre Pio. He said that he had mainly got these in the same way I had. The religious education director at his home parish gave of all those receiving confirmation a Mary holy card the year he was confirmed. When he graduated high school he received a holy card of St. Thomas Aquinas. He told me that he loved having them and he felt that they constantly remind him about his past and reminded him to pray. He opened my eyes to the real power and importance of holy cards.

Holy cards actually have their origin as far back as the fifteenth century, granted they didn't become mass produced until the lithography became developed. To this day I have a holy card with the image of the Divine Mercy which has encouraged me to pray the Divine Mercy Chaplet frequently. Many keep personalized holy cards/prayer cards from funerals and special occasions. Do you still have any of the holy cards you have received over the years? What is your favorite holy card?