"When you see the storm coming, if you seek safety in that firm refuge which is Mary, there will be no danger of your wavering or going down."

–St. Josemaria Escriva

We are encouraging our Morning Offering readers to consecrate themselves (or renew their consecration) to the Immaculate Heart of Mary with the classic 33-day format by St. Louis de Montfort called Total Consecration to Jesus through Mary.

Mary is our model and our advocate; she is always the one to whom the Church collectively turns in times of great trial. And when we turn to her, she embraces us in her strong, unwavering, and Immaculate Heart.

Like a good mother, the Blessed Virgin Mary will teach us how to be united with Christ more perfectly in our own lives, and how we should personally respond to the crises that surround the Church and her faithful ones. She will also teach us how to be faithful in times of temptation.
SIGN UP YOURSELF & FRIENDS
Consecrate yourself to the Blessed Mother! Starting on November 5, 2016 and ending on December 8, 2016  – the Feast of the Immaculate Conception (Patroness of the United States of America) – the Morning Offering email will feature the daily readings and prayers to make the Consecration. This Consecration will also conclude prior to the start of the 100th anniversary of the apparition of Our Lady at Fatima.

This act of devotion to Our Lady has been encouraged by many saints and popes in these last centuries.  In the words of St. Maximilian Kolbe,

"The Immaculate alone has from God the promise of victory over Satan. She seeks souls that will consecrate themselves entirely to her, that will become in her hands forceful instruments for the defeat of Satan and the spread of God's kingdom."

If you are not already subscribed, you can sign up at MorningOffering.com where you'll also find links to join the Morning Offering on social media. You can read more about the Morning Offering below.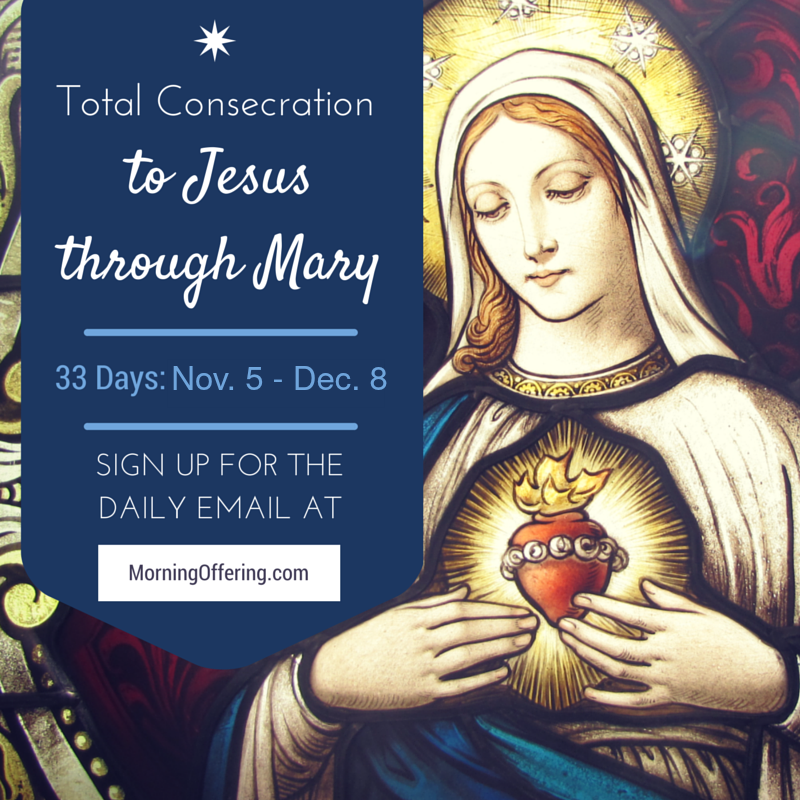 WHAT IS THE MORNING OFFERING?
The Morning Offering is a devotional email started by The Catholic Company in 2014 to be a daily spiritual reading and prayer resource for Catholics. After a year and a half in distribution to tens of thousands of our followers and customers, our Morning Offering email has been tremendously well-received.

Each day the email includes an inspirational quote, short meditations from classic books on Catholic spirituality, saint of the day biographies, access to the daily Mass readings and the Divine Office, and more.

The email is so powerful because it connects people with, and invites them into, the prayer life of the Church and the inspiring examples of Her many saints.  Our readers tell us that reading and praying with the Morning Offering has greatly improved their life, and most importantly, their relationship with God.

View today's Morning Offering email here.